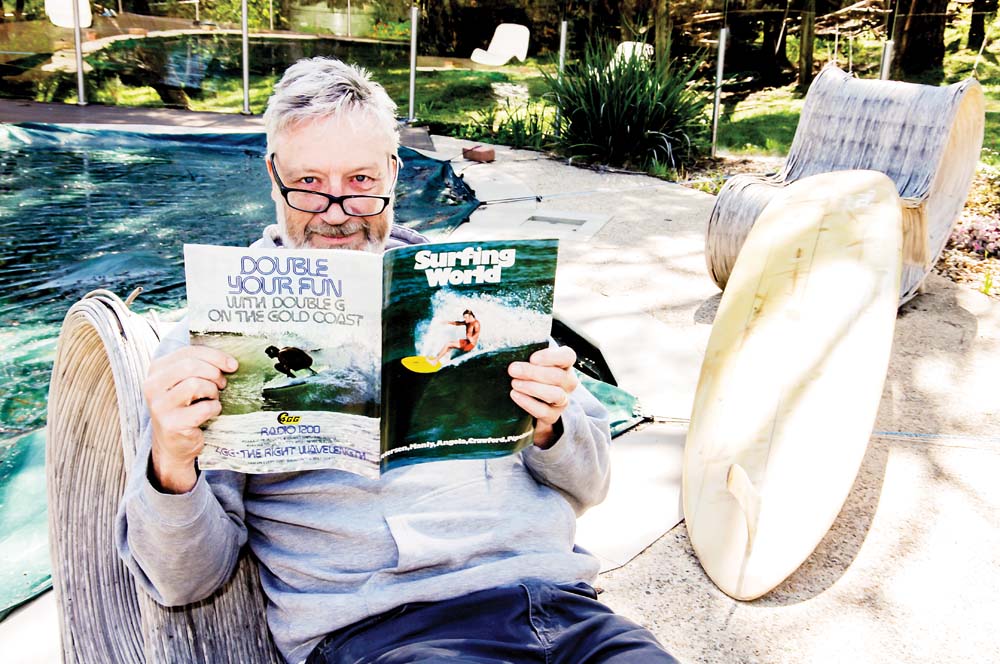 THE backyard swimming pool is covered in plastic to keep away messy ducks. The wind, swell and tide are not quite right at the beach, but Rod Jones is a satisfied surfer.
Better known as Dr Surf to listeners of radio station 3RRR, Jones sits on a creaking, weathered cane chair besides the pool at his Mt Eliza house flipping through old magazines where he identifies waves and recognises surfers.
Inside his house there are surfboards in various rooms, they're perched on the top of book cases, stashed on the floor behind couches, stored in purpose-built racks and decoratively hung on walls.
Each board may be made of foam and fibre glass, but they are also filled with memories.
"I saw [Craig Elmer] Owl Chapman ride that one in the Surfabout [1974-1991 Sydney-based contest] before I bought it," Jones says pointing to the yellow and red swallow tail board on top of the bookcase.
"He used to make boards to ride when he came out here [from Hawaii] and then sell them to buy a ticket home."
His interest and knowledge about surf culture and its history suits his role as organiser of the third Surf Vintage Day being held next month on the foreshore at Point Leo.
An agricultural scientist with Agriculture Resources Victoria, Jones is also a committee member of the Disabled Surfers Association Mornington Peninsula branch which stands to benefit from the day.
There will be about 30 display stands at the event – which is a sort of non-commercial swap and chat meet – where surfers turn up with their Volkswagen Kombis or woodies and vintage surfboards.
The boards evoke memories and surfers – old and young – without much prompting will talk about who rode a particular board on a particular day on a particular wave.
It can be a little bit like memories of a high flying mark at a Grand Final. The mark gets higher as the years get more distant; the waves are often larger in the mind.
Clubs and organisations represented on the day include Peninsula Surfriders Club, Maladiction Longboarders Club, the Suicide Savages and Reef Riders. Rip Curl historian Bob Smith will bring the famed bell from the Bells Beach annual contest which will displayed alongside historic photos, surfboards and magazines.
The DSA will benefit through stall fees and selling food and merchandise.
"It won't be a huge money spinner, but so many people wanted it to happen," Jones says of the vintage day, the first for three years.
Jones agreed to become 3RRR's Dr Surf 12 years ago because he felt there was not enough known about surf culture and its history.
He was also concerned at the quality of surf reports printed in daily newspapers. "They were very inaccurate and could be dangerous to people who didn't really know how to surf. It was also good to have someone actually down at the surf telling it like it was.
"My first main point was to focus on surf culture – music, movies, magazines and books. But it became pretty clear early on that many listeners didn't know anything about surfing.
"If you go outside the surf media there's virtually nothing about surfing in the mainstream media.
"So I started to tell [listeners] about surfboard designs and equipment; I do annual wetsuit reviews."
One major benefit of the unpaid Dr Surf job is the access it gives Jones to people in and around the surf industry. He gives them a call and invites them onto the radio or, more rarely, records an interview.
His "memorable" interview subjects have included authors Tim Winton ("we talked about Eyrie and Breath, surfing as a metaphor for writing and the strong sense of place we develop"), William Finnegan (Pulitzer Prize winning book Barbarian Days: A Surfing Life "growing up as surfers and why we are happy our kids don't surf"), and Phil Jarratt ("put him in front of a microphone and off he goes".); Tom Wegener ("traditional Hawaiian boards and the Bishop Museum in Hawaii"); surfer Wayne Lynch ("talked about the movie on his life and his strong sense of place with what we called Down South – west of Cape Otway and how this has changed"); and filmmaker Andrew Kidman ("his movies Litmus and Glass Love, his tribute to Morning of the Earth, Spirit of Akasha and his music").
Jones' "least memorable" interview never actually happened. "It was Bob McTavish, who stood me up to go surfing. Can't say I blamed him."
Jones gave the Sunday morning slot away for a while last year but is now back on air, albeit with Mornington Peninsula-based protégé Jay Power, who Jones hopes will take over as his successor. Power is a younger surfer who appreciates that surfing can be enjoyable even without riding a wafer thin, narrow thruster (three fins) board. He can often be found on a longboard at Shoreham without a leg rope. Old school, indeed.
Even though Jones hopes Power will head the segment, he only plans to "semi retire" and go down the pre-recorded interview track and avoid the Sunday morning drives to 3RRR's Brunswick studio. Which also means he'll have more time for weekend surfs.
The Vintage Surf Day, Point Leo foreshore, 10am-4pm Sunday 12 November. Entry $4 a car. Details: triggerbros.com.au or for display stand inquiries call Rod Jones on 0438 458 064.
First published in the Southern Peninsula News – 17 October 2017