SOCCER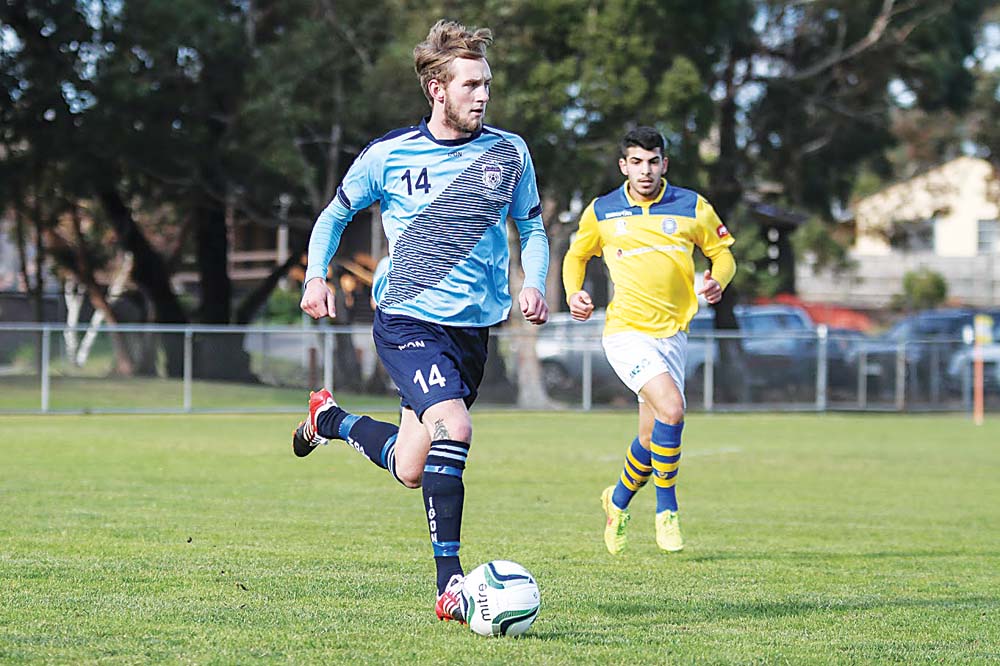 FRANKSTON Pines' jack-of-all-trades CJ Hodgson has declared his allegiance to the Monterey Reserve club.
"I'll be there as long as my parents are involved so I think I'll be playing at Pines for the rest of my career," the 24-year-old said.
He's had more seasons at Pines than any other senior player and he's also the club's most versatile performer having played at right back, wide midfield, centre midfield, striker and he's even worn the goalkeeper's gloves.
His career kicked off at under-6 level at Langwarrin and he made his reserves debut under then-coach Jamie Skelly as a 15-year-old in 2009.
Opportunities to play senior soccer forced his hand and he switched to Pines for the following season.
Tommy O'Halloran gave the 16-year-old his senior debut against Knox in 2010 but Pines' slide down the leagues continued.
At the end of another unsuccessful season Pines' fortunes changed when Hodgson's parents took on the onerous task of reviving the faltering club, dad Gary becoming president and mum Pip becoming treasurer.
That's when the unheralded Danny Verdun arrived as senior coach and transformed the team.
"Danny's probably my favourite coach because of his passion and the way he pushes you to be your best," Hodgson said.
That's not taking anything away from current Pines supremo Paul Williams.
"Paul's young and he's still learning and I think that he'll be a very, very good coach."
Hodgson's loyalty to Pines has only been tested twice, once at the end of the 2015 season when he was lured by Mornington gaffer Adam Jamieson to Dallas Brooks Park for pre-season training only to change his mind and rejoin Pines for the start of the 2016 season.
"Being at Mornington was awesome and they won the league that year and we got relegated but in the end, family means everything to me and that's why I went back to Pines."
Late last year Hodgson once more was lured away from Monterey Reserve this time by Casey Comets head coach Skelly but transferred back to Pines midway through the 2017 season.
His stint with Comets was marred by an ankle injury that required surgery and it wasn't until round five of the season that he was able to join the senior matchday squad.
"I've known Jamie for a while now and I have a lot of respect for him.
"He's awesome as a coach but I had to go back to Pines and I won't move on anymore.
"I don't think there would be a club without my parents and Stevie (Spencer) and I want to pay my respects to them for what they did and what they are still doing."
Hodgson can't think of any better way to pay back the club mainstays than by winning promotion next year, a feat he feels is within the grasp of the senior squad.
"Now we've all played together for a couple of years and if we can bring in a couple of experienced players I think we'll be pushing towards the top end of the table rather than down near the bottom.
"I think the future of Pines is bright, to be honest.
"Things are starting to happen around the club with the new change rooms and other stuff that I can't really talk about at the moment.
"We've now got more people wanting to be involved and bringing in some of the Mauritian community has been good for Pines.
"I know that Chris (L'Enclume) and Cedric (Permal) want to come back next year and we have other Mauritians helping out around the club.
"I think we can have a big year next year and I think we can get promoted."
One of the challenges facing Pines in 2018 is getting the better of former coach Verdun who won this year's State 3 South-East title with a Knox City side featuring many ex-Pines players.
"It's pretty much going to be Frankston Pines new boys versus Frankston Pines old boys.
"It's going to be a tough game but I know that our boys will be looking forward to it and I know there will be a lot of banter around it but when it comes down to the game it will be full on."
In other news, Southern United has appointed Aaron Myatt as senior coach while this year's championship winning under-13s coaches Debbie Nichols and Emma Bracken are in charge of the under-14s.
Myatt has just returned from a fortnight in Japan where he spent time at J-League giant Gamba Osaka studying the club's player development cycles and its football philosophy.
Myatt was assistant coach of Southern's Grand Final-winning under-15s in 2016 and was head coach of the under-15s this year.
"Aaron has a fantastic rapport with players of all ages and he has shown strong development skills as a coach and is a great club man. He is the right fit for our club," president Theresa Deas said.
Southern is expected to announce the appointment of coaches for its under-16 and under-19 squads this week.
FFV last week confirmed the structure of its NPL junior leagues for the 2018 season and Langwarrin's debut in the elite competition will feature clashes with A-League giant Melbourne City at under-15 and under-18 levels.
The junior NPL from under-12 to under-18 levels is broken into two leagues, east and west, and Langy finds itself in exalted company.
The 18-team junior east league consists of Bentleigh Greens, Box Hill United, Dandenong City, Dandenong Thunder, Eastern Lions, FC Bulleen, Goulburn Valley Suns, Heidelberg United, Kingston City, Langwarrin, Melbourne City, Murray United, Northcote City, Nunawading City, Oakleigh Cannons, Port Melbourne, South Melbourne and Springvale White Eagles.
Murray United's home ground is at Latrobe University's Albury-Wodonga campus and the eight-hour round trip is one of Langy's most challenging fixtures and may involve an overnight stay.
It is the longest road trip in Victorian soccer.
Langy hopes to finalise its under-12 through under-16 squads next week while the under-18 and under-20 trials kick off this week.
Due to council work on Lawton Park some trials have been held at Baxter Park and this week's trials also will be held there.
"Baxter have really helped us out and I'd like to thank them particularly young Billy McLeod who's been brilliant," Langwarrin technical director Stephen Fisher said.
The response to the trials has been excellent with 53 under-12 trialists, 54 under-13s, 46 under-14s, 57 under-15s and 38 under-16 trialists.
Expressions of interest closed last Friday and there were over 100 trialists registered for the under-18s and under-20s.
Meanwhile Skye United boss Billy Armour hopes to sign "five or six" new players for next season.
The former central defender was tight-lipped as usual when pressed about their identities but they are all from the local area.
Skye's first ever player import, wide midfielder Jacob Scotte-Hatherly, is due to return to England in early December.
Scotte-Hatherly was identified through player agency Soccer Smart Ltd and proved to be an astute signing.
"Jacob is a very skilful player and a quality young man and although he'll be a big loss we've decided that we'll only go back to Soccer Smart if we can't get what we want on the local market," said Armour.
Somerville held its annual presentation night recently and Patrick Acha won the under-21 best and fairest award, Liam McLoughlin won the men's most improved and Rachael Dekker was the women's most improved player.
Matt Swanson was named senior players' player of the year and the reserves players' player of the year was Latham Horvath.
The women's players' player of the year was Jayde Johnson and Liv Hamilton won the women's coaches' award.
The senior men's coaches' award went to Joel Wade while Ryan Francis took out the reserves coaches' award.