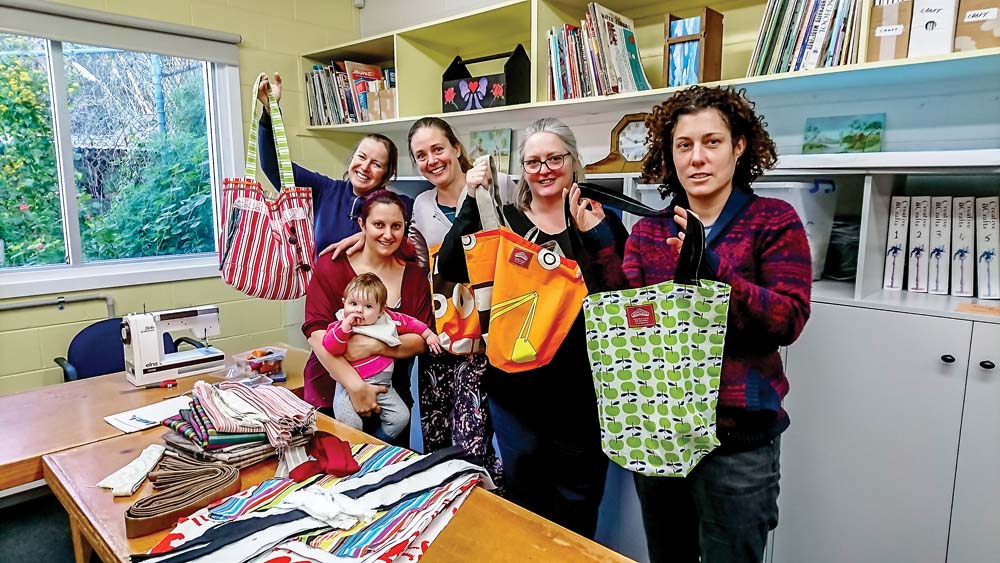 THE state government's ban on single use plastic bags – and commitments by the big supermarkets to phase them out over the next few months – has highlighted the merit of alternatives, such as the free Boomerang Bags.
Rosebud Boomerang Bags was launched at the La Casa Nostra deli in July by Gwen Giudici, who picked up the idea from Shelle Hepburn, who had been sewing Boomerang Bags in Sorrento with the help of volunteers and school children.
Since then, another three Boomerang Bags communities have been established: Somers, Red Hill and Western Port, with more in the pipeline.
Ms Giudici and a group of keen women has taken the Boomerang Bags project to schools, scout groups and events (such as last Sunday's Walk 4 Westernport and next weekend's War of Waste forum) to spread the message on stopping the use of single use plastic bags and waste in general.
"The Mornington Peninsula Boomerang Bags groups have produced 1660 bags to date and you can add at least another 100 to that after Saturday," Ms Giudici said. "It's booming."
The bags are also travelling the world, with Sorrento Community Centre manager Tracey Truman promoting them in the US at Charleston (South Carolina) and Savannah (Georgia) – just two of the stops she has made.
Ms Giudici said the group had started making its own Mornington Peninsula-branded bags by screen printing the pockets on the front of the bags.
"We are having regular sewing bees for everyone to join," she said. "Lots of people are also sewing from home but, with the increased demand for schools and events, we are always on the lookout for more volunteers."
Energy, Environment and Climate Change Minister Lily D'Ambrosio said banning single-use plastic bags would reduce litter and help protect marine life.
"We will work closely with Victorian communities and businesses to design the ban," she said. "We're proud that we're doing our bit to reduce the impact plastic bags have on our environment."
IGA Mt Martha co-owner Rod Allen said the store would "look to bring in a plastic bag ban as soon as practicable. We are having a meeting [of IGA management] on Tuesday and I will raise the issue and see when we are going to bring it in as a group."
"We care for the environment and want people to bring in their own enviro bags, and I am more than happy to not provide plastic bags, but we would have to advertise that fact and encourage people to change their mindset," Mr Allen said.
Blairgowrie IGA owner Sally Bernal said the store stopped issuing single use plastic bags three and a half years ago. "The local response has been great and I am glad we did it," she said.
"Probably one shopper in a hundred moans about it; the response has been positive."
Instead, the store supplies heavy duty paper bags at its own cost as well as top-end $10 bags which shoppers use over again.
Coles and Woolworths confirmed in July that single-use plastic bags would be phased out from all stores over the next 12 months "in favour of more sustainable options".
Customers still wanting plastic bags will be charged 15 cents each.
"We've been working towards this announcement for some time now as part of our ongoing program to improve environmental outcomes throughout our business," Coles chief customer officer Simon McDowell said.
Woolworths CEO Brad Banducci said the group "wants to play its part in reducing plastic bag usage and has taken this decision because it is the right thing to do as one of Australia's largest retailers".
The retail giant hands out more than 3.2 billion lightweight plastic bags a year.