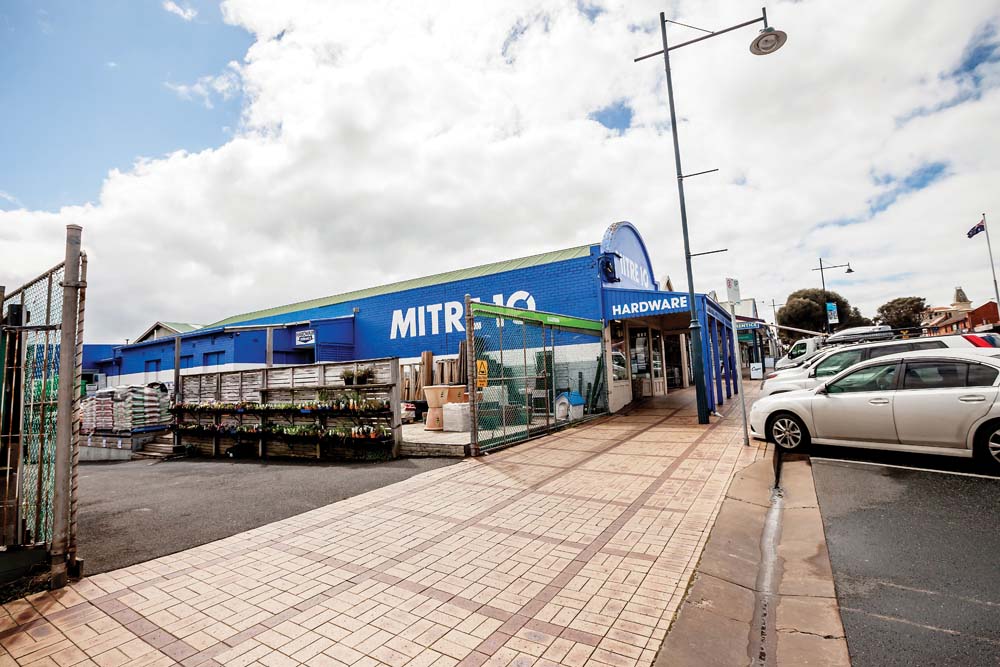 CONDITIONS attached to a Sorrento planning application are aimed at making sure the former Mitre 10 site retains the "heritage values of the historic town precinct".
Mornington Peninsula Shire Council has attached 16 conditions to the redevelopment permit for the 2600 square metre 80-98 Ocean Beach Rd site which sold in March last year for $11.46 million.
Selling agents CBRE at the time said the site had "unprecedented potential to design and deliver an iconic mixed use project comprising prime retail and high-end residential product, subject to council approvals".
Conditions imposed by the planning services committee on Monday 16 October aim to ensure that the development on the northern side of Ocean Beach Rd meets the "objectives of the various planning controls of the site".
Principal planner Ross Fullerton said the existing building's heritage citation describes it as a brick single frontage shop featuring a rounded pediment, and as being an early example of a commercial shop front for Sorrento.
Applicant Sorrento OB wanted to demolish the heritage building and replace it with a two storey structure with residential tenancies and car parking, while waiving loading bay requirements and associated works.
But the council's heritage consultant recommended that the building should "not be demolished and rather be integrated in the development".
"This would ensure that the development is responsive to the eclectic mix of buildings in the main street of Sorrento," the consultant said.
"The retention of the building would address the concerns raised by the design advisory panel in regards to providing more variation from the streetscape. Additionally, the existing building contains traditional shopfront windows and a veranda that contributes to the sense of place."
The conditions aim to retain the heritage elements of the existing buildings, as well as various design elements to "keep the look and feel of the property". Detailed instructions have been imposed on waste management, disability-friendly access and landscaping.
"Sorrento is one of our most historic townships and all new developments must adhere to the heritage values of the local area," the mayor Cr Bev Colomb said.
"The shire must be sympathetic to the history of Sorrento when bringing new developments to the township," Cr Hugh Fraser said.
"These conditions will also allow for new businesses to grow in Sorrento while taking care of our heritage values."
Sorrento OB has been asked to bring its amended plans to a future planning services committee meeting to "ensure conformity with the permit conditions".
First published in the Southern Peninsula News – 24 October 2017