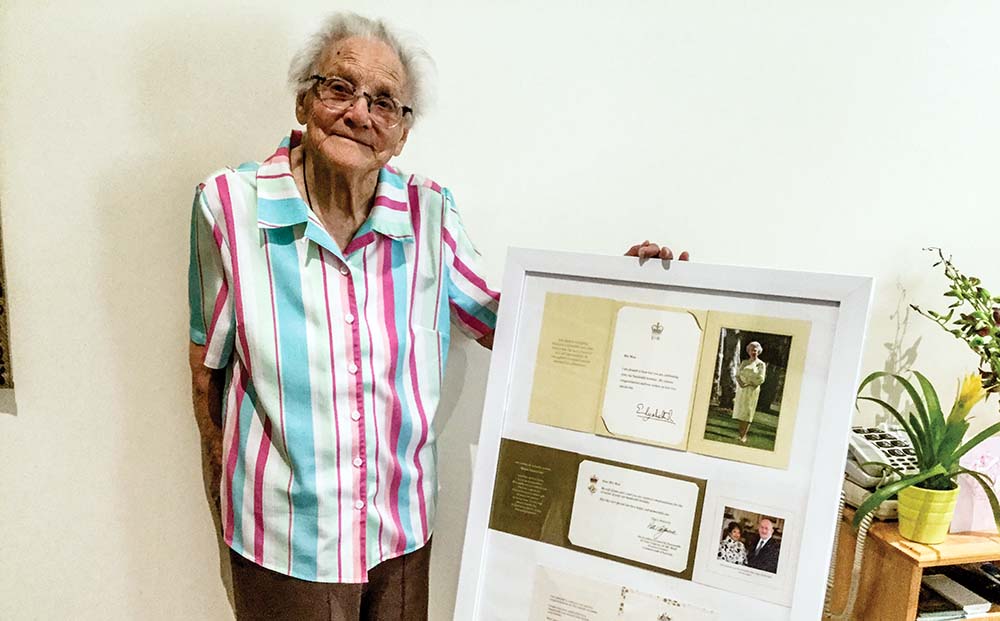 THE centenary of long-time Balnarring resident Janet Watt on Monday 9 October was marked with a variety of functions by family and friends.
The main affair was at Balnarring Hall, Saturday 14 October, where about 70 family and friends gathered to celebrate the milestone. Two Uniting Church events were held at Balnarring, as well as a senior citizens' function at the Balnarring hall, and a small family party at her house at Balnarring on her birthday.
Mrs Watt, who also visited Government House on 10 October, is regarded as a woman imbued with a strong sense of family and loyalty to a range of community organisations which she served for many years.
Born in Surrey Hills in 1917, Mrs Watt (nee Brown), lived with her family as market gardeners at Olinda until she was 15, when they moved to a sheep and dairy property on Coolart Rd, Bittern. She completed eighth grade at the Bittern State School, cared for her father, his brother who had returned from France after WWI, and her two brothers as well as working on the farm – which meant milking up to 10 cows a day.
She also played tennis for Bittern, taught Sunday school, joined the Bittern Red Cross unit and attended services at Crib Point Methodist Church.
Janet, her father William and uncle Tom, moved to Bennett St, Bittern, and bought and managed a property in Henderson Rd, where they raised beef cattle after her brother Bill returned from WWII.
Earlier, she had met Robert Watt and, in 1948, they were married at the Balnarring Methodist Church after he returned from active service.
Their first home was in Stumpy Gully Rd, Balnarring, almost opposite where she and son Trevor live today. Before Robert's military enlistment, with help from Uncle Frank, he took an option in Stanley Rd, Balnarring, known as Kylinda. When he returned from the war they began poultry farming and, soon after, along came children Colin, Heather, Trevor and Malcolm in "reasonably quick succession". She now has seven grandchildren and 12 great-grandchildren.
As she had in her Bittern teenage years, Mrs Watt worked diligently on the Balnarring farm along with tending her motherhood responsibilities and civic commitments. She was actively involved in the Balnarring Methodist – now Uniting – Church, as well as the guild, Christian Endeavour, Sunday school, bible study, book reading, adult fellowship and knitting groups.
Her passion for the Balnarring Red Cross was rewarded in 2000 with a rosette for 60 years' service. She is also a member of the Balnarring Senior Citizens and CWA, Balnarring Tulum Basketball Club, Red Hill Consolidated School Balnarring Parents Branch and Hastings Legacy.
In 1976 after retiring from poultry farming, Mr and Mrs Watt became involved in "For Those Who Have Less" which led Mr Watt to becoming a poultry supervisor in Bangladesh where he reared and distributed poultry to villages. The couple successfully managed this project for two years, gaining government recognition for their efforts, son Colin said.
Back in Balnarring the couple settled into a quiet lifestyle of family, church and community activities. Mr Watt died in October 1988 but, with renewed determination, Ms Watt moved on, engaging in family activities, travelling with other seniors, maintaining church and community meetings and strengthening her personal relationships.
"These have all been enduring features of her life and, no doubt, significantly contributed to her longevity," Colin said at the birthday.
"We feel humbled and proud to have you in our lives," he told his mum at the party. "Thank you for your support, for being part of the journey – way back where we began, now, and as we move forward with your loving interest in all things family.
"Now that you have achieved your century as of last Monday, you thoroughly deserve the many congratulations and accolades received during this past week. Thanks for being a fine community citizen and for being our mum."
Stephen Taylor with Colin Watt