DISTRICT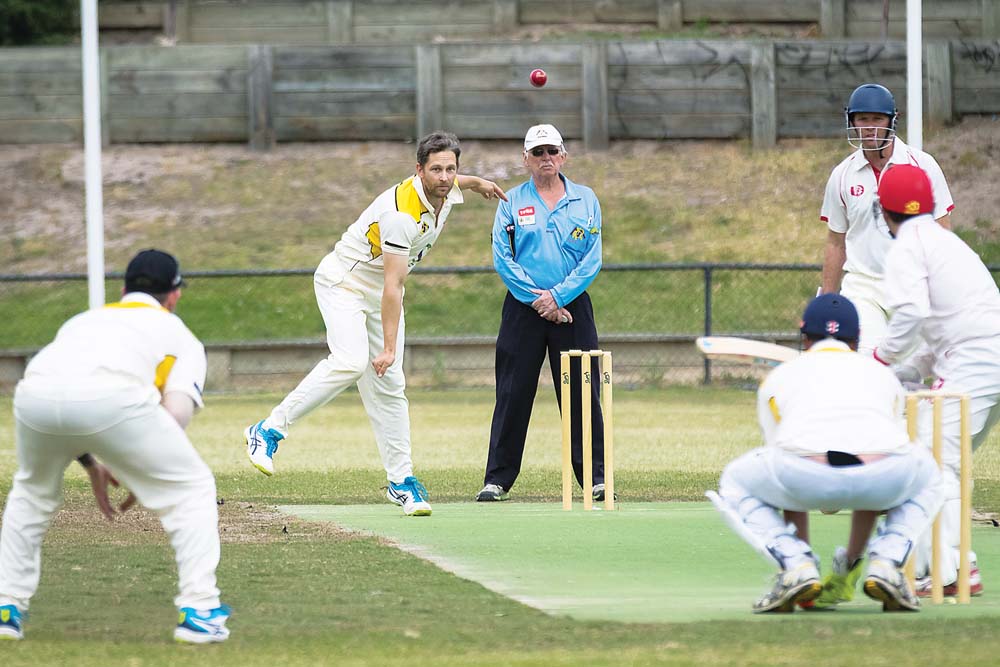 HASTINGS is on the verge of winning its first game of the season after a good opening day against Rye in MPCA District.
On the back of some ordinary form, Hastings was justifiably sent into bat by Rye after the Demons won the toss.
Rob Hearn needed to get his side off to a good start and he obliged with a game-high 61, including eight fours.
Ryan McNamara contributed 33 and Sean Hewitt 20 in the middle order to help the Blues to a final score of 177.
Unfortunately for the Blues, they lost their final six wickets for just 12 runs.
The Blues had 18 overs at the Demons at the end of the day and made an impression, picking up 3/27.
Heatherhill opening batsman Sam Mullavey fell agonisingly close to a century on Saturday against Rosebud, losing his wicket on 99.
However, Mullavey's sensational innings helped his side to a more than competitive total of 6/306.
Matt Bishop was solid at four with 65 and Brad Mur contributed a well-timed 39 to push he home team beyond 300.
It was a long day for the Rosebud bowlers and fieldsmen, skipper Billy Quigley finishing with 3/95 from 25 overs to be the pick of the bowlers.
Baden Powell appears to be in a strong position against Seaford after the first day of their clash.
The Braves were sent in to bat by Seaford and lasted just 70.2 overs.
Andrew Sparks (57) and Rhys Elmi (50) shared a strong partnership in the middle order while Elia Carter opened with 30.
Dean Polson was the best of the Seaford bowlers with 4/34 from 17.3 overs while Dale Christie snared 3/44.
Seaford faced the final nine overs of the day and it didn't go according to plan, losing 2/27 at stumps.
Seaford Tigers need a miracle to beat Mt Martha after being rolled for just 116. Anthony Joel top scored with 19 and Mackenzie Gardner scored 18 for the Tigers, who were rolled in the 64th over.
Steve O'Neill was the pick of the Reds' bowlers with 4/26 from 16 overs.
In reply, Mt Martha is coasting at 1/38 with 80 more overs left to score 90 runs.