SOCCER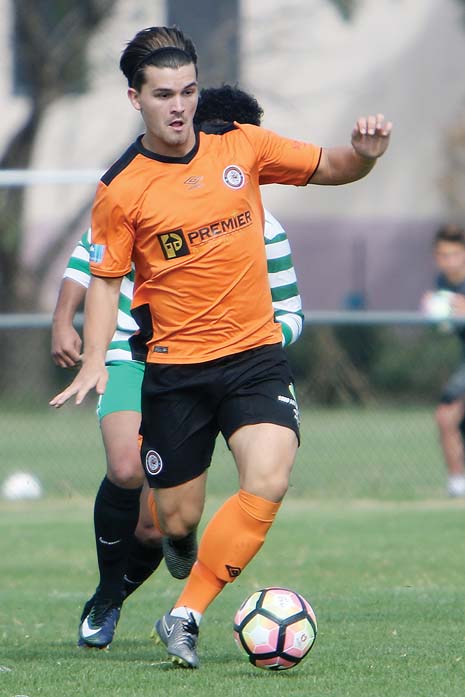 MORNINGTON gaffer Adam Jamieson has taken responsibility for missing out on NPL promotion and has vowed that he won't make the same mistake again.
"We had a squad to do a lot better but you're probably looking at complacency being an issue," said Jamieson.
His side finished runner-up to Langwarrin by a solitary point in the race for the State 1 South-East title and while Lawton Park fans were celebrating there was a lot of soul-searching done at Dallas Brooks Park.
"You get 'Patch' (Ryan Paczkowski) back, then Scotty Millar then you get Josh Valadon and Aaron Root in and Simon Mur's heading back and you think you're getting Josh Hine (then with Salford City in England) and you still don't get the job done.
"Probably the pre-season wasn't as good as what it should have been and as for the training sessions well you'd think players know from two years back the style of football you want to play but it probably took until halfway through the season to start playing the way we wanted to.
"When you get done by a point you look back on these things and you wonder what might have been but I take full responsibility for what happened and as far as I'm concerned the buck stops with me."
Jamieson also believes that the way he structured the team in the first half of the season contributed to the end result.
"We set up with three midfielders who are all good footballers – 'Smarty' (Craig Smart), Matty Wade and 'Reidy' (Chris Reid) – but there's a same, same about them and they aren't particularly quick and once we got Sammy Orritt in it changed the whole dynamic of the midfield."
Wade and another import, Nathan Smith, are not expected to return for 2018 while Reid is rumoured to have attracted the attention of Richmond, which was recently relegated from NPL ranks.
Orritt turned out to be the club's talisman in the back half of the season scoring regularly as Mornington went on a sustained winning run.
He's re-signed for 2018 along with another English import, Jack Truelove.
"I think young Jack had a fantastic year and people forget that he's only 21," said Jamieson.
Goalkeeper Kris McEvoy also has re-signed and the club hopes to retain Millar, Valadon, Root, Mur, Smart, Keegan Ziada, James Laminski, Charlie Parker, Wayne Gordon, Danny Black, Stevie Elliott, Nathan Yole and Stefan Soler.
Jamieson sees striker Marinos Panayi as part of Mornington's future but the youngster continues to be linked with Langwarrin as does Elliott while the rumour mill suggests that Smart has attracted the attention of another local club.
"I'm not anticipating a huge turnover and I think it's pretty natural these days to lose four or five and bring in four or five.
"We've targeted a couple of players from other clubs, a central midfielder and a defender and we hope to announce another signing next week.
"We have a couple of overseas players in mind but it's very early doors. They're based in England and they both play up front."
Mornington has not joined the throng of clubs circling Langwarrin and waiting to pounce on players it releases. Not yet anyway.
"If (Liam) Baxter was to become available and if they were to offer him to us then we'd definitely take him but we're hearing that Casey Comets is interested.
"The same goes for Aaran Currie. He's a talent.
"But we're concentrating on other players right now not Langwarrin players."
Even before pre-season training has started Jamieson has to recover from the bodyblow of losing star striker Paczkowski who recently signed for NPL heavyweight Oakleigh Cannons.
"It was a huge disappointment losing 'Patch' but I completely understand why he's joined Oakleigh.
"I mean when NPL clubs ring you every flippin' week what can you do? It is what it is."
Off the field Mornington is on a sound financial footing and enjoys strong local community backing.
"We're looking at around $150,000 a year in sponsorship and we operated under budget last season so we'll maintain the same budget next season and we believe that it will be enough to mount a serious title campaign," said president Matt Cameron.
"We're going to invest $30,000 of our own money into our pitches and our plan is to be NPL-ready.
"The council has over 200 sporting bodies to deal with in the Mornington Shire area and we're working hard on developing our brand and putting our club at the forefront of council's thinking when it comes to our sport."
Few of those sporting bodies are as large as Mornington which fielded 28 junior teams this year including five girls' teams.
Club and council work closely to target grants and one such State Government grant will be put to good use over summer when the main pitch becomes fully floodlit.
Winning has become the norm at Mornington and both Jamieson and Cameron are focussed on success next year.
"As a football club we're obviously doing something right when we win two championships and come runner-up twice in four years," said Jamieson.
"I think winning the title next year will be a lot more difficult than last season because clubs realise what it takes now.
"They've seen what Langwarrin did and how successful they were at it and I'm expecting a lot more clubs to have a lot more visa players.
"I think Richmond in particular will have a red-hot go and we're already hearing that they've signed some very good players.
"I think Casey will bring in a couple of visas and I expect Eltham and Beaumaris to be decent sides while Caulfield now knows what it takes then there's Clifton Hill and Malvern.
"Yeah it's going to be tough but this time we won't take anything for granted and we're going to make sure that we're right up there."
If stability is a key to success then Mornington can expect a big year as Jamieson will be surrounded by the usual suspects.
Dale White is assistant coach, Andy Mason is reserves coach while Martyn Ashton and Tony McKay are team managers.
The club is yet to appoint a goalkeeping coach but plans to talk to local legend Peter Blasby.
Meanwhile Peninsula Strikers have agreed terms with four UK-based players who are expected to arrive in January.
The club has also agreed terms with central defender Aaron Wilford and looks likely to retain goalkeeper Colin McCormack, midfielder Danny Brooks and striker Aziz Bayeh.
Four Altona City players and a player from Caulfield United Cobras are on Strikers' radar while central defender Raphael Stulz is training with South Melbourne.
In other news Skye United assistant coach Billy Rae is likely to stay with the State 3 South-East outfit after being linked with the technical director's job at Southern United.
Skye held its annual presentation night last weekend and defender Johnny Andrinopoulos did the double adding the senior best and fairest to his players' player award.
Midfielder Marcus Collier was runner-up in the best and fairest for the second year running while Daniel Attard's 11 goals clinched his fourth successive Golden Boot award.
Daniel Jones did the reserves double adding the best and fairest to his players' player award with David Popa runner-up in the best and fairest and Lawrence Komba clinching Golden Boot honours.
Caitlyn Williams and Abi Johnston shared the senior women's best and fairest award with Saskia Dekker runner-up and Amber Brierley and Madison Brooks sharing Golden Boot honours.
Zenai Cerda won the reserve women's best and fairest with Alanah Gregory runner-up and Charlotte Galjar winning the Golden Boot award.
State 4 South outfit Baxter has officially appointed senior goalkeeper Francis Beck as head coach while Justin Brown has been re-elected club president for a third term.
Baxter hopes to announce a senior assistant and a reserves coach in coming weeks.