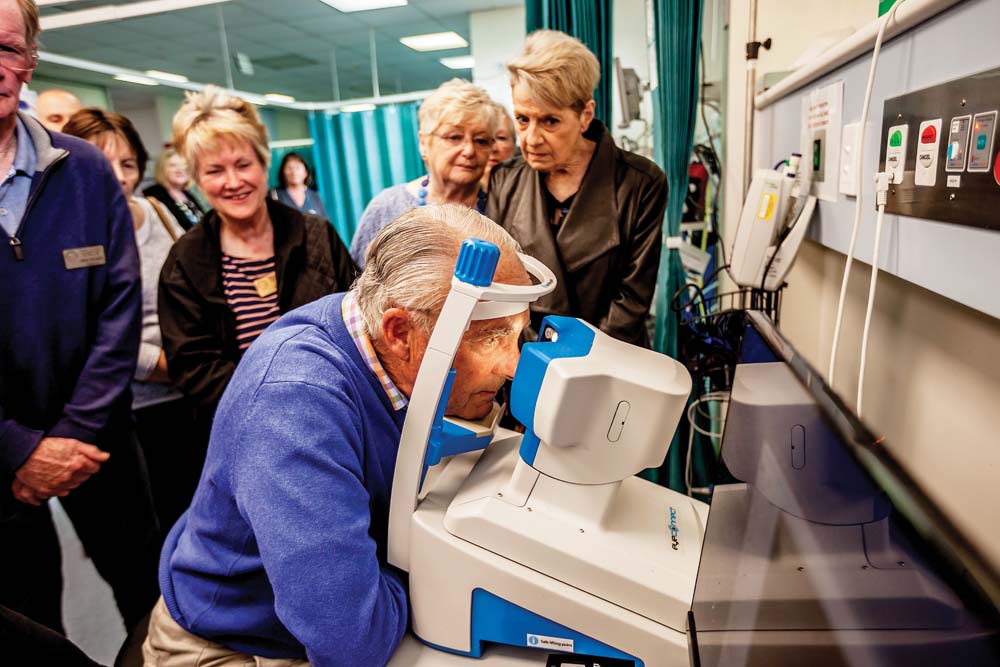 EYE emergencies can now be treated on the southern peninsula, thanks to the installation of an eyeConnect device at Rosebud Hospital.
Described as "world-class healthcare on your doorstep" by Peninsula Health acting CEO David Anderson, the device is expected to treat 60-100 people over the next 12 months.
Peninsula Health clinical director of emergency Dr Shyaman Menon said the new addition was a "game-changer" for patients. "It comes just in time for the busy summer season when we get double the number of people presenting at Rosebud Hospital's emergency department," he said.
The eyeConnect device allows emergency doctors, who are not eye specialists, to manage patients locally, with real-time assistance from specialists at the Royal Victorian Eye and Ear Hospital, East Melbourne.
Developed by local medical technology manufacturer Ingeneus, with funding from the state government, the device collects patient data, visual information and images of the eye which are then reviewed by specialists in the city. A decision is then made "on the spot" about whether the patient can be treated at Rosebud or elsewhere.
A generous contribution from Rye Op Shop played a welcome role in purchasing the eyeConnect device. It donated $100,000 towards the extensive renovations needed to expand the hospital's emergency department and build a special room to house it.
"Without the support of the Rye Opportunity Shop it would not have been possible to house this revolutionary device in the Rosebud ED and to provide this service to people on the southern peninsula," Mr Anderson said.
"I would like to thank the management committee and volunteers of the Rye Op Shop for this donation and the important role it plays in helping us to expand the services we provide to our local community."
Rye Op Shop president David Wills said the donation was "only part of what we have done" for the Rosebud Hospital.
"We have been supporting the hospital for a long time because it is a pretty special place," he said. "We also donated $500,000 for a cancer-scanning machine as part of another project."
Mr Wills said the op shop donated $242,000 to worthy recipients last year, including Food for All, Portsea Camp, local Scouts and Rye CFA.
"Overall the hospital is the greatest beneficiary," he said.
"Our 50 volunteers work hard and everything we earn goes back into the community."
First published in the Southern Peninsula News – 7 November 2017