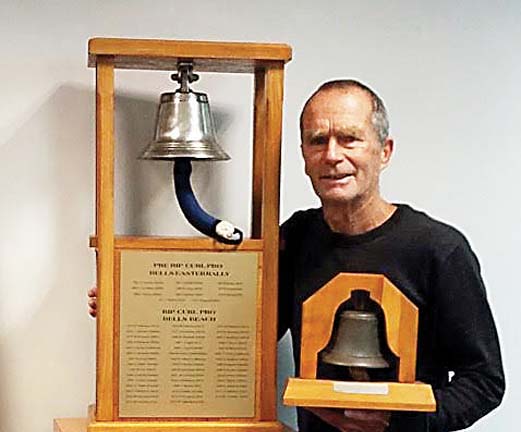 Flat bottom, sharp or blunt nose, swallow tail with flyers and rounded rails near the shoulders, and lots of rocker. Descriptions can be misleading, but all those words are part of the vernacular of surfers when describing a surfboard.
They are words that will be freely used among the crowds expected at the Vintage Surf Day at Point Leo on Sunday 12 November.
It is the third vintage day at Point Leo and sees the display of boards of all shapes, sizes and ages. And every board has a story.
Bob Smith, honorary historian at the Torquay Surfworld Museum and Surfing Victoria, is bringing rare and valuable memorabilia from the annual Bells Beach surfing contest, including the official contest trophy and the bell won by 1970s Australian surfer, the late Michael Peterson.
Stalls on the foreshore will include old surfboards and other devices used to catch waves.
There will be Kombis and woodies (surf cars) and food stalls.
Peter White, formerly of Seaford but now operating Classic Malibu, at Noosa, is bringing a range of modern boards down from Queensland and will be able to compare the evolution of designs over the years. One of the boards is a copy of a five-stringer George Rice mal that he used to make under licence in the 1960s. The board is made with the green tinged heavy Volan fibreglass, more commonly used on mals and old style boards.
Smith, who turned 70 this year, has surfed since 1964 and still competes regularly on longboards. He's recognised as a standout talent at west coast breaks, particularly Point Impossible. He has won 23 Victorian titles and two Australian Masters Games titles, as well as two Surfing Australia Hall of Fame awards and multiple titles for the Torquay Boardriders and Surfcoast Longboarders. He was awarded life membership to Surfing Victoria in 2014.
"Bob is a mine of information about the surfing history of Victoria, including the Mornington Peninsula and will be happy to talk history when he's over here," Vintage day organiser Rod Jones said.
The third Vintage Surf Day, on the foreshore at Point Leo from 10am Sunday 12 November.
Admission $4, with proceeds going to the Disabled Surfers Association Mornington Peninsula. 
First published in the Southern Peninsula News – 7 November 2017