A celebration of all things Cars, Music and Fashion!

WITH Rosebud's long history as a great place to enjoy summer beach holidays, what better place to revive the fun filled 50's & 60's lifestyle?
This rock and roll festival, called Foreshore RockFest, will run over three days, 17th – 19th November, and will involve seventeen different events involving music, dance, movies, car and vintage shopping all based in Rosebud and Dromana Drive In.
Fun starts on Friday evening with Rock'n'Bowls, at Rosebud Bowls Club,a car cruise along the back beaches of the Peninsula plus a dance at Rosebud Primary School featuring Who Was That Cat.
On Saturday morning the town centre will rock with hot rod and 'chrome bumper' cars on show, bands on stage outside GPO Hotel and a 50's & 60's Market running at Rosebud Primary School with live music and dancing. Saturday evening will provide fans of the '50's & '60's with multiple dance venues hosting live bands, including the Rockin' Daddies, Itchy Fingers, I.C Rock and Fender Benders.
New to the festival, for the swing dance enthusiasts, will be the amazing Pearly Shells and Lady Fox at the Memorial Hall. Also adding to the Saturday evening fun will be Dromana 3 Drive In featuring an Elvis movie, entitled 'Speedway', plus dancing.
Sunday will see a pre 1970's hot rod & classic car show on the Rosebud Village Green, featuring hundreds of cars and vintage caravans, with the Jump Devils entertaining.
For the fashionistas from the era, a 'pin up' contest will also be held in the Memorial Hall adjacent to the car show.
The market will continue at the Rosebud Primary School on Sunday from 9am.
Also new to the program this year is a Rock at Church service at the Uniting Church in Murray Anderson Rd with Blue Flame Rock playing live.
All events will culminate at 3pm on Sunday.
Tickets are essential for some events, selling through our website, but there is an opportunity to pay at the door of some venues.
For full details check www.foreshorerockfest.com.au or like the Facebook page – ForeshoreRockFest for all the latest news.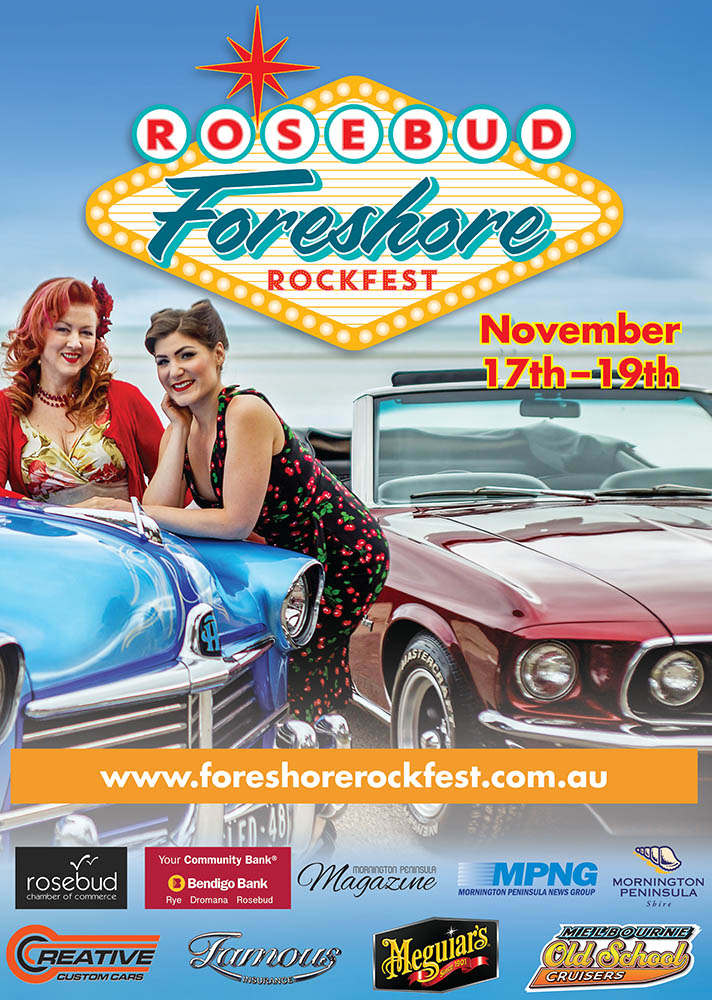 First published in the Southern Peninsula News – 6 November 2017