SOCCER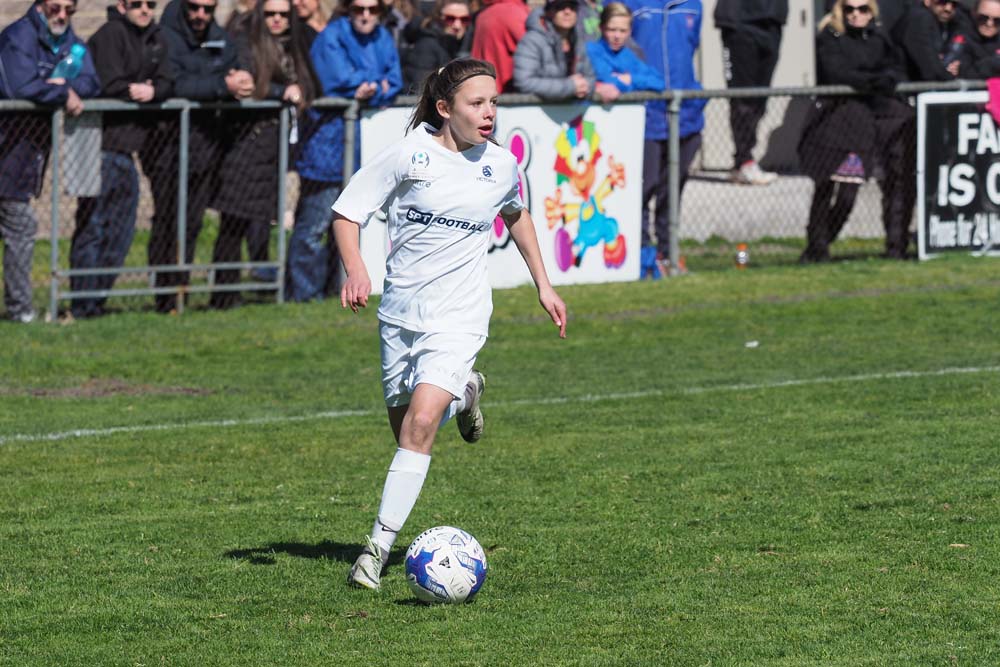 THERE is a remarkable talent in our midst and she only turned 12 in September.
Alana Murphy was five when she played her first game for Langwarrin. She scored twice at Lawton Park that day and she's been scoring goals for fun every since.
She is the second youngest member of Victoria's mini National Training Centre squad which competed in the 2017 women's NPL under-15 competition.
Her team beat up on most opponents throughout the season losing just one game and strolling to the title with five rounds to go.
Murphy was initially attracted to soccer through the involvement of her older brother Owen and father Steve.
She played in boys' leagues for some of her time at Langy and was just eight years old in 2014 when playing in an under-11 girls' league.
"I had to make a decision to stay with the girls or go with the boys' league," said Murphy.
She chose the boys' under-10s league in 2015 under coach Gary Brisbane and has never looked back.
"I think it was a better challenge for me because it was like more physical and faster and I improved a lot in that year."
At the end of the 2015 season Murphy played futsal, an indoor five-a-side competition, was the MVP in an under-12 boys' league and represented Victoria at the national futsal championships.
The introduction of a women's NPL competition for 2016 saw Murphy surprise many onlookers when she bypassed local club Southern United and signed for Box Hill United.
She had been selected for a Skill Acquisition Program under Stefano Sakalis the previous season and chose to join Sakalis' under-13 squad at Wembley Park.
She was just 10 years old for most of the season but handled the elite competition with aplomb.
Box Hill finished third and lost the under-13 grand final 1-0 to Bulleen with the decider coming three minutes from time.
Murphy's 24 goals clinched Box Hill's top scorer award and best and fairest. She was runner-up in the race for league Golden Boot honours.
Partway through that season she joined a train-on squad doing one session a fortnight with the NTC and at the end of the season was invited to train with the select group on a regular basis.
In October last year the Murphy family received a phone call from the NTC saying that they were delighted with what they'd seen from Alana and she was offered a full-time spot.
The girl with the long ponytail again tormented opposition defences, scoring 23 goals to be NTC's top scorer this year and third top scorer in the league.
Every astute judge that has seen Murphy in action rates her highly.
Skill has been described as a love affair between a child and a ball and for Murphy it's a love affair that could carry her to the sport's dizzy heights.
"I want to play for the Matildas. That's my goal," she says in a matter-of-fact manner.
Stephanie Catley and Sam Kerr are her current Matilda favourites.
"Steph Catley is really calm on the ball and her passing is accurate and if she loses the ball she transitions really quick," said Murphy.
"And I like scoring goals and Sam Kerr scores goals."
Kerr scored one and set up two goals in the Matildas' stunning 6-1 thrashing of Brazil in California on Friday 4 August this year to clinch the Tournament of Nations.
Murphy was transfixed in front of the TV in her bedroom watching her idols strut their stuff and ended up arriving at Langwarrin Park Primary School 15 minutes late that morning.
"I got caught up watching it but like I don't really care about looking at the time because when mum says go I just go."
Mum is Emily Murphy and following Alana's dream has taken the family to national championships at Coff's Harbour and national schoolgirls' championships in Perth.
Next month the Murphy family and Alana's grandmother are off to Adelaide to watch her play for Victoria's under-12s in the national schoolgirls championships for the second time.
While winning awards has become second nature to the young goalscoring prodigy she is acutely aware of areas she must work on to raise her game to greater heights.
"I mainly use my right foot (scoring goals) but I can finish on my left," said Murphy.
"Sometimes I need to take my shots a bit quicker and not have too many touches and every now and then my first touch is not so good.
"I often kick the ball at a wall really hard then control it to improve my touch."
It will be interesting to see how she develops next year when she becomes a student at Rowville Secondary College, joining its renowned soccer program under noted developmental coach Ian Greener.
Although Murphy has made her mark in front of goal she is keen to play in a more withdrawn role as an attacking midfielder in order "to become involved a lot more."
Whichever onfield role evolves her 2015 coach has no doubts about her ability to reach the pinnacle of the sport.
"If you took her long hair away you couldn't tell the difference between her and the boys," said Brisbane.
"She's a naturally gifted player and as for having a soccer brain she looks like she's been playing for 20 years.
"She reads the play really well and as a minimum I expect that she'll play for Melbourne Victory or Melbourne City.
"But I can see a future similar to Bailey Wright. She'll leave Langwarrin and one day she'll be wearing the green and gold."
Meanwhile Mornington has made a key signing with the capture of experienced central defender Jamie Cumming from Avondale.
"It's a fantastic get as Avondale had the best defensive record in the NPL this year and Jamie played just about every game," said Mornington gaffer Adam Jamieson.
Cumming has had stints at Oakleigh Cannons, Bentleigh Greens and Heidelberg United and was on Langwarrin's radar before heading to Dallas Brooks Park.
Mornington also has secured the services of goalkeeping coach Peter Blasby who has resigned from his position with Bentleigh Greens.
Local women's club Southern United continues to fall foul of the pied piper effect as senior players are lured to NPL rival Bayside United which has secured the services of former Southern coaches Rob Giabardo and Bill Mihaloudis.
Bayside dropped a bombshell recently when it announced it had secured the signature of 2017 Southern captain and women's NPL Gold Medal winner Candela Ferreyra-Bas.
Within days Bayside announced the capture of the Fonau sisters from Southern, goalkeeper Christine and defender Lisa while Elisabeth Robers, Savanah Anastopoulos, Rebecca Saber and Tayla Evans have also been linked with Bayside.
Word is that Southern isn't going to take this lying down and don't be surprised if some Bayside players head in the opposite direction.
Southern starts pre-season training tonight at Monterey Reserve at 7.30pm.
The 2018 Steve Wallace Memorial Cup will be held on Saturday 3 February at Baxter Park.
Just on $9000 for Frankston Hospital's emergency department has been raised from the three previous tournaments.
Once again competing clubs will be split into two groups and play each other in a round-robin format.
So far Langwarrin, Mornington, Casey Comets, Frankston Pines, Skye United, Peninsula Strikers, Seaford United and Baxter have signed up and tournament organiser Tanya Wallace is hopeful that Rosebud Heart will again be represented.
State League 2 club Old Scotch is keen to participate and is the likely 10th team in the annual event.