SOCCER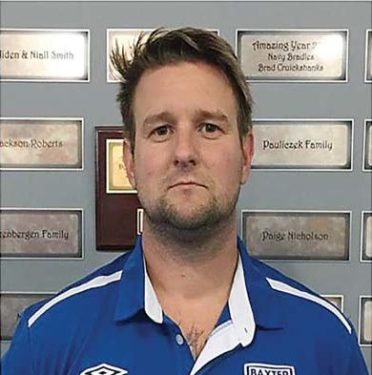 A CLOSER relationship with new NPL outfit Langwarrin could be the springboard which catapults Baxter into State 2 South-East.
That's the target that new Baxter gaffer Francis Beck and director of coaching Billy McLeod have set in an ambitious five-year plan for the State 4 South club.
"We're looking at two promotions in five years," said Beck.
"If we can do it then we'd call that success.
"We're not ready to be a State 1 club yet and you have to move up then consolidate but we think that what we are aiming for is achievable."
Baxter's generosity in allowing Langwarrin to hold NPL trials at Baxter Park recently while council work on Lawton Park took place spawned talks between Beck and Langy technical director Stephen Fisher about closer ties between the clubs.
Enter Langy assistant coach Ronnie Whitton who had guided the club's reserves to a title triumph last season and his discussions with Beck led to five Langy players training with Baxter last Thursday with the possibility that more will follow.
"I told Langwarrin that if all these guys are interested in staying together then I've got the team for them," said Beck.
However there is a fly in the ointment in the form of Skye United coach Billy Armour, a former Langy player of the year who has met with Langy president John Heskins to facilitate the capture of Langy players now surplus to NPL requirements.
The five Langy players who trained with Baxter are goalkeeper James Foster, striker Mitch Blake, defender Tim Lee and midfielders Matt Morgan and Jordan Redburn.
Blake and Redburn are due to train with Skye this week before deciding where to play next season.
Other newcomers to Baxter training were defender Joe Iline from Doveton, midfielder Jack Morgan from Hampton Park United and forward Isaak Barr from Peninsula Strikers.
Mornington duo Sam Luxford and Luke Strohhecker are due to train at Baxter Park this Thursday.
Beck, who turns 35 next month, is in his first senior coaching role.
He was born in Canberra and played junior soccer at Tuggeranong, Weston Creek and Belconnen Blue Devils before playing with Wollongong Wolves in the national youth league.
He moved to Melbourne in 2008 to be closer to his wife's family and it was a chance meeting with current Southern United junior coach John Meades that led him to Baxter Park.
He's been a jack-of-all-trades at Baxter having been in goal and played as sweeper, in central midfield and up front.
"I pretty much played down the spine because once you're out wide there's too much running involved," quipped Beck.
While lamenting the loss of Frank Ntim and Matt Owens to retirement he was delighted to scotch rumours that had Owen Kilner and Mark Pagliarulo also leaving the first team squad, Kilner rumoured to be heading overseas while Pagliarulo was another on Armour's radar.
"Owen's definitely staying and 'Pags' is going nowhere," said Beck.
However doubts remain over the ability of star striker Liam Kilner to overcome a debilitating back injury.
Mornington's campaign to win an NPL spot has gathered impetus with news that it has clinched the signing of English striker Max Etheridge.
The 27-year-old hitman has already had a successful stint here with Morwell Pegasus, Bentleigh Greens and Kingston City and is expected to return to Melbourne later next month.
Etheridge has been on the books of Evo-Stik League South West Division outfit Swindon Supermarine.
"We actually contacted Max midway through last season when we heard he was keen to come back," said Mornington boss Adam Jamieson.
"After losing Ryan (Paczkowski) he's a fantastic signing for us."
The man who wants to be known as the pied piper of the peninsula has been at it again and has lured another two English players to Centenary Park.
Former English pro and Peninsula Strikers head coach Andy O'Dell confirmed last weekend that he has clinched the signatures of Nicky McNamara and Josh Howell.
McNamara, 28 next month, spent four years with Hull City and had a loan spell with Milton Keynes Dons before O'Dell brought him to Fawkner.
McNamara also played with Port Melbourne before returning to England.
Howell, 21, has been on Scunthorpe's books and is a tall left-footed defender.
Both players are due to arrived in Melbourne in mid-February.
Langwarrin will step up its preparation for its inaugural NPL season by taking on Box Hill United's seniors and under-20s at Lawton Park on Saturday 2 December.
On Saturday 9 December Langwarrin will play Kingston City's seniors and under-20s at Lawton Park.
On Sunday 17 September Langwarrin will take on South Melbourne's seniors and the curtain raiser will be between Langy's under-20s and Skye United.
Kick-off times will be announced later.
A number of triallists were on show last Saturday morning at Lawton Park as Langy gaffer Gus Macleod goes about his task of building a senior squad for the 2018 season.
Young midfielder Darcy Powlik was impressive. He is a former Murray United player who joined Eastern Lions midway through last season.
Experienced defender Luke Burgess is another triallist. He has had a stint with South Springvale and joined Whittlesea Ranges from Dandenong City last June.
The decision as to which two visa players will be signed for next season will be left for as long as possible with Connor Belger and Paul Speed not due to return from England until early January.
Big George Whiteoak will hold talks with Casey Comets this week and seems certain to move while Comets continue to be linked with gun striker Liam Baxter.
Southern United is licking its lips at the prospect of moving into its new administrative and training base in Wedge Road, Carrum Downs in 2018.
The facility is part of a $7.5 million upgrade of Carrum Downs Recreation Reserve which includes a floodlit multiuser synthetic pitch and a pavilion with dressing rooms, a first-aid room, three referees rooms, kitchen, social area, administration office, meeting room and four storage areas.
The project is on track for completion next March.
Skye United has retained the services of veteran coach Billy Rae who will again assist Armour with the senior squad and will also coach one of the club's junior sides.
Meanwhile Frankston Pines is in mourning following the death of Campbell Tervit last weekend.
Tervit was a long-standing Pines fan and former junior secretary whose Scottish brogue gave a distinctive edge to his vocal support and left the opposition and match officials in no doubt as to which side he followed.
"Campbell was a very loyal man, a great Pines man," said former club president and life member Alan Hodkinson.
Tervit was 76 and died following a long illness.
He is survived by his wife Rita, their daughter Heather, step-daughter Beverley and sons Michael and Brian.