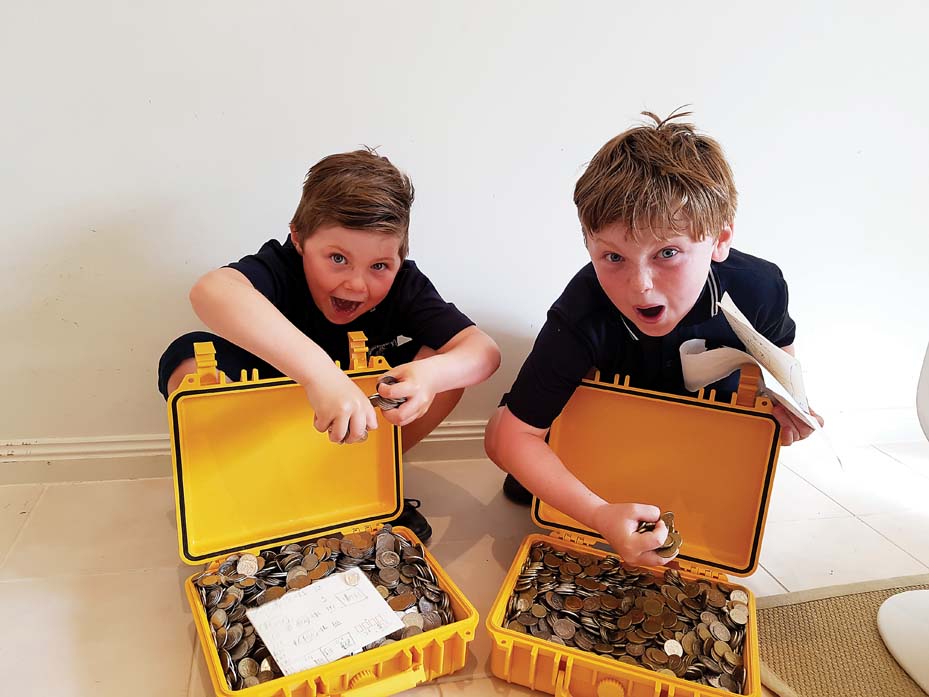 "TREASURE" valued at more than $2600 was found buried in a Mt Eliza backyard last week.
Two young boys and their uncle came across the booty as they dug a hole for a tree to fill a gap in the hedge. Their spades kept bouncing off something buried deep in the soil – until they managed to dig up a box weighing 22kg.
William, nine, and Thomas Gielen, seven, and their uncle David Dicker, discovered the box was full of coins and a tattered and stained note written by a Captain Snodgrass in 1976. The captain advised that he was leaving for the Antarctic and had buried his treasure, adding that there was also a second box "to starboard".
The boys, who have sailed before, tried hard to establish starboard, but luckily Mr Dicker and his sister, their mum Lucy Gielen, found the correct spot.
Grandmother Sonja Dicker, of Somerville, said the boys "squealed and yelled with joy at the discovery of a second box of treasure" – also weighing 22kg.
Reading the note they saw that Capt Snodgrass wanted the finders to check with police that they could keep the money. So, next day Mr Dicker took the boys to Mornington police station where the sergeant duly confirmed their document was "in order" and checked police records for any information on it. There was none – the money was theirs.
The very wise Capt Snodgrass had set three conditions before the boys would be allowed to keep the money. One third was to be given to a deserving charity. William and Thomas chose "Backyard Buddies", which assists koalas and birds, and also thought about helping "homeless people with no money".
Another third was to be put into the bank until the boys turned 18 and, the best part: they could spend a third of it on themselves.
Tom was thrilled and said he might buy a Porsche 911 as "they are only $150,000".
All the money was deposited into their bank accounts. The bank had been pre-warned as the huge number of coins to be counted meant the machine was in use for an hour toting up the final tally of more than $2600.
Mr Dicker, of Chelsea, who had been collecting "annoying" coins for years, believes the find gave his nephews "valuable lessons in responsibility, sharing and caring and planning for the future".
It also provided a practical lesson in maths. "Stacking and counting the money and writing down the tallies and adding the totals were all beneficial," he said.