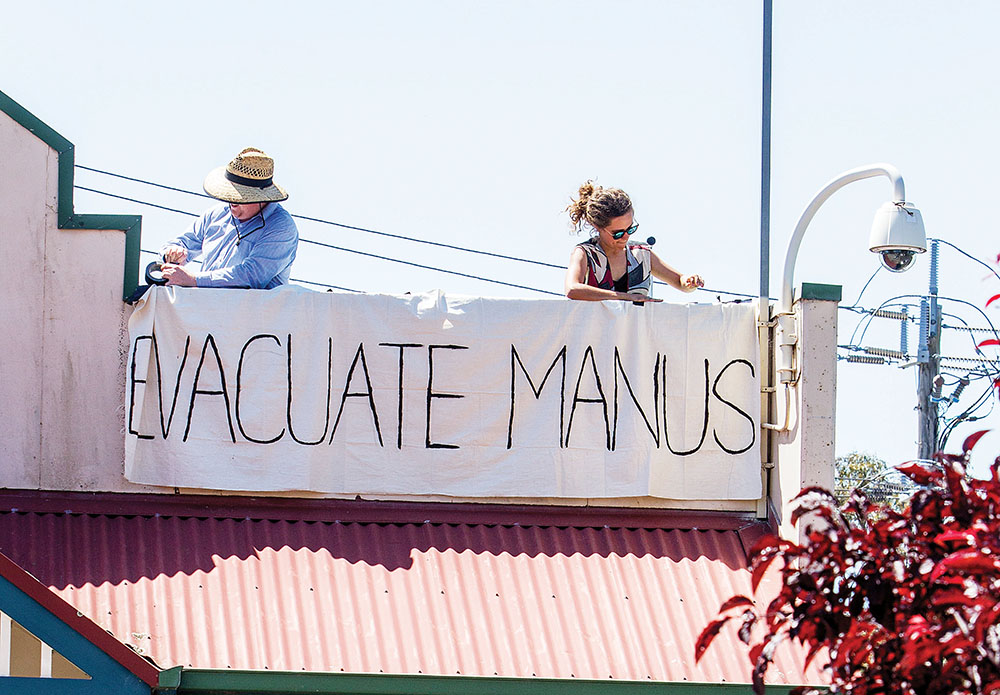 WHILE the federal government repeatedly refuses New Zealand's offer to provide a home for 150 Manus Island refugees, activists have staged a protest over the Hastings office of Flinders Liberal MP Greg Hunt.
Refugee Action Collective members climbed onto the office roof displaying banners with the words "Hey Hunt! Health = food, water, medicine and safety. Evacuate Manus!"
Mr Hunt's spokesman Mathew Langdon said: "All Australians have a right to protest, however there's always a responsibility to do so within the law."
Watched by police, the protesters came down voluntarily after two hours. No arrests were made.
"We are here today to draw attention specifically to the horrifically deteriorating health situation faced by refugees on Manus Island," Refugee rights advocate Amanda Zivcic said.
"These men have committed no crime and yet have been deprived of their freedom and their health for four long years.
Ms Zivcic said Mr Hunt, who is also health minister, should "do your job and evacuate these men, bring them here, and give them the health care they need and they're entitled to".
"There are people with infections, a man with heart pain, a man having serious epileptic seizures, and another one with severe kidney stones. A vast proportion of these men also have mental health issues brought on by years of imprisonment at the hands of Australia. Refugees have been viciously attacked. And now, food is not being let in, the men are prevented from storing water, and all are dehydrated and starving."
Ms Zivcic said  the government and the Labor opposition "need to answer for the situation they have created on Manus Island".
These prisons are constructed and funded by the Australian government, they're staffed by Australians and it was Australia who dumped them there. And the new prison that the men are resisting being moved to in East Lorengau is no improvement on this, and it is even less secure than where they are now."