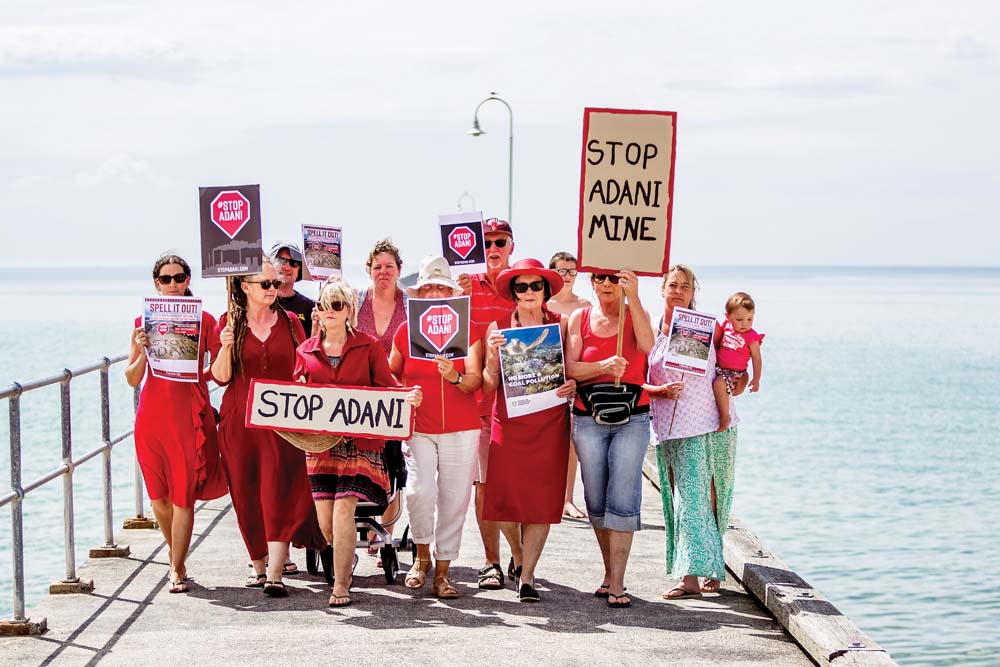 A GROUP of southern Mornington Peninsula residents are united around one big issue: stopping the Adani coal mine being developed in central Queensland.
The group formed after an impromptu protest in October when Lynn Carpenter put out a call on social media for people to meet on the beach at Rosebud for a "Stop Adani" protest.
"With only four days' notice 30 or so people turned up," Gillian Adam said. "From that original protest a Facebook group was formed called Southern Peninsula Friends of the Planet.
The core of this group: Lynn Carpenter, Belinda Edmonson, Gillian Adam, Kerri McCafferty and Stella Patience, are now trying to organise a noticable protest by making a human sign on the beach adjacent to the Rye pier on Sunday 3 December. Those attending are asked to wear red.
"We are just ordinary working women – I am a retiree – while Stella, Lynn and Kerri are nurses and Belinda is in emergency management and currently back at university," Ms Adam said. "Two of the group have small children.
"We are all concerned about the effect this mine is going to have on the Galilee Basin, the area's water resources and the Great Barrier Reef.
"We have contacted many other groups on the peninsula – from the Greens Party to Luke English from Red Boats Scuba Diving – and have been surprised at the support for our protest.
"We've distributed posters to shopping and community centres, cafes, surf clubs, hospitals and tertiary institutions on the peninsula and surrounding areas. We have also emailed posters to all our contacts and environmental groups on the peninsula."
Ms Adam said the group had seen the powerful effect of "people power", with the Stop Adani movement influencing Queensland Premier Annastacia Palaszczuk to veto government funding for the project.
"We, like many other Australians, do not want an alleged corrupt Indian company to be subsidised by the federal government to make profits which they will not pay taxes on and, in the process, cause untold damage to a pristine area of Queensland and especially the Great Barrier Reef."
First published in the Southern Peninsula News – 28 November 2017