DISTRICT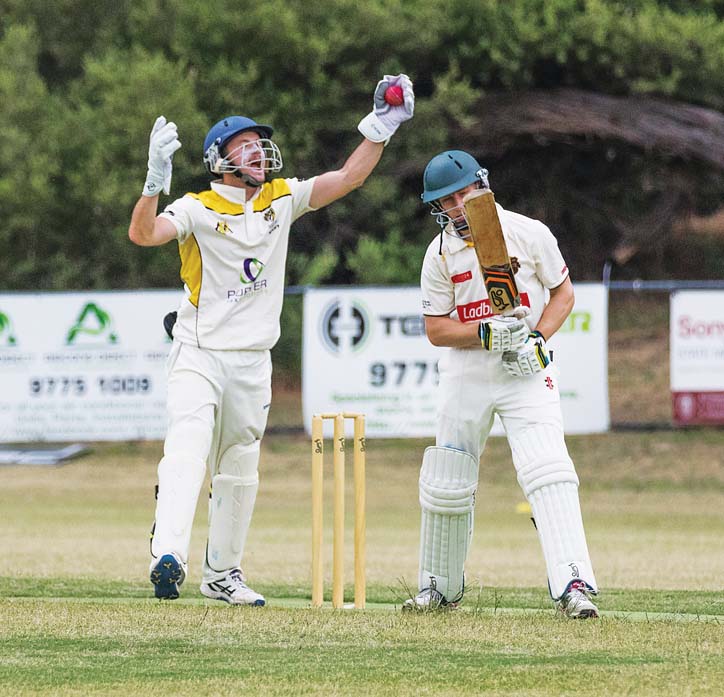 ROSEBUD and Hastings are locked in an intriguing MPCA District battle after 11 wickets fell on the opening day of their clash at Thomas Barclay Reserve.
The Buds batted first after winning the toss but other than skipper Billy Quigley, there was little resistance in the order.
Quigley scored 48 at the top of the innings while Janaka Kumarage debuted with 27 for the Buds and showed signs that he is only going to get better.
Ryan McNamara was on fire for the Blues, bowling 11.1 over and finishing with 5/34, while Isuru Dias sent down 27 overs and collected 4/36 in a sensational performance which also came with 12 maidens.
Chasing 155 for victory, Hastings had to face the final nine overs of the day.
It lost Rob Hearn for five, courtesy of Pat Nagel rattling his stumps. The Blues will resume at 1/20 this Saturday, however, given Hearn is in the sheds and the batting has been brittle at best this season, 154 should be enough for the Buds to defend.
Seaford Tigers has challenged Rye to score 201 runs for victory in their match at RJ Rowley Reserve.
The Tigers made 8/200 from their 80 overs, Anthony Joel top scoring with 42, Dave Roach hitting 39, David James 31 and Luke Chevalier 24.
Whilst the Tigers batted well, Rye's Zac Stephenson was outstanding with the ball, claiming 7/72 from 26 overs. Matt Whelan bowled 34 overs for a return of 0/78.
The Demons' bowling was tight and it has given them every opportunity to challenge for the victory.
Seaford has already begun its chase against Heatherhill after rolling the visitors for 190 in 63.3 overs.
The Tigers will resume on 0/12 after rain cut day one short, facing just four of an available 16 overs at the end of the day.
Once again the tail wagged for the Hills, Declan Albert top scoring with a well-timed 53, while Steven O'Donnell hit 35 at the top of the order.
In the final match, Baden Powell has set Mt Martha a total of 265 for victory after being bowled out for 264.