DISTRICT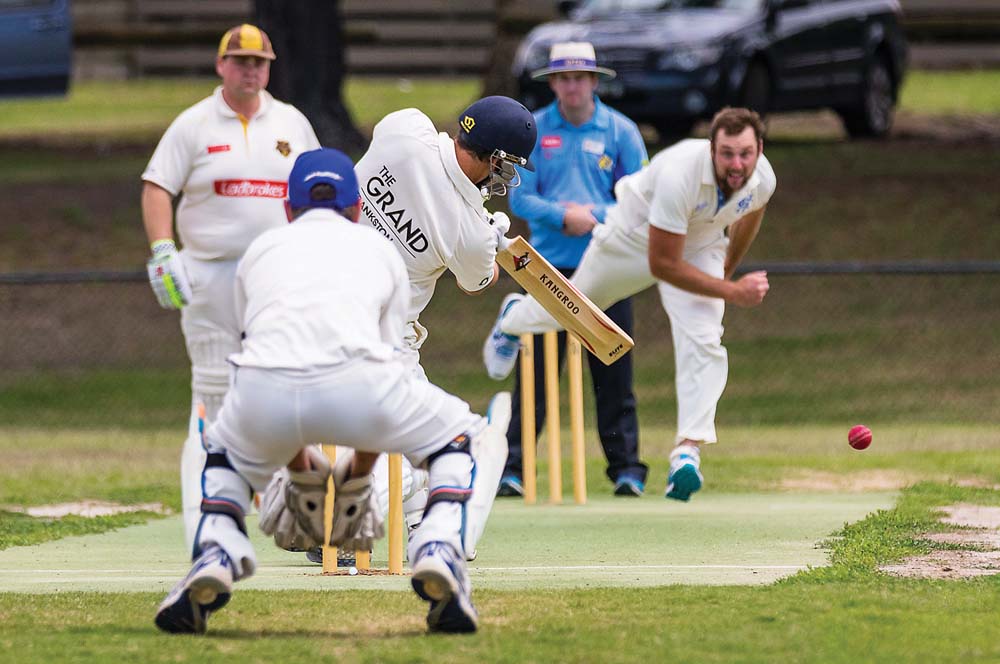 RYE has taken a step back in time after being humiliated by Baden Powell on day one of their MPCA clash at Overport Rd.
In scenes of previous seasons, Rye embarrassed itself, losing 13 wickets in one afternoon of cricket.
Batting first, the Demons were bowled out for just 73 in its first innings, all back in the sheds in 44 overs.
Ryan Barnett opened with 4/28 from 16 overs, Michael Ballard claimed 3/27 from 17 overs at the other end and Craig Entwhistle picked up 3/2 from 4.1 overs.
The Braves then came out and went wooshka, scoring 4/127 in just 28 overs before throwing Rye back in to bat with eight overs left in the day.
It was a fruitful handful of overs for the Braves, claiming 3/9 with Nathan Rice capturing 2/1 from two overs.
Still 45 runs behind, the Demons have just seven wickets in hand. There's no avoiding an outright loss in this match.
Mt Martha is just 75 runs away from victory against Rosebud, however, has just eight wickets in hand.
Rosebud batted first and was bowled out for 108, Jason Mathers top scoring with an unbeaten 38.
Brad Schreuder was the pick of the Reds' bowlers with 4/18 from 15 overs, while Kyle Bendle bowled 22.1 overs for a return of 3/39.
The visitors were forced to face the final 20 overs of the day. They will resume on day two this Saturday at 2/32, Pat Nagel and Billy Quigley the wicket takers for the Buds.
Hastings has placed itself in a horrible situation yet again, on its knees against Heatherhill.
Once again, the bowlers did the job for the Blues, bowling out the Hills for just 185.
Mitch Floyd was solid for the Blues with 4/47 from 15 overs while Isuru Dias picked up 3/27 from 16 overs.
Kristian Miller top scored with 82 for the Hills, eventually run out.
Facing the final 22 overs for the day, Hastings slumped to 4/59, Floyd top scoring with 32. Jason Hinde was the pick of the Hills' bowlers with 2/22.
In the battle of the neighbours at Belvedere Park, Seaford Tigers are one wicket down chasing 195.
Seaford batted first and made 195, Jack Brooking the pick of the Seaford Tigers' bowlers with 4/47. Matty Roach opened the bowling and snared 3/43 from 14 overs.
In reply, the Tigers faced the final nine overs of the day and at stumps were 1/23 after Roach was gone for a duck.