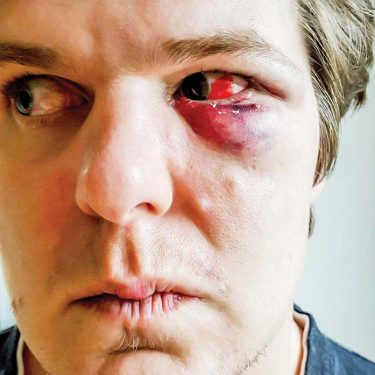 FORMER Mornington Peninsula Shire councillor Andrew Dixon is recovering after being viciously attacked – twice – by two gangs of street thugs earlier this month.
Mr Dixon, 30, who represented Briars Ward from 2012-16, was walking to his car after a night out in Flemington, 12.30am, Tuesday 5 December, when a gang of men described as being of African appearance came out of a housing commission block.
One of the gang allegedly kicked Mr Dixon savagely to the body causing him to fall down and then punched and kicked him to the head. Two others joined in the attack until Mr Dixon was lying unconscious on the ground.
They then allegedly stole his mobile phone, wallet and car keys and ran off, leaving him dazed and bleeding in a garden bed.
But the university student's troubles weren't over: Regaining consciousness and staggering, Mr Dixon sought help from another group further along the street – and was attacked again.
Three men allegedly punched and kicked him in the face, causing serious eye damage and no sight in his left eye for several days. He was treated in hospital for what he described as a "terrifying attack".
Anyone with information on the attack is urged to call Crime Stoppers 1800 333 000.