A WOMAN and her 20-year-old son have been left homeless after fire destroyed their house at St Andrews Beach on Tuesday 2 January.
Sharyn Cook believes the fire in their Alex St home was caused by a knocked over candle.
Ms Cook was sleeping outside the house while her son Callum was inside on the lounge room couch when the blaze broke out at about 11pm.
The house was completely destroyed by the fire and Ms Cook does not think it is covered by insurance.
Power has been cut off from the property since March last year and she has been using candles for light and showering at friends' homes.
After the fire last week Ms Cook was staying with friends at Mt Martha and making frequent visits to see her son who was recovering from severe burns at the Alfred hospital.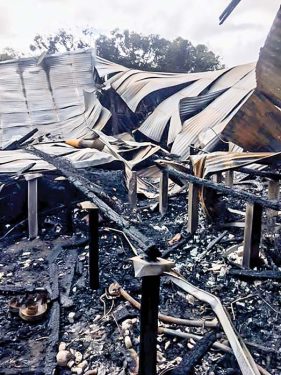 "He went back in [to the burning house] to look for our pets and got burnt on his face, hands, arms and legs," Ms Cook said.
"At the start of the fire I heard a noise, like popping corn but couldn't see a thing. I ran to the back door to check on the dog in the laundry but it was filled with black smoke."
Lieutenant Eddie Matt, of Rye CFA, said fire crews carried two cats and seven dogs from the property.
He said the house fire capped a busy few days for the brigade which on New Year's Eve answered 10 callouts between 7pm and 2.30am, mainly from fires started by gas bottles.
A house in Eugenia St, Rye was a "total loss due to a barbecue gas bottle".
Mr Eddie said soapy water should be used to check gas bottle fittings and valves for leaks "at least each time a gas bottle is changed and particularly at the start of the summer holidays if the barbecue hasn't been used for most the year".
First published in the Southern Peninsula News – 9 January 2018