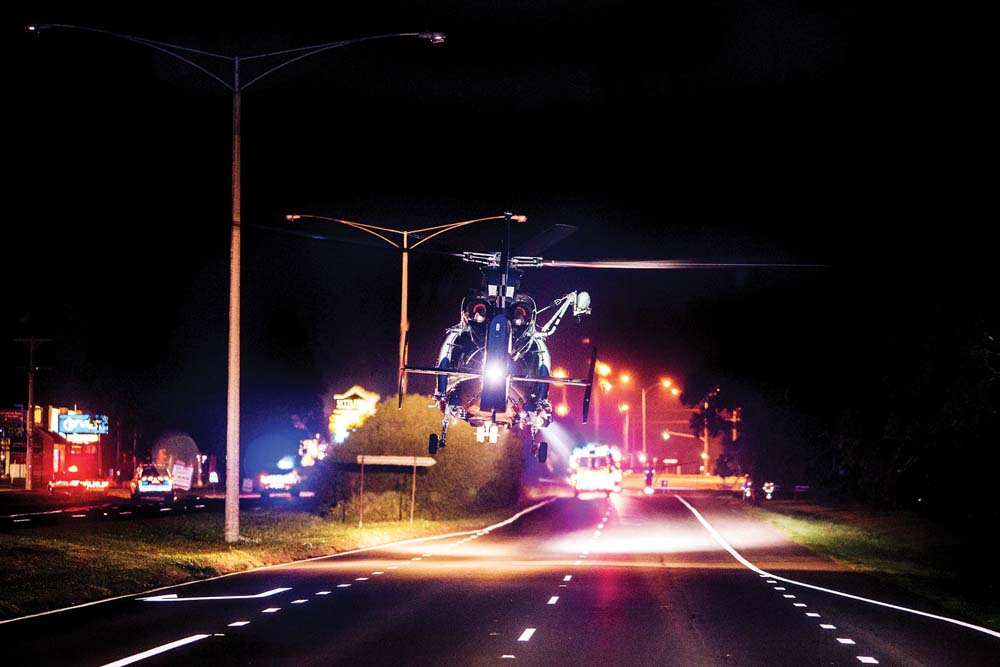 MEN make up the majority of road deaths in the past year, accounting for 186 of the 255 fatalities in Victoria.
The number of lives lost includes 151 lives lost on country roads and 104 in metropolitan areas.
Road Policing Command Assistant Commissioner Doug Fryer said while the road toll was down for the first time in four years, "it's sobering to reflect that 255 families move into the new year without their loved one".
"My deepest condolences to each of the families who I can only guess continue to contemplate why, why have they been thrust into the sadness and loss that is the unexpectedness of road trauma," Mr Fryer said.
He said it had been disheartening to be told on New Year's Day of the death of the first person on the roads for 2018.
"The information I have at this stage is that it appears the car may have swerved to miss a kangaroo," Mr Fryer said.
"I cannot accept that it is only a matter of time before another life is lost, that the cost of mobility will at times be someone's life.
"That is why police will continue to run intelligence led state-wide and local police operations that focus on speed, drink and drug driving, distraction, seat belt compliance and fatigue.
"My resolve only strengthens too that we'll continue to enforce and educate for greater road safety. And we'll continue to call on the community to acknowledge that they, each and every motorist, rider, pedestrian and or cyclist, has a role in ensuring theirs and other road users safety."
He said analysis of road deaths showed "increases and decreases and ups and downs, but really at the core of all of this is a deep frustration and sadness".
"Sadness of course, that families have lost a loved one but one of frustration, that people continue to lose their lives to road trauma.
Provisional road death figures in 2017 show:
151 lives were lost on country roads which is 59 per cent of all the lives lost
About 80 per cent of the fatal injury collisions on country roads occurred in speed zones of 100kph or higher.
104 deaths on metropolitan roads, a 37 per cent decrease to 2016 when 141 people lost their lives in metropolitan areas
The number of cyclist deaths has increased by 50 per cent, from eight in 2016 to 12 last year.
Motorcyclist deaths have decreased by 33 per cent from 55 in 2016 to 37 last year. One pillion passenger was killed.
Passenger deaths have also increased by 29 per cent from 35 in 2016 to 45 last year.
Pedestrian deaths have decreased by 23 per cent from 40 in 2016 to 31 last year.
Single fatality collisions decreased 15 per cent from 261 in 2016 to 219 last year.
Double fatality collisions decreased 19 per cent with 13 in 2016 compared to 11.
Triple fatality collisions have increased 75 per cent with one in 2016 compared to four last year in which 12 people lost their lives.
The 254 lives were lost from 234 fatal collisions.
Males accounted for the majority of lives lost with 186 compared with 68 females with one unknown gender (following up reports).
The 25 to 29-year-old age bracket saw the biggest decrease in lives lost on our roads with 33 lives lost in 2016 compared with 19 in 2017, a decrease of 42 per cent.
November recorded the most lives lost with 32, up from 25 in 2016.
April had an increase in lives lost with 28 compared to 16 in 2016, a 75 per cent increase. Two double fatality collisions and thirteen single fatality collisions during the end of term one and Easter holidays contributed to this increase.
There were 44 lives lost as a result of collisions involving heavy vehicles, a 10 per cent increase from 2016 which had 40.
Heavy vehicle fatalities accounted for 17 per cent of all fatalities.
First published in the Southern Peninsula News – 9 January 2018