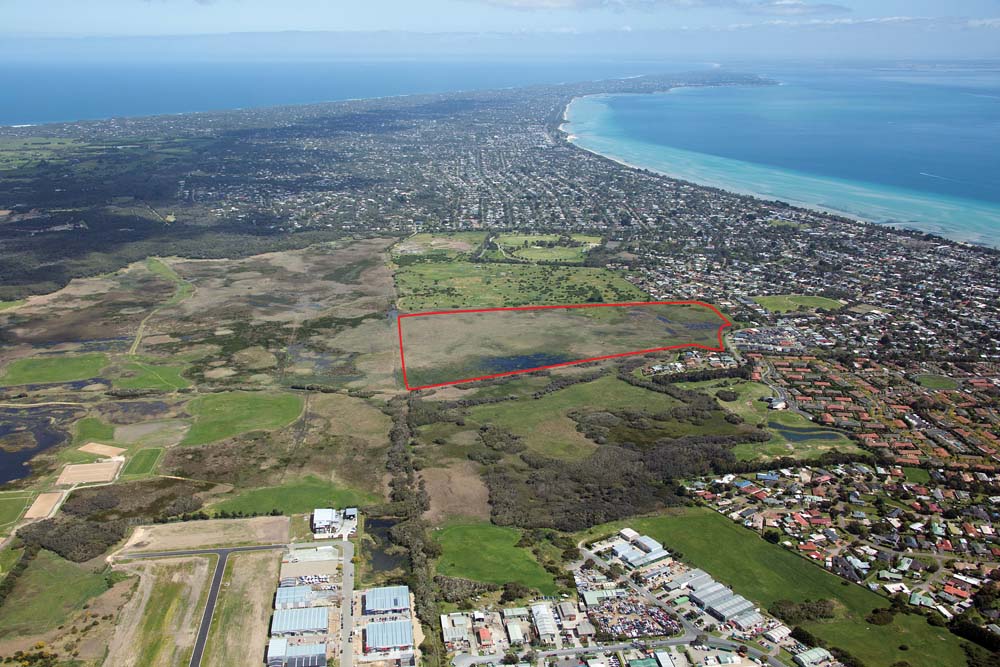 MORNINGTON Peninsula Shire will compulsorily acquire a large section of Tootgarook Swamp to save it from housing development.
About 30 hectares (70 acres) at 92 Elizabeth Av, Capel Sound (Rosebud West), will be acquired from property developers who wanted to build a retirement village of 80 units plus a 75-room hotel and a recreation centre.
Earlier plans sought permission to build 99 units and 163 units.
The land consists of 5.7 hectares zoned general residential, where the village was to be built; 21 hectares of "wetlands recreation area"; and 1.5 hectares split between a road reserve (VicRoads' future freeway) and land for light industry.
The block is between Chinamans Creek and Truemans Rd Recreation Reserve (formerly a rubbish tip).
It is one of several privately held blocks in the wetlands that were zoned residential by the former Shire of Flinders before environmental considerations became common in planning.
Shire councillors agreed to buy the land and begin the acquisition process in December at a special closed meeting. A notice of its intention was published in the Victorian Government Gazette last Thursday.
The land was last listed for sale for between $4.3 and $4.7 million.
The shire will now begin negotiations with land owners Steller Estate Rosebud Primary and Watermark Village. If they fail to agree terms, the matter could go to the state planning tribunal VCAT.
The purchase will be the most expensive by the shire since it bought a site for the still-unbuilt Rosebud aquatic centre for $5.87 million in late 2012. (Rosebud Central shopping centre for $5.1m and Brown Gouge dry cleaners in Ninth Av for $$770,000.)
Removal of 92 Elizabeth Av from developers will end years of controversy over building in the wetlands including multiple cases in the VCAT and disputes between shire representatives and community groups.
The land remains under an unenforced remediation order imposed by the VCAT as part of a penalty for alleged illegal clearing and cultivation in 2009.
On Friday, Cameron Brown of Save Tootgarook Swamp said the group was "absolutely ecstatic at the decision".
"Members of the community have been advocating for preservation of the important wetlands since the 1990s," Mr Brown said.
He said the land was part of "a vital and integral part of the swamp, the largest remaining shallow freshwater marsh in the entire Port Phillip and Western Port region".
It contained a large number of "significant fauna species such as 106 bird species including migratory birds listed under four international conventions covering migratory species, to which Australia was a signatory" as well as the endangered Australasian bittern and five significant ecological vegetation classes.
Cr Antonella Celi told The News the purchase would end "developer threats" on the land and was part of the shire's management plan for the wetlands.
"It's a significant step and although state and federal authorities have been involved in creating the management plan, there is no state and federal money for the purchase," she said.
Cr Celi praised Cameron Brown and Jessica Durrant of Save Tootgarook Swamp, Norm McKinlay of Friends of Chinamans Creek, peninsula conservation group SPIFFA, BirdLife Australia's peninsula branch, state water authorities, Parks Victoria, VicRoads and others including her council colleagues and shire staff.
She said there was other land in the wetlands that was at risk of development, which the shire would look at in due course.
First published in the Southern Peninsula News – 16 January 2018