SOCCER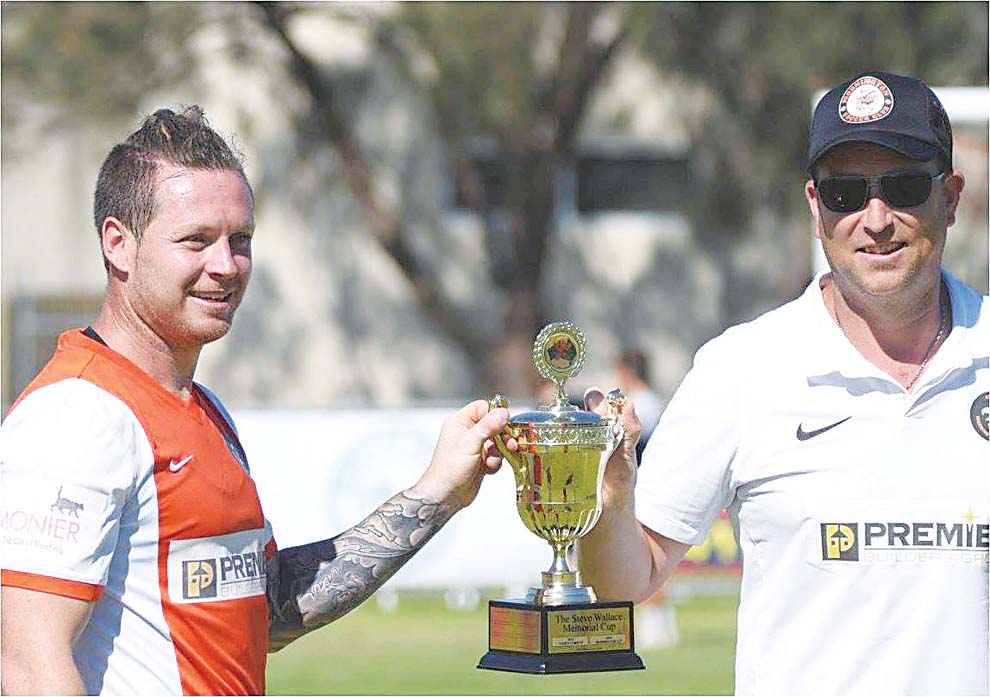 THE draw for the 2018 Steve Wallace Memorial Cup has been conducted and this year's tournament features eight clubs split into two groups.
Group A comprises Langwarrin, Casey Comets, Peninsula Strikers and Baxter.
Group B is made up of Mornington, Frankston Pines, Seaford United and Skye United.
The annual fundraiser for the emergency department at Frankston Hospital will be held at Baxter Park on Saturday 3 February.
The Bayside Football Association will again supply the referees and event organiser Tanya Wallace is seeking donations for the major raffle to be conducted on the day.
She can be contacted on 0425 450 596.
The round-robin event kicks off at 10am with the Langwarrin v Peninsula Strikers (pitch 1) and Mornington v Seaford United (pitch 2) matches.
Here is the rest of the draw:
10.35am: Casey Comets v Baxter (pitch 1) and Frankston Pines v Skye United (pitch 2).
11.25am: Seaford United v Frankston Pines (pitch 1) and Peninsula Strikers v Casey Comets (pitch 2).
12 noon: Skye United v Mornington (pitch 1) and Baxter v Langwarrin (pitch 2).
1pm: Langwarrin v Casey Comets (pitch 1) and Mornington v Frankston Pines (pitch 2).
1.35pm: Peninsula Strikers v Baxter (pitch 1) and Skye United v Seaford United (pitch 2).
The semi-finals are at 2.15pm with the winner of group B v runner-up group A (pitch 1) and the winner of Group A v runner-up group B (pitch 2).
Semi-final winners will meet in the final at 3.30pm.
Preliminary round matches are 15-minute halves, the semi-finals are 20-minute halves and the final consists of 25-minute halves.
In the event of tied scores in the semis and final, a penalty shootout will decide the outcome.
The tournament is a celebration of the local game and honours Stephen William Wallace, Langwarrin life-member and former club president, committeeman, coach, player and Bayside League referee who died on 19 July 2011 at the age of 54.
This will be the sixth staging of the event and previous winners are Mornington (2014, 2015, 2016 and 2017) and Casey Comets (2013).
Meanwhile, Langwarrin is close to agreeing terms with five new players as it gets set to take its NPL bow.
John Kuol (Morwell Pegasus), Sam Klepac (Mooroolbark), Luke Burgess (Whittlesea Ranges), Andrew McLean (Eltham Redbacks) and Harrison Michaelis (Bulleen) look certain to sign.
Kuol and Klepac are forwards, Burgess is a defender, McLean can play in central defence or up front and Michaelis plays in defence or in midfield.
Young gun Aaran Currie fell foul of a recent change in the visa rules and was released last weekend while fellow visa player Alex Metcalfe returns to the UK this week.
Liverpool-based duo Connor Belger and Paul Speed are set to return to Melbourne on Tuesday 23 January.
In State 3 news Billy Painting, Erman Sepetci and Sajnesh Sugrim are the latest players to be retained by promotion candidate Skye United.
The club made the announcement late last week and that brings the number of players retained from last year's squad to nine.
Skye is in a battle with Frankston Pines for the services of 24-year-old defender Kurt Wagner-Goldsworthy who captained Langwarrin's championship-winning reserves side in the back half of last season.
He can play at full back, in central defence or in midfield and should prove to be an astute signing for whichever club wins his signature.
He trained with Skye on Tuesday last week and with Pines on Thursday and is likely to decide which club to join later this week.
He started his soccer career at sub-junior level with Mornington before spending two seasons in the under-18s and reserves at Peninsula Strikers.
He joined Langwarrin seven years ago and made his senior debut in 2016 but was cut from the senior squad late last year.
"Pines have told me to take time to make up my mind," said Wagner-Goldsworthy.
If he opts for Skye he could line-up alongside his teammate from Langwarrin in midfielder Jordan Redburn who wore the captain's armband in the reserves in the first half of last season before getting injured.
Skye and Baxter have been trying to lure Redburn and Baxter believes that Skye has won that battle.
In other news, the home ground saga that has dominated talk about Rosebud Heart during the off-season is over.
The State 4 South side will play its home games in 2018 at Boneo Recreation Reserve behind Boneo Primary School.
Heart will continue to use Truemans Road Reserve as a training base and its juniors will play home games at Rosebud Secondary College.
The club remains hopeful that funding will be found for a major revamp of Truemans Road Reserve.
Currently, Mornington Peninsula Shire council has had $200,000 allocated towards two new pitches at the venue and needs another $300,000 grant to start work next September.
"It's been a very frustrating experience and it's taken well over a year to sort something out," said sponsorship manager and former club president Rob Vosjan.
"We have been dealing with council for some time now about our safety concerns with Truemans Road."
The next pressing matter on Heart's agenda is finding a new senior coach.
"We are putting ads in the newspapers next week and on social media and we'll organise a kick-around this week," Vosjan added.
"We won't start serious training until the first week in February and that will give us eight weeks to prepare for the season."
Vosjan will oversee training until a coach is appointed.
He was a striker with Vvozc during his playing days in his native Netherlands and after arriving here spent two seasons with South Yarra.
He sees a bright future for Heart which has only operated as a senior entity since 2015.
"Our growth in player numbers shows that there is a positive vibe in the community for what we can deliver.
"This year I see a great opportunity for players on the fringe with teams higher up the leagues to come here and play seniors with us.
"Ideally we'd like to have a young team with some experienced players."
Prospective coaches or players requiring more information about Heart can contact Vosjan on 0438 585 820 or at info@rosebudheart.com.au.
Fellow State 4 South outfit Baxter is closing in on the signings of goalkeeper James Foster, midfielder Matt Morgan, right back Tim Lee (all from Langwarrin) and sweeper Joe Iline from Doveton.
Defenders Heath Goss and Jake Kidder and midfielders Owen Kilner, Dan Disseldorp, Alan Lipsett and Ben Meiklem have been retained.
Baxter boss Francis Beck continues to pursue the capture of strikers Mitch Blake (Langwarrin) and Isaak Barr (Peninsula Strikers) but tertiary studies may thwart his attempt to sign defender Conor Keely from Strikers.
Beck remains hopeful that ace forward Liam Kilner can overcome a debilitating back injury and play a part in the club's 2018 campaign.
Former Baxter hitman Mark Pagliarulo was up to his old tricks recently and this time his target was Roy Kilner his ex-gaffer at Baxter Park.
Pagliarulo saw an advert from State 5 South club White Star Dandenong on social media seeking a senior coach and put Kilner's name forward.
A White Star official phoned Kilner early last week telling him that the president was keen to sign him, they had potentially four to five State 2 players joining and that they would play home games on Friday nights to give Kilner free weekends every fortnight.
The official emphasised that the club had assistant coaches who could take training and that they needed a mentor.
"They asked me last season but I'm not interested," said Kilner.
"While I would have loved to go head to head with Dave Greening (Somerville Eagles) I wouldn't want to upset the legend like I did last year," he said with a grin.
Hot on the heels of confronting a player exodus from its senior squad Southern United received another major blow with news last week that secretary Michael Woodward has had to resign due to health issues.
Woodward is one of the leading administrators in the local game and although he remains involved with Southern it will be in a greatly reduced capacity.
STR Truck Bodies has withdrawn as Southern's main sponsor and the club is seeking a replacement.