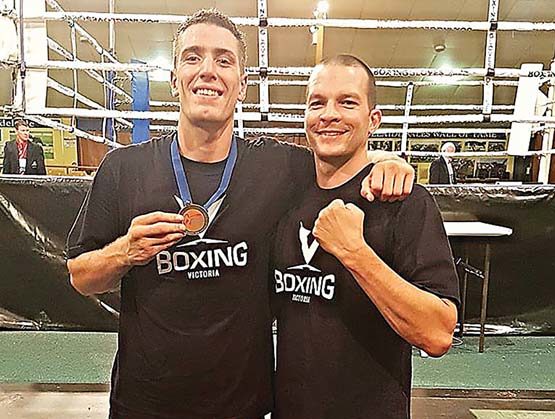 AFTER narrowly missing out on qualifying for the past two Commonwealth Games, Peninsula Boxer Jason Whateley will join 13 of Australia's top boxers at the 2018 Gold Coast Commonwealth Games in April.
Whateley is hoping to claim a gold medal in the Men's heavyweight division (91kg) and will also be joined by Peninsula Boxing head coach Marcos Amado who has been appointed assistant coach of the Australian Boxing team.
Coming off a silver medal at the 2010 Commonwealth Games Qualifiers and again earning silver at the qualifiers in 2014, Whateley made his biggest change to date and joined Amado at Peninsula Boxing in late-2016.
Since making the move and being coached everyday by Amado, Whateley says that he has come forward leaps and bounds.
"Training with Marcos has been massive in getting me to where I am now," Whateley said.
"Working with him every day has been beneficial for me. It's pushed me to my limit and made me stronger and more skilful than ever."
Whateley made amends at the 2017 Commonwealth Games Qualifiers which were held in New South Wales in November. Having been seeded number one, Whateley had a bye in the first round but was dominant winning in the Semi-Final having not dropped a round against Queensland boxer David Hadfield.
In the final Whateley again showed his dominance in the ring defeating Western Australia boxer Brandon Rees without dropping a round to earn a gold medal and a spot in the Australian Commonwealth Games team.
Whateley put in the hard yards throughout 2017 to prepare him for the qualifiers and competed in 13 fights for 10 victories. His three defeats came from opponents who were top 20 internationally ranked, including the world number two, Vassiliy Levit.
Whateley continually travelled racking up fights in Brisbane, Perth, New South Wales, Germany and Poland and in doing so accumulated two Australian titles, a Victorian title and an Australasian Golden Gloves gold medal. Whateley was also chosen to represent Australia and competed in the World Championships in Germany where he made it to the Quarter Finals and finished top eight in the world.
Whateley said it had been the busiest year he's had but the main goal had always been to make the Commonwealth Games team.
With the announcement being made in December that he had made the national team, Whateley has now been able to plan a program in the lead up to the Commonwealth Games.
Whateley will have a three week training camp in America and a two week training camp in Melbourne before he heads to the Gold Coast to represent Australia and undergo his final five week preparation camp.