SOCCER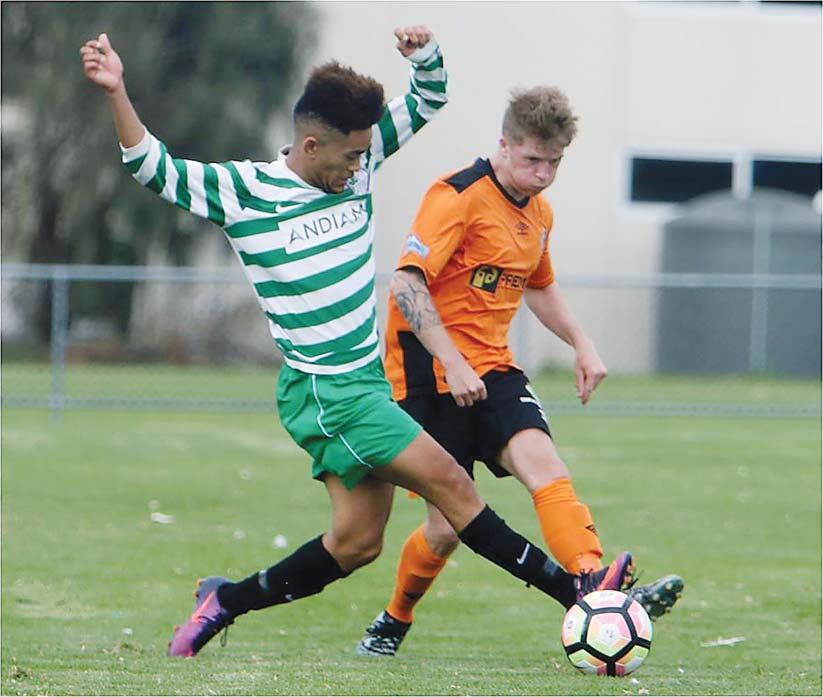 FOOTBALL Federation Victoria will announce this week that Peninsula Strikers have been reinstated in State 2 South-East after being relegated last season.
The federation contacted Strikers late last week with an offer of reinstatement and the club jumped at the chance.
Reports that State 1 North-West club Bendigo City had pulled its senior team out of competition and that a State 1 South-East side had taken up that vacancy remain unconfirmed.
However South Springvale, which was relegated from State 1 South-East last season is understood to have been reinstated thereby creating the vacancy for Strikers.
The remarkable turnaround has added to the positive vibe already at Centenary Park due to the major overhaul of the first team squad conducted by head coach Andy O'Dell.
The club has also been pleased with the quality of the high-intensity training sessions overseen by assistant coach Jamie Paterson.
The influx of new players continues apace with news that the club has signed winger Nathan Smith from Mornington.
He should feel at home alongside his former Brigg Town teammates Ryan Thompson and Oscar Marsden who arrived from England last week.
Hot on their heels is another O'Dell capture, 29-year-old former Hull City and Milton Keynes Dons midfielder Nicky McNamara, who is due to arrive this week.
Meanwhile English imports Connor Belger and Paul Speed were expected to return from the UK yesterday (Sunday) intending to take up Langwarrin's two NPL visa spots.
Ironically there to greet them at Melbourne Airport and drive them back to the peninsula was another visa player, Liam Baxter, who may be forced to quit the club due to Belger and Speed's return.
Although veteran Langy gaffer Gus Macleod is yet to make the call on which two players will fill the visa spots Baxter scored two goals last Thursday night in a trial game for Bulleen and if he is released by Langy two local clubs are waiting to pounce.
Both Mornington and Casey Comets want to sign the livewire Scottish striker.
Comets boss Jamie Skelly has been tracking Baxter for weeks while Mornington head coach Adam Jamieson has received two recruiting setbacks in recent weeks and Baxter is a perfect fit for the Dallas Brooks Park outfit.
Attacking midfielder Ryan Worrall from Eastbourne in England's Vanarama National League South recently told Mornington that he won't be coming over after agreeing terms and key local signing, striker Adam Wright from Northcote City, has told the club he intends to return to the UK in April.
"If he (Baxter) was to become available we'd absolutely be interested. He's a goalscorer," said Jamieson.
"Our priority is to get a couple of quality strikers in and he clearly fits the bill."
Welsh import Curtis Hutson arrived in Melbourne on Friday and had his first training session with Mornington on Sunday morning.
"He certainly looked the part," said Jamieson.
The 22-year-old can play up front or in midfield and was only 13 when he made his debut for the Welsh under-16s during his time at Cardiff City's academy.
He is the cousin of Manchester United legend and newly appointed Wales manager Ryan Giggs and has joined from Barry Town after stints with Port Talbot Town, Newport County and Merthyr Town.
Two other visa players who played an integral role in Langy's 2017 championship also are on the move.
Alex Metcalfe returned to the UK yesterday while teenage striker Aaran Currie has at least four suitors– Hume City, Sunshine George Cross, Preston Lions and Richmond (and maybe one local club).
Langy remains firmly in squad-building mode and despite promising signs in pre-season hitouts against Box Hill United and South Melbourne it was outclassed by Heidelberg United at Lawton Park last weekend losing 5-0.
The gulf between established heavyweight Heidelberg and the NPL newcomer was most evident in the first half when George Katsakis's side strolled to a 4-0 lead at the interval.
The Bergers took an early lead following a quick break that ended with Tom Cahill in a one-on-one with towering Langy goalkeeping triallist Josh Dorron and tapping the ball home from close range.
Dorron is on Ballarat's books after making the move from Alice Springs last year to further his soccer career.
He faced a baptism of fire against the Bergers who went further ahead after a Jack Petrie sidefoot following a clever cutback from a free-kick on the right.
Scottish winger Sean Ellis was taunting and teasing all comers down Heidelberg's right and he dragged down the ball superbly and skipped past a defender before walking it into the unguarded goal to make it 3-0.
When Ellis set up Petrie to slam home and make it 4-0 a deluge was on the cards.
But a considerate Katsakis made a raft of changes in the second half as his side took its foot off the pedal and the only goal of the second stanza came from Nashir Hussainy.
Langy's under-20s suffered their first pre-season loss when they went down 4-1 to Heidelberg in the curtain raiser.
A deflected shot from Cameron Boulton was Langy's sole response against the best side it has played so far.
Ayden Eszes (quad), Cody Eszes (overseas with Australian schoolboys) and Keegan Guy (on holiday) were unavailable so Boulton, Josh Millar and Calvin Delaney were drafted in from the under-18s.
Langwarrin will play Clifton Hill on the main pitch at Lawton Park on Tuesday this week with a 6.45pm kick-off.
The Under-20s will play at the same time on the top pitch.
This replaces the previously scheduled away fixture against Green Gully which has been scrapped.
Once upon a time Caleb Nicholes, Mitch Blake and Kurt Wagner-Goldsworthy all played for Langwarrin but on Saturday at Monterey Reserve they made their unofficial debuts for opposing clubs with mixed results.
Nicholes opened the scoring for Skye United in the 42nd minute after dispossessing Frankston Pines central defender Ioasa Saemo and slotting the ball past triallist keeper Brad Klarenbeek.
New Pines recruit Wagner-Goldsworthy headed into his own net under challenge from Blake at the back post in the second half to make it 2-0 then later Blake's intended cross sailed over Klarenbeek's head and into goal to complete a 3-0 scoreline.
Skye accommodated marquee signing Nicholes by playing him in a central striking role with Daniel Attard on the right and Blake on the left.
Skye coach Billy Armour is on holiday for three weeks so assistant coach Billy Rae was at the helm.
Seaford United striker Mitch Lander lined up for Pines but the club remains mystified by the ongoing absence of midfielder Matty Davis and striker Jack Wrobel.
Prior to the match Pines announced that it had clinched a three-year five-figure shirt sponsorship deal with Mitchell Torre.
Currently based at Patterson Lakes the real estate company plans to open a new office in Frankston.
In other news Seaford United meets with Frankston council on Monday 5 February to sign off on a major clubroom development at North Seaford Reserve.
Two women's changerooms, a referees' room, a first-aid room and a storage area are part of a $500,000 refurb that will be completed this year.
The State government tipped in $300,000 to the project with council making up the difference.
State 4 South side Baxter enjoyed a 4-1 romp over visiting Hampton Park United on Saturday with a host of new signings and triallists on display.
Alan Lipsett, Dan Disseldorp, Justin Brown, Ben Meiklem and Grady Vickers were with Baxter last year but the match also featured new keeper James Foster, defenders Joe Iline and Tim Lee, striker Izaak Barr and former Langy midfielder Matt Morgan with potential signings Andy Bayliss-White, Danny Hansard, Mornington striker Jason Bradbury and former North Caulfield and Sandown Lions keeper Capo Chudier.
A scoreless first half was followed by a demolition job in the second half with Baxter's goals coming from Meiklem (2), Vickers and Morgan.