A PASSING boatie who "rescued" a stricken man after a boat explosion at Blairgowrie on Australia Day thought he was doing the right thing spiriting him away from the crime scene.
The boatie dropped the heavily-tattooed man back at Sorrento beach where he said he had left his things, Friday 26 January.
The boatie later spoke to Mornington detectives about the explosion at the Blairgowrie Yacht Club which destroyed the 5.8-metre fibreglass a boat in a deliberately-lit inferno. Smoke could be seen billowing from all over the southern peninsula. The owner later made a statement to police.
The man was seen swimming from another boat towards the unoccupied boat moored at the Blairgowrie marina, 3.45pm. He climbed onto the unoccupied boat and stayed for about 10 minutes before it exploded and he jumped into the water.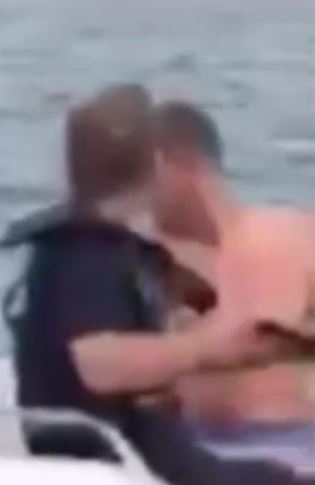 Senior Constable Tess Cunningham, of Somerville CIU, said the passing boatie may have assumed the man was the owner before dropping him off at Sorrento. "They didn't do much talking" after what was an understandably stressful event, she said.
Speculation is that the man may have lit a flair which caused the fire.
Police have so far been unable to locate the tattooed man who is described as Caucasian, aged 30-35, shaved head with a sandy-coloured two-day growth. He had many tattoos, including words tattooed across his chest. He was wearing torn denim jeans and had a large cut to his head.
Detectives have released vision, taken from a passing boat, of a shirtless man who they believe may be able to assist with their enquiries.
"The exact circumstances surrounding the explosion are still unknown and the investigation is ongoing," Senior Constable Cunningham said.
Anyone with information is urged to contact Crime Stoppers on 1800 333 000 or submit a confidential report to Crime Stoppers at crimestoppersvic.com.au