DISTRICT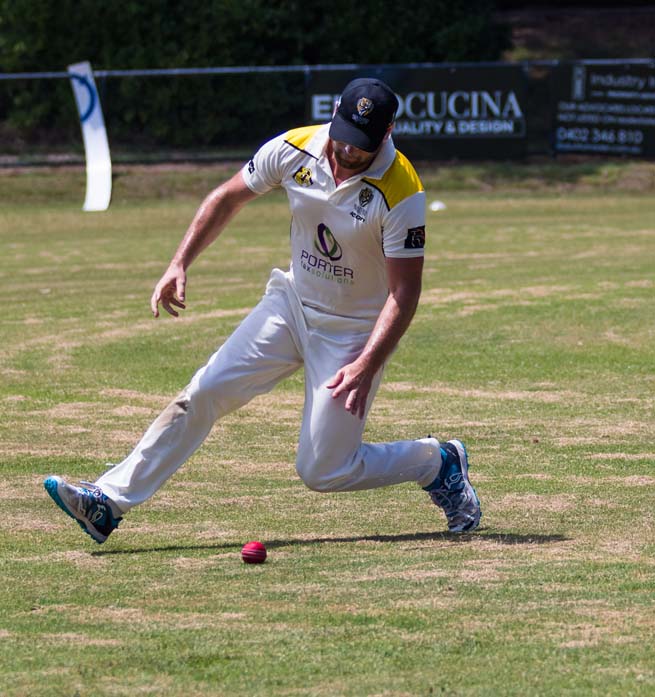 FOR one of the first times this season Hastings has placed itself in a strong position to win after batting first against Mt Martha in MPCA District cricket.
The Blues were sent in to bat by the Reds, clearly aware of the Blues' recent batting form.
However, Nathan Hunt opened with 49 and Luke Hewitt contributed 40 while the middle order picked up some handy runs as well, to help the Blues to 187.
Kade Bendle sent down 25 overs and was rewarded with 4/71.  Brad Schreuder was the next best for the Reds with the ball snaring 4/56.
Mt Martha faced the final 15 overs for the day and will resume at 1/22.
Seaford is in a world of pain against Rye, even though 14 wickets fell on the first day.
Rye batted the first 70 overs of the day and were bowled out for 160, Aaron Fidders top scoring with 31 while Andrew Dunn scored a timely 25.
Facing the final 10 overs of the day, Seaford slumped to 4/42. Rick Graham snared 2/4 from two overs.
Seaford Tigers have already won their game against Rosebud.
The Buds batted first after winning the toss and could only muster 77.
Pat Nagle was the only batsman who should be satisfied with his performance scoring 34.
In reply the Tigers took Rosebud to task, clearly hunting an outright victory.
The Tigers scored 3/141 in just 33 overs with Ash Mills belting 85.
Kristian Miller scored a sensational 104 in Heatherhill's 236 against Baden Powell.
Brett Maxwell batting at 10 contributed 31 at the end of the innings to help the Hills to a very competitive total.
Braves skipper Craig Entwistle took 4/48 from 19.2 overs.