SOCCER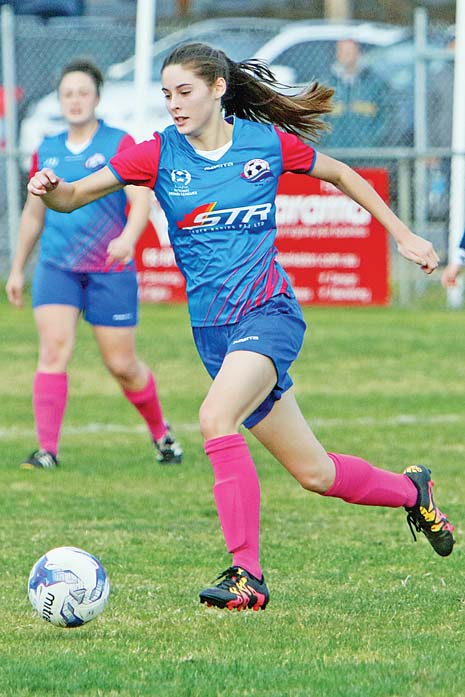 SCRIPTWRITERS for the hit TV series Vikings could draw inspiration from the goings-on at Southern United.
The NPL women's club came into being in late 2015 as a consortium comprised of representatives from Langwarrin, Casey Comets, Mornington, Peninsula Strikers and Seaford United.
There was much fanfare and high expectations for a club with the largest catchment area in the elite competition.
But while trying to find its feet in the newly created league Southern found itself slowly but surely immersed in a civil war that would have brought a smile to the face of Ivar the Boneless.
The club's inaugural president was former Matildas keeper and Football Federation Australia Hall of Fame inductee Theresa Deas who stepped down to become vice-president at the AGM last November.
She resigned a fortnight ago.
Stuart McLeod had taken over from Deas as president.
He resigned a fortnight ago.
The club's inaugural secretary was Michael Woodward.
He resigned three weeks ago.
Last November Southern announced the appointment of Graham Dudley as operations manager and technical director.
He resigned a fortnight ago.
In December the club announced the appointment of Brian Murphy as under-19s coach.
He resigned a fortnight ago.
And the list goes on.
But emerging from the wreckage that was a crunch committee meeting a fortnight back was Shannon Palmer, co-owner of STR Truck Bodies, Southern's major sponsor until recently and destined to once again fulfil that role.
Her daughter Talia was part of Southern's all-conquering under-13 side which swept to championship and Grand Final glory last year and remains the jewel in the club's thorny crown.
Palmer, who now heads a seven-member committee, is the club's third president in three months and she has a mountain to climb.
First and foremost Southern has a $40,000-plus debt to deal with.
Coaches are owed money from last season, a sticking point with the NPL's 2017 Coaches of the Year, Rob Giabardo and Bill Mihaloudis, who quit their roles as joint senior coaches last October and switched to rival Bayside United taking the bulk of the senior squad with them including Candy Ferreyra-Bas, 2017 NPLW Gold Medal winner.
But Palmer aims to tackle the financial turmoil head-on.
"At the moment we are piecing together information from the previous committee," she said.
"It's going to take a good 12 months (to stabilise) but addressing the financial situation is a priority and I'll take all the measures required to see that this is rectified."
The club almost struck another major hurdle a week ago when senior coach Aaron Myatt came perilously close to joining the burgeoning list of resignees.
The debt, the player exodus, the administrative upheaval and a lucrative offer from a rival club which included paying for his A licence coaching course and subsidising his Pro licence tested him to the limit.
But Myatt takes pride in being one of the club's foundation coaches and after a warts-and-all meeting with the new committee, he reaffirmed his commitment to his role.
He then headed straight to Murphy's home and after a lengthy conversation the Irishman is back in charge of the under-19s and assisting Myatt with the seniors.
Just five players from last year's senior squad remain – goalkeeper Freya Crocker, defender Natasha Dakic, midfielder Nikolina Bucalo, forward Jess Beddows and defender Indre Christy – but the club has signed Hong Kong international midfielder Lau Yui Ching (Avery Lau) from Kitchee.
The 22-year-old former Lung Moon star is required for international duty and doesn't arrive until Tuesday 6 March so she should make her debut in Southern's Sunday 11 March clash with Alamein at Monterey Reserve at 6pm.
Defender Ella Douglass and forward Sarah Wieck have been signed from Bayside United along with 16-year-old winger Maylinda Emini from Brandon Park.
Southern has a Scottish contact and is currently on the lookout in the UK for a central defender to fill its second visa spot.
The club's under-12, under-14 and under-16 squads are strong and in good hands.
John Meades is in charge of the under-12s, Debbie Nichols and Emma Bracken oversee their stellar under-14 squad while noted development coach Andrea Vignati has the under-16 reins.
All three squads swept past Alamein in an impressive recent hitout.
Former Langwarrin president Tanya Wallace is now Southern's community club liaison officer.
She also is an ever-present advisor and Palmer is certain to draw upon Wallace's experience as a football administrator.
It's clear that bridges need to be rebuilt and one of the first is to reopen a dialogue with the consortium's foundation clubs, especially Casey Comets which has a successful and growing women's program and has become estranged from Southern for various reasons.
Palmer has already spoken at length with Football Federation Victoria president Kimon Taliadoros and plans to arrange a meeting with Comets president Dawn Stone among others.
On Monday (29 January) Palmer meets with FFV's commercial and media manager Anthony Grima to formulate a strategic plan to present to Taliadoros and his board.
On Tuesday morning Palmer meets with council representatives to get a full rundown on the Wedge Road sports facility in Carrum Downs where Southern's administrative headquarters will be based.
The multi-million dollar upgrade received another boost last week with the state government announcing a further $2.2 million grant for a multi-purpose synthetic playing field.
On Tuesday afternoon Palmer meets with the FFV's club development team.
For Southern, there is so much to be done and so little time.
Its season kicks-off on Sunday 25 February.
And if the scriptwriters from "Vikings" were arranging the fixtures which club do you think they would have pitted against Southern for the season opener?
You guessed it, Bayside United.
In other news, Langwarrin's two NPL visa spots will go to Scottish striker Liam Baxter and English midfielder Paul Speed.
Connor Belger was widely tipped to take up one of the visa spots but is unable to commit to a full season and has been snapped up by Casey Comets where it is hoped he will be available for up to 16 games.
The NPL2 season kicks off in under three weeks and features 28 rounds of matches.
Langwarrin plays Box Hill United at Wembley Park on Saturday 17 February at 3.15pm and its first home game is at Lawton Park on Saturday 24 February at 3pm against Goulburn Valley Suns.
There was a flurry of activity at Langy last week and the club has agreed terms with the following players:
Andy McIntyre, Robbie Acs, Lewis Foster, Boris Ovcin, Paul Speed and Dylan Kilner (all with Langy last season), Luke Burgess (from Whittlesea Ranges), Harrison Michaelis (Bulleen), Andy McLean (Eltham Redbacks), John Kuol (Morwell Pegasus) and Victor Medini (Dandenong Thunder).
More signings are expected this week.
In State 1 news Max Etheridge arrives on Saturday from the UK to head up Mornington's strike force.
He is a former Morwell Pegasus, Bentleigh Greens and Kingston City player and is expected to play a pivotal role in the club's title tilt.
Mornington will take on Knox in a friendly at Egan Lee Reserve on Wednesday 7 February at 7pm.
On Saturday 10 February Mornington travels to Kingston Heath Soccer Complex to take on NPL giant Bentleigh Greens.
The reserves kick off at 9am and the senior match starts at 10.30am.
Next Saturday the focus of local soccer switches to Baxter Park with the sixth staging of the Steve Wallace Memorial Cup.
Group A comprises Langwarrin, Casey Comets, Peninsula Strikers and Baxter.
Group B is made up of Mornington, Frankston Pines, Seaford United and Skye United.
The annual fundraiser for the emergency department at Frankston Hospital is a round-robin event which kicks off at 10am with the Langwarrin v Peninsula Strikers (pitch 1) and Mornington v Seaford United (pitch 2) matches.
In State 3 news Brett Heskins may be the bolter in Billy Armour's Skye United senior squad.
Heskins, 24, broke into Langwarrin's senior team in the 2014 season after playing in the juniors and reserves.
The defender stopped playing in 2015 and headed to the US the following year.
Armour rates Heskins highly and is keen to lure the big man back to the sport.