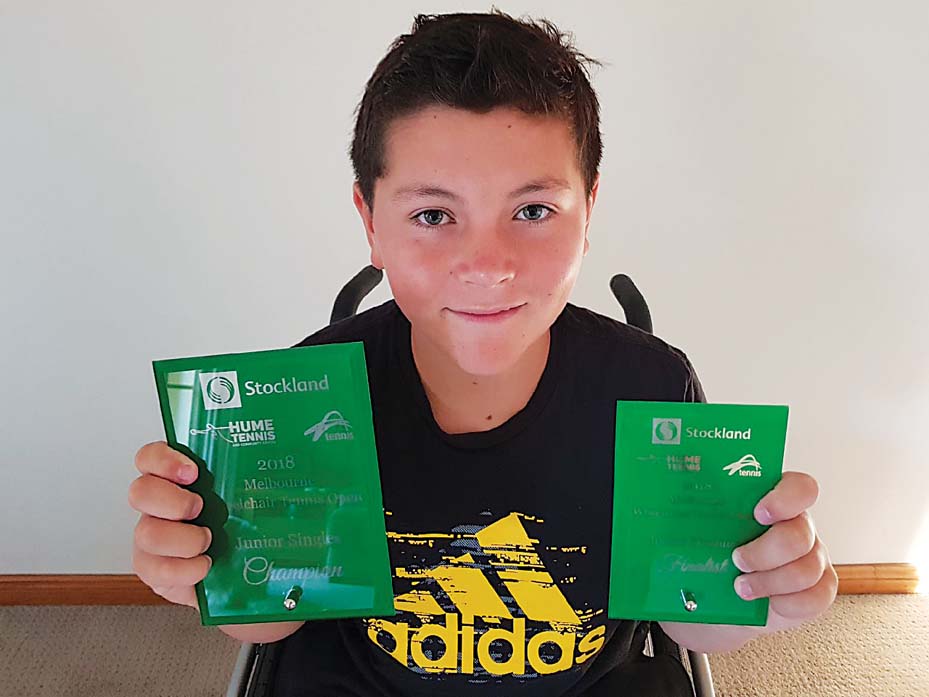 WHEELCHAIR tennis player Riley Dumsday has broken into the top 10 world junior boy's rankings after taking out the Melbourne Open the week before last.
The Mornington Elite Tennis Academy junior pushed through the scorching conditions at the Hume Community Tennis Centre to win the under-18 boys singles and finish runners-up in the mixed doubles.
Riley, 12, is now ranked 10th in the world and said he was really happy to win the tournament but even happier to have ticked off one of his main goals for the year.
"I'm really happy to make it into the top 10," he said.
"It was one of my goals that I made at the end of last year and I was able to do it after my first tournament for the year.
"The weather was really hot, it was in the 40s and high 30s but I think I coped fairly well."
Mornington Elite Tennis Academy director Kate Antosik said she was stoked to see Riley have a great week at the Melbourne Open.
"The coaching team at Elite Tennis Academy Mornington are very proud of Riley," she said.
"Not only in his results from this tournament but also for breaking into the top 10 junior wheelchair players in the world. It is exciting times ahead for Riley."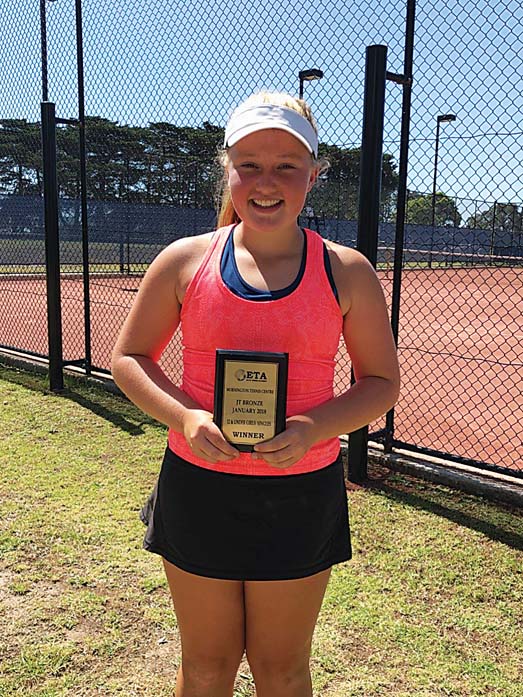 In the same week another Mornington Elite Tennis Academy junior, Emmerson Priest, won her first singles title on the Australian Ranking Junior Tour.
Emmerson competed at the 2018 Mornington JT Bronze January tournament held at the Mornington Tennis Centre and won the 12 and under singles against Western Australian top seed Talia Edgar (4-6 6-4 11-9) as well as the 12 and under doubles with partner Amelia Zylberman (1-6 7-6 10-8).
Antosik, who is also Emmerson's personal coach, said it was great to see Emmerson's hard work and training pay off with her results in the tournament.
"It is a huge milestone to be winning tournaments after only beginning to compete on the Australian Junior Tour less than 12 months ago," Antosik said.
"I promised her that if she won a tournament by the end of the Summer Season I would give her four new rackets and she won the last tournament of the summer.
"This is the first singles tournament that Emmerson and I have won since working together and I am excited to see what 2018 brings for her."