SOCCER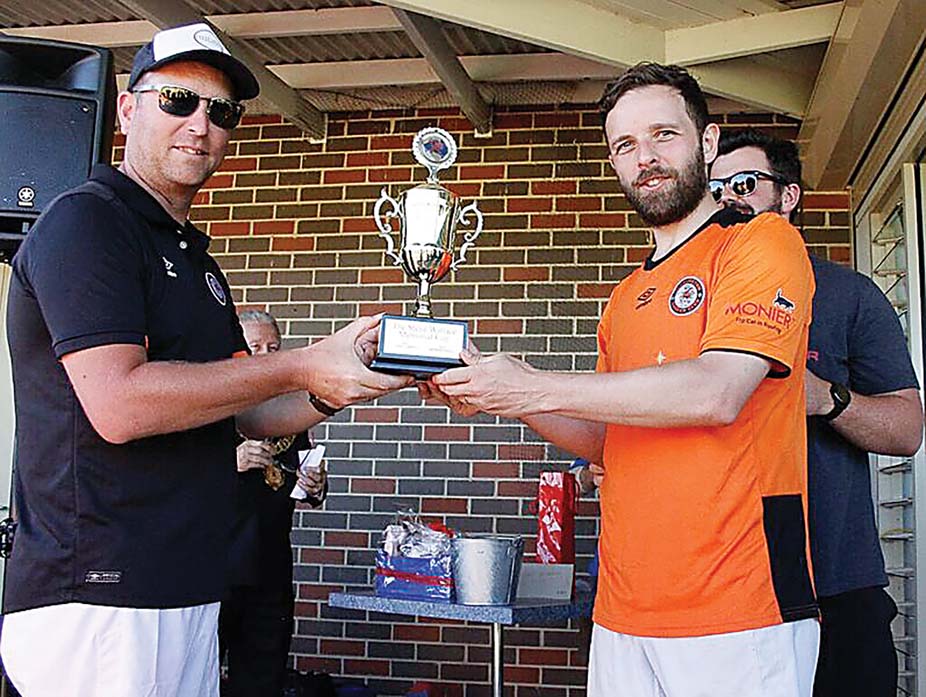 MORNINGTON won its fifth Steve Wallace Memorial Cup on Saturday and will use its success as a springboard for a tilt at the State 1 South-East championship and an NPL berth.
It was the sixth staging of the annual charity event which is a celebration of the local game and honours Stephen William Wallace, Langwarrin life-member and former club president, committeeman, coach, player and Bayside League referee who died on 19 July 2011 at the age of 54.
The tournament had its fair share of controversy centring on disputed refereeing decisions and an argument over which sides should play their semi-final on the better of the two pitches in use.
A coin toss settled the pitch dispute and Mornington won its semi 2-0 against Baxter.
It loomed as a David and Goliath affair but Baxter showed enough interpassing and defensive skills to suggest that the massive squad revamp overseen by new coach Francis Beck could pay dividends in State 4 South this year.
Matt Morgan, Tim Lee, Joe Iline, Owen Kilner, Heath Goss and James Foster were superb for Baxter and it took a disputed refereeing decision in the second half for the deadlock to be broken and swing the contest firmly in Mornington's favour.
A ball played in from the right found Mornington striker Wayne Gordon sliding in to convert at the far post but the linesman's flag was up for offside.
The referee awarded the goal much to the chagrin of former Baxter coach Roy Kilner.
"That's two years in a row Mornington have done this to us," bemoaned Kilner.
"In last year's semi there was six minutes of injury time which is amazing in a game of 15-minute halves then this year the ref doesn't even bother consulting his linesman. Unbelievable."
Langwarrin overcame a plucky Frankston Pines 5-4 on penalties in the other semi after scores were locked at 1-1 at the end of 30 minutes.
So the stage was set for the final and we all knew that contests between these sides were anything but charitable.
Langy had the better of the first half with a long-range Lewis Foster drive and a Keegan Guy attempt stretching its opponent.
Gordon was injured in the 12th minute and had to be helped off.
Eight minutes into the second period Guy's cross from the right was headed wide by Sam Klepac who repeated the dose four minutes later following a long throw by Dylan Kilner.
The decisive moment came in the 15th minute of the half when Mornington broke quickly with Sammy Orritt sent clear but triallist Langy keeper Josh Dorron saved with his feet.
The rebound fell to Mornington's teenage English import Josh Griggs and the 19-year-old's sweetly struck volley nestled neatly in the top far corner of the net.
In the build-up to the winning goal Langy sweeper Luke Burgess had been felled but play was waved on and before the restart Langy boss Gus Macleod was on the pitch arguing in vain with the referee.
At the aftermatch presentation Jameson was a gracious winner thanking the Wallace family and Baxter for staging the tournament and wishing Langy all the best as the first local club to reach NPL status.
He also placed much importance on the day's success and the effect it would have on his squad.
"We want to win everything we play in because we want to create a winning attitude and do that as early as we can," said Jamieson.
"I told the lads after the final that they'd done well because it's tough playing five games in the one day but we wanted to create a winning culture and we started that today.
"I was pleased for young Josh who knows that he's got a bit of work to do to force his way into a pretty good line-up but we like him and he's talented.
"We play Knox on Wednesday night up at Knox and I'll probably take a big squad up there but on Saturday morning we play Bentleigh Greens at Bentleigh and that will be a big test for us."
Steve Elliott and English recruit Max Etheridge are expected to be in the squad for the Bentleigh Greens hitout.
It's clear that Jamieson has added pace to his line-up and Mornington will have a new look in 2018.
Welsh recruit Curtis Hutson is quick and skilful and looks certain to make a major impact.
"Yeah we're set up a little bit differently this year," said Jamieson.
"We've signed some boys with pace and we transition a lot quicker.
"We're still on the lookout for another player but just the one."
Gordon is believed to be the only member of the first team squad yet to agree terms this year.
However the former Workington Reds, Newcastle Blue Star, Gretna and Albion Rovers striker is expected to resolve the impasse shortly.
Among the large crowd at Saturday's event was injured Langy striker Liam Baxter who recently was announced as one of the club's two NPL visa players for 2018.
The former Inverness Caledonian Thistle player joined Langy last season from NPL2 outfit Goulburn Valley Suns and was one of five players in the mix for the two visa spots eventually getting the nod along with midfielder Paul Speed.
"I was absolutely delighted to stay but I didn't think it was going to happen for a while," said Baxter.
"The club has done a lot for me. They've taken me down (from Shepparton) and they've sorted me out with a house and a car and stuff so I've got a lot of loyalty to them."
So now he can focus on spearheading Langwarrin's first NPL foray.
"I want to get 20 goals this season and I want to push that barrier.
"I think we'll go out to win every game and see how far we can go.
"Obviously Dandy City will be the favourites but I'd like to think we can give them a good go – top four I'd say, hopefully."
Here are all the scores from Saturday's Wallace Cup round-robin matches:
Langwarrin 2 Strikers 0, Mornington 5 Seaford 1, Casey Comets 0 Baxter 1, Frankston Pines 1 Skye 0, Seaford 0 Frankston Pines 2, Strikers 1 Casey Comets 0, Skye 0 Mornington 3, Baxter 1 Langwarrin 2, Langwarrin 2 Casey Comets 0, Mornington 1 Frankston Pines 1, Strikers 0 Baxter 1, Skye 1 Seaford 0.
For State 3 South-East title aspirant Skye United the weekend produced a mixed bag.
Brett Heskins has called off his return to the game but veterans Cam Leopold and Chris Driver played for Skye in the Wallace Cup and appeared to come through the day-long event unscathed.
Leopold is a former Pines, Langwarrin, Mornington and Strikers player while ex-Langy star Driver has played a World Cup qualifier for his native Mauritius against South Africa.
In other news the prophets of doom hovering over Southern United may be forced to rethink their gloomy scenarios for Aaron Myatt's squad this year.
"The talk about us at the moment is that we don't have anyone but we do and I'm quite happy going in under the radar," said Myatt.
The first-year NPL senior coach has just signed 17-year-old Natasha Reiri from Alamein and he has high hopes for the attacking midfielder.
"She might be inexperienced but she's ready for a senior challenge.
"We'll have the youngest squad in the comp but I'm comfortable with that because at the end of the day it's all about developing players that are going to be good enough to go higher.
"I've got 13 good players in the squad and I'm on the lookout for the three players I need to finish it off.
"I'm having a chat with a player at Heidelberg who is a very good defender but she's also versatile.
"I'm also talking to a No 9 from the State Leagues and I've got a girl from Papua New Guinea coming down on Wednesday.
"She's a forward and she's lightning quick, really explosive."
Myatt faced a huge task in rebuilding a squad ravaged by player defections to Bayside United but he's stuck to his guns and is eyeing the season in a positive manner.
"I'm confident that once we reach that halfway point (of the season) no-one will want to play us especially from that top four because we'll start taking points from them.
"We may take some hits this year but we're building something and we're going to be super competitive down the track."