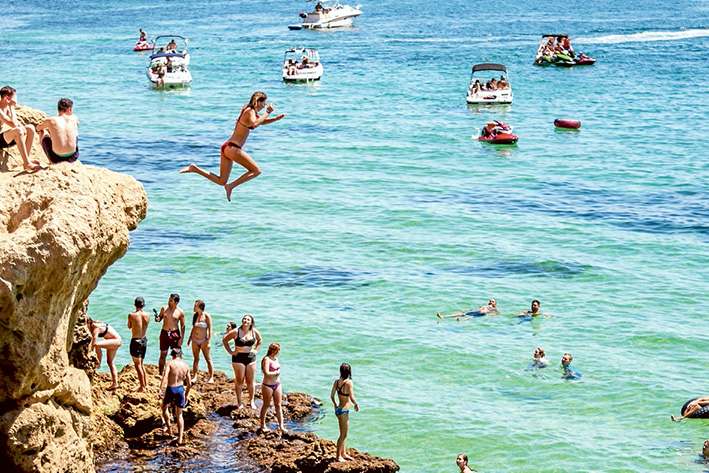 TAKING a tougher stand against the hordes of young thrill-seekers gathering at The Pillars rock jumping platforms at Martha was front-of-mind for those attending a community meeting on Wednesday 31 January.
Mornington Peninsula Shire organised the talk-fest to provide updates and seek community feedback on crowd behaviour at the scenic jumping spot.
About 60 residents met at the shire's Mornington offices with staff from Department of Environment, Land, Water and Planning (DELWP), Victoria Police, VicRoads, Parks Victoria, Ambulance Victoria, Mt Martha CFA, Mt Martha Life Saving Club and councillors.
Contentious issues included parking, rubbish, road crossings, water safety and emergency services access.
A claim that rats had infested the area – possibly eating left-over rubbish – will be looked into by the shire and considered in a long-term management plan being developed in consultation with government departments. Feedback and options are being souight from the public.
A follow-up workshop planned for Wednesday 28 February will aim to "work through long-term options arising from previous community sessions, develop options further and test their feasibility".
A year ago a shire plan to fence the site to "curb inappropriate behaviour" was knocked back by the state government.
Parking restrictions, safety warning signs and alcohol bans were introduced as temporary measures. These were later ramped up, with parking officers patrolling the area three times daily and issuing 168 parking infringements. Litter was collected weekly in surrounding streets and extra litter runs held on two weekends of forecasted hot weather.
The shire held 16 parked-vehicle counts in surrounding streets and eight onsite pedestrian, boat and jet skis counts, and a dedicated Pillars web page was developed for easy community reporting and to provide regular updates, including a community bulletin.
The shire says it is working with the Bunurong Land Council on gaining a cultural heritage permit for conservation works to protect the site.
It is also applying for a grant from the Port Phillip Bay Fund to develop a Pillars Guardianship Project in consultation with Sea Shepard, Mornington Peninsula Marine Debris Team, Balcombe Estuary Reserve Group and Mt Martha Lifesaving Club.
If successful, the grant will pay to remove litter from streets, roads, beaches and waters around The Pillars and develop an ambassador program to educate visitors on the significance of the area and encourage good waste disposal practices.
The mayor Cr Bryan Payne said the council was "aware of issues local residents face, especially during the warmer months".
"We will continue to work … on developing a long-term management plan to protect the safety of people and the amenity of our local residents," he said. "We will also document relevant issues, costs and concerns to report back to the state government."
To register for the working group email jeska.dee@mornpen.vic.gov.au by Sunday 18 February.