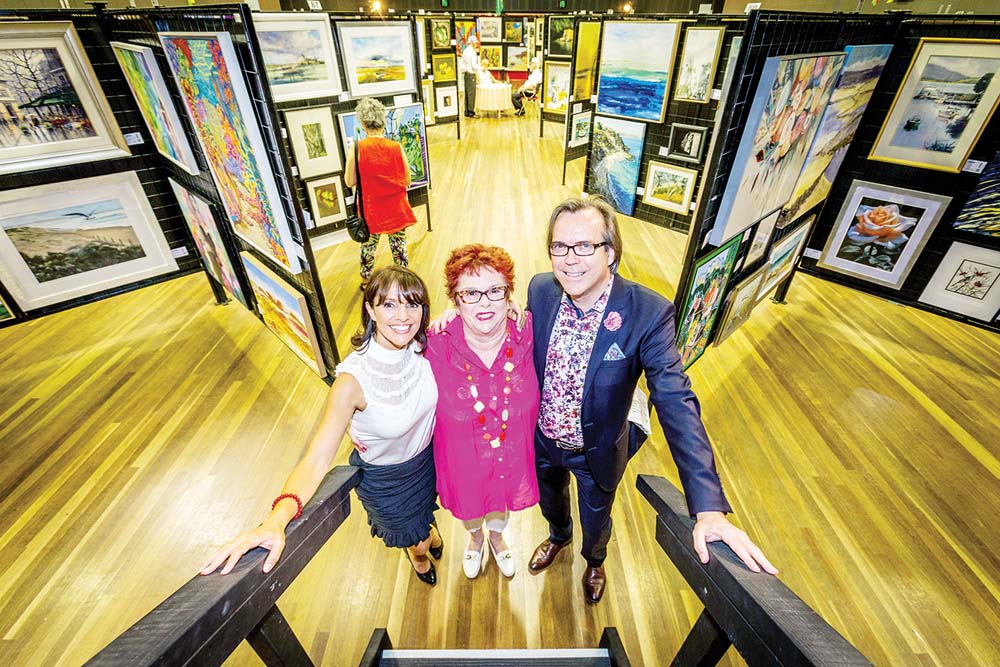 THIS year's Mornington Art Show, the 46th run by Mornington Rotary Club, is being called "one of the best ever".
More than 840 paintings were on show, including VCE student art work.
The top award of best exhibit in any medium went to Casey Sealy's painting "Winter moon Grafton".
The $50,000 raised by the club through the show will be spent on local and international humanitarian projects.
Mornington Rotary has so far spent more than $600,000 raised from its art show on Mornington projects.
"Despite the heat, the gala opening night was an enjoyable and friendly event attended by just over 250 people," club president John Renowden said.
"The Bakery Jazz Trio provided excellent music as a backdrop for the food, refreshments and socialising and the latest model BMW was on display near the entrance to the hall."
Mr Renowden said more than 1400 had visited the show between the Thursday 16 January opening and Australia Day (26 january) .
Art show chairman Victor Sullivan arranged the environment-themed stage setting with trees and shrubs used to highlight sculptures and totem poles from the Tiwi islands. Kites shaped like birds, frogs and butterflies adorned the stage and main hall.
Mr Renowden said about 12 per cent of the works on show were sold "which is a good sales rate for an art show".
"The colourful metal sculptures caught the eye and imagination of those who visited with many pieces sold. Local artists provided demonstrations on several days during the show," he said.
Awards made by judge Michael Goff:
Best exhibit (any medium): Casey Sealy "Winter moon Grafton".
Best Mornington Peninsula scene: John Bredl "Summer time"
Best oil: Craig Davy "Evening glow".
Best acrylic: Gary Laird "Bush wattle".
Best watercolour: Joseph Zbukvic "Misty morning".
Best pastel: Lyn Mellady "On the edge".
Best mixed media: Geoffrey Sargeant "Holly leaf grevillea".
Best VCE artwork: Isabella Chau (Balcombe Grammar)

 

"Portrait".
People's choice: Elena Kolotusha "The thinker".
The art show raffle drawn on Australia Day by Mr Renowden saw the first prize being won by Susan Clark; second, Graham Reid; and third Sian Anderson.