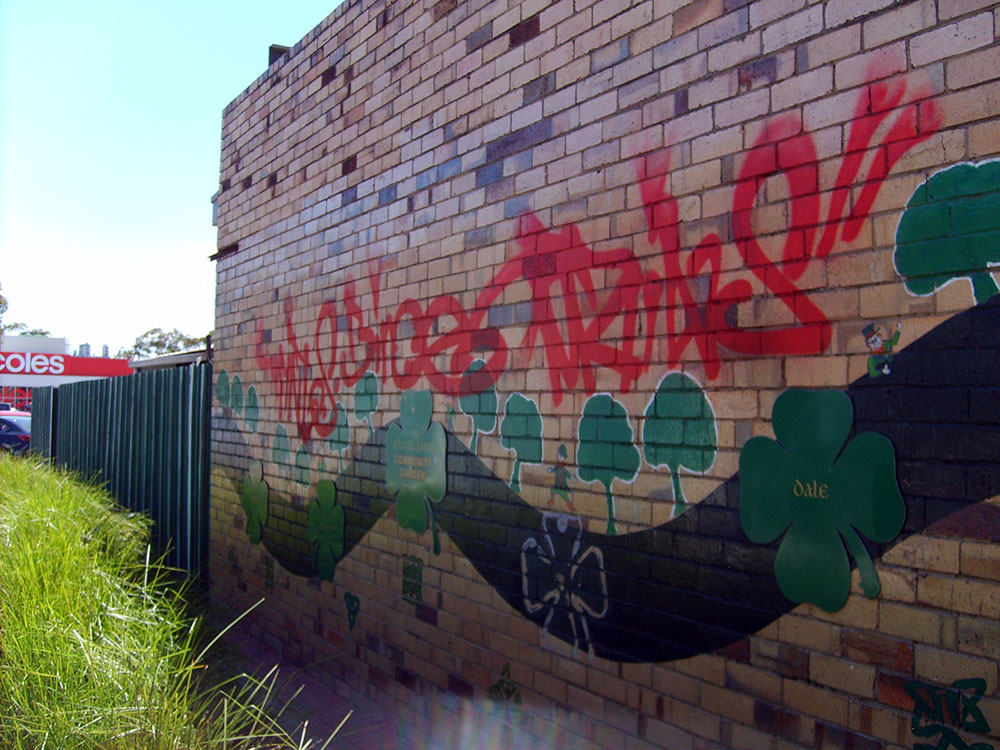 THE family of murdered Hastings jeweller Dermot O'Toole have expressed disappointment at the vandalism of the walk named in his honour.
O'Toole Walk is decorated with a mural, carved leprechaun, clover plaques, and a bench dedicated to the Hastings resident and trader who was murdered in his High Street store in July 2013.
The mural has been defaced in recent days, and a plaque ripped from the wall.
"The recent vandalism of O'Toole Walk is extremely disrespectful not just to our family, but to the whole community and to all those that volunteered their time to create this walkway," Trent O'Toole, Dermot's son, said.
The walkway was unveiled in 2015 on the second anniversary of the murder and was a project supported by both the Western Port Chamber of Commerce and Industry and Mornington Peninsula Shire council.
Mr O'Toole, 64, was stabbed by Gavin Perry, 27, after the parolee attacked his wife, Bridget O'Toole, and threw her into a glass cabinet before attempting to rob them. When her husband rushed into the store to defend her Perry turned on him and they struggled. Perry knocked him down and then aimed the killer blows with a 20cm carving knife.
Perry was jailed for 27 years for the murder and two armed robberies on businesses in Cranbourne.
The O'Toole family have been vocal advocates for tougher sentencing and reforms to the parole system that allowed Mr Perry to be on the street after being released on parole.
Western Port Chamber of Commerce and Industry vice-president Natalie Petersen said in a statement to The News that "it is so disappointing. The young people who do this damage don't understand the significance of the work and what it means to the family and the community."
Mr O'Toole was posthumously awarded the Star of Courage medal on 17 November last year for his effort that probably saved the life of his wife. The award was presented to Mrs O'Toole, by the Governor Linda Dessau at Government House, on behalf of her murdered husband.
Despite the family's disappointment, Dermot's son, Trent, remained positive.
"Graffiti washes away. But O'Toole Walk will continue to be an uplifting walkway for our family to visit and where the community can remember their funny little Irishman."