SOCCER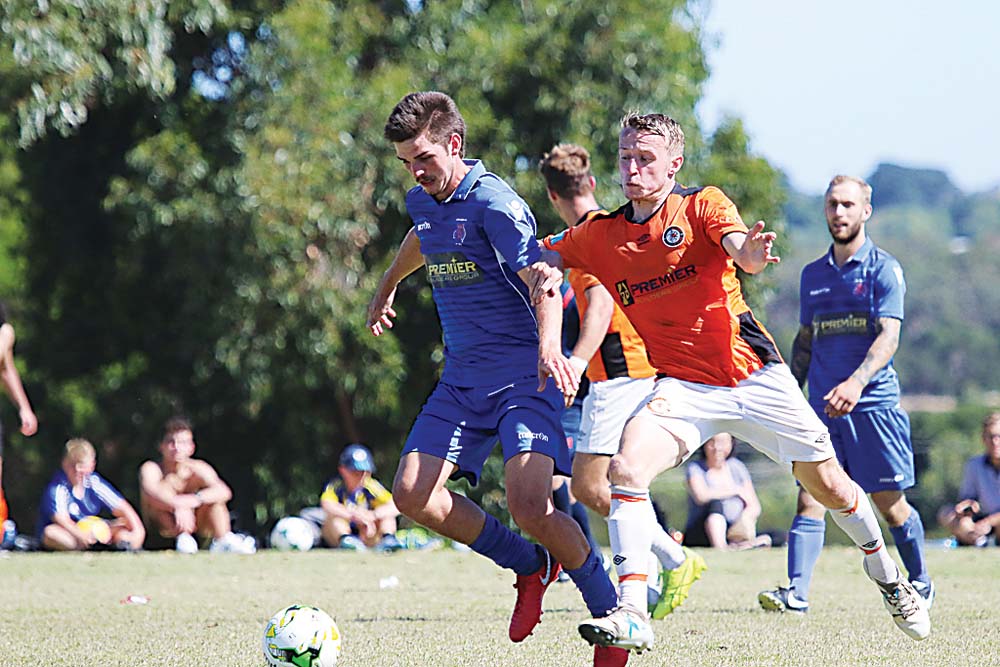 ROSEBUD Heart dropped a bombshell last week when it told Football Federation Victoria it will not field a senior team in State 4 South this year.
The decision to quit FFV after just three seasons of senior competition has stunned the local soccer community but the club was left with no choice due to a lack of players.
"The big issue we had with FFV was fielding both seniors and reserves," Heart president Tracy Riley said.
"We had enough players for one team but not for two teams.
"We had some players who were playing with Rosebud soccer club (in the Bayside League) on the Sunday and for us in the FFV on a Saturday and now that Rosebud has gone into FFV they can't play in both teams so we've lost players because of that.
"You obviously know about Dave Greening moving then there were other players who decided to hang up their boots so we decided that what we do well is juniors and that will be our focus."
But Riley and Heart have not completely abandoned the idea of fielding seniors and reserves down the track.
"Our new junior home ground is at Boneo Reserve and that will accommodate juniors and seniors," Riley added.
"We've spoken to FFV and they are happy to welcome us back.
"The feedback we have received is that we will be able to go back into State Leagues and won't have to go into the Metro Leagues."
Heart was the brainchild of Ray Vaughan, David Greening and Neil Herd.
Vaughan now lives in Ireland while ace striker Greening switched to Somerville Eagles late last year as player-coach and Herd had joined Somerville the previous year.
Vaughan was the club's inaugural coach in 2015 and Heart missed out on promotion in the last match of that season but the club will always be remembered for its history-making 2016 season under head coach Scott Morrison in which it won every league game.
Morrison stepped down at the end of last season to concentrate on family life and he left a gaping hole in the senior structure that was never filled.
"Our juniors looked up to a lot of people at the senior club and to see them walk away irrespective of their reasons was not a pleasant thing," Riley said.
"But we'll soldier on and we'll concentrate on making our juniors the very best we can.
"Our aim is to bring our juniors through the ranks and establish a strong and committed senior team.
"What has happened is not ideal but all we can do is move forward and work for a future senior team."
Heart's withdrawal was met with dismay by local rival Baxter.
"I was shocked that a team could go through undefeated only a couple of seasons ago and now struggles to field a team," Baxter boss Francis Beck said.
"I really feel for the club and will miss the great onfield rivalry we had. These were games both clubs always looked forward to."
Heart's decision forced FFV to restructure a number of leagues and last Friday the federation announced that Monash Uni would fill the State 4 South vacancy.
In other news, there has been a flurry of activity at Langwarrin as the club has been busy finalising its senior squad ahead of its NPL2 season opener on Saturday away to Box Hill United.
The Lawton Park outfit has beaten four rivals to the signature of defender or midfielder Callum Goulding from Melbourne Victory.
Goulding, 20, is a former Langy, Peninsula Strikers and Mornington junior who lives in Mount Martha and has come through FFV's National Training Centre program.
He was on the bench for Victory's friendly with Italian giant Juventus at the MCG in 2016 and scored in Victory's 3-0 pre-season victory over Port Melbourne Sharks in July last year.
Long-serving Langy gaffer Gus Macleod has also signed Queensland striker Matt Heath and elevated boom teenager Cody Eszes to the senior squad.
Heath, 27, was recommended by former Langy coach Terry Kirkham who coached the prolific scorer at Olympic FC in the Queensland NPL in 2016 and 2017.
"Matt scored 14 goals in the first half of last season before I stopped him playing due to the start of osteitis pubis," Kirkham said.
"He has had a lot of time off now under medical supervision so hopefully he'll come back strong and continue where he left off last year.
"Matt spent 10 years at Olympic and I am ecstatic that Greg Kilner (Langwarrin's main sponsor) contacted me and he and Gus have taken my advice to give Matt a chance to go to Melbourne and play football at Langy."
Eszes, 17, came to Melbourne last October with his brother Ayden and Josh Mulla, all teammates at Cairns-based Leichhardt Lions FC, and the trio trialled successfully with Langy's under-20s squad.
Ironically Cody Eszes was on Box Hill United's radar and had also attracted interest from Dandenong Thunder, Altona Magic and Sydney United.
He produced a series of fine performances recently during the Australian schoolboys' overseas tour and some excellent cameo appearances in Langy's pre-season practice games triggered his promotion.
Macleod has finalised his senior squad and will lodge the names of 21 players with FFV this week.
There are 10 newcomers and they are listed below with their previous club in brackets:
GOALKEEPERS: Robbie Acs, Josh Dorron (Ballarat).
DEFENDERS: Luke Burgess (Whittlesea Ranges), Dylan Kilner, Andy McIntyre, Andy McLean (Eltham Redbacks), Viktor Medini (Dandenong Thunder), Callum Goulding (Melbourne Victory).
MIDFIELDERS: Lewis Foster, Jonathan Guthrie, Mat Luak, Boris Ovcin, Paul Speed, Sergio Yanez.
FORWARDS: Liam Baxter, Sam Klepac (Mooroolbark), John Kuol (Morwell Pegasus), Nabil Mozaffaruddin, Esmael Zaheri (Port Melbourne Sharks), Cody Eszes (Leichhardt Lions FC), Matt Heath (Olympic FC).
In State 1 South-East news Mornington lost 4-1 to NPL giant Bentleigh Greens at Kingston Heath Soccer Complex on Saturday morning but it was an invaluable hitout for Adam Jamieson's charges.
One of the triallists used by Jamieson was left-sided Scottish import Alexander White.
The 25-year-old was on Dundee United's books as a youth player and has played in the US on a scholarship with Carson Newman University in Tennessee.
White only arrived from Glasgow the day before the game.
Another triallist was a striker who came off the bench and whose second-half display was stunning.
His trickery and control enabled him to score Mornington's only goal while his pace and guile were too much for the home side's defence and he beat opponents at will.
The club won't release his name at this stage but if it can clinch his signature it can lay claim to having the most potent attack in the State Leagues.
In State 2 South-East news Matty Morris-Thomas looks almost certain to head back home and sign for another stint with Frankston Pines.
The gifted playmaker made his name at Monterey Reserve before spells at Casey Comets, Mornington, Peninsula Strikers and Seaford United.
Another Seaford United star, striker Mitch Landers, came on in the second half and scored in Pines' 5-3 home loss to Springvale White Eagles' under-20s last weekend.
Pines' boss Paul Williams saw merit in the display.
"Although the first half wasn't up to the standards we have set ourselves I was very happy with the impact from the bench in the second half which showed why it's important to have a strong squad," said Williams.
"Young Liam McLure was impressive in midfield and made us tick so I'm excited about his development this season."
McLure is an ex-Peninsula Strikers junior, Box Hill United under-20s best and fairest winner and was part of Langwarrin's championship-winning reserves squad last year.
State 3 South-East outfit Skye United thumped Croydon 6-0 on Saturday.
Mitch Blake (2), Caleb Nicholes, Daniel Attard, Mark O'Connor and Langy triallist Gerald Lawler were the scorers.
Chris Driver played for Skye and strolled through his sweeper's role in the first half before playing wide left in the second period.
Skye senior coach Billy Armour has been in Scotland attending his father's 80th birthday party but arrived back in Melbourne late on Saturday night.
Assistant coach Billy Rae has been deputising for Armour.