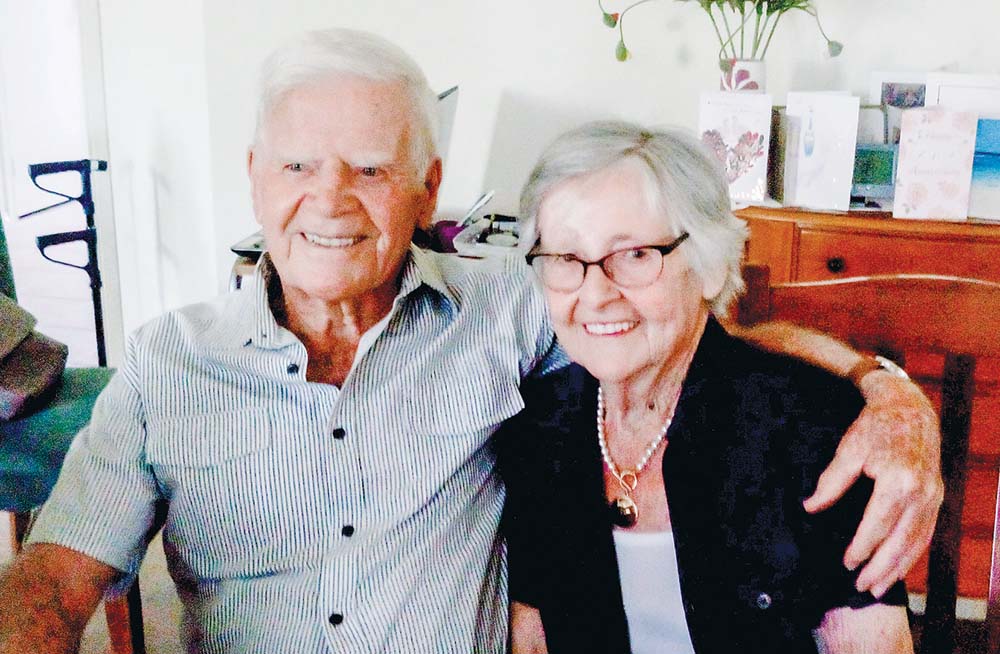 HOLIDAYS spent camping on the foreshore allowed Kath and Jack Whiston and their young family to discover the beauty of the West Rosebud area (as it was known then) back in 1951.
Staying in a hired caravan at first, and then in a caravan Jack made, the family enjoyed the simple pleasures of singalongs, sailing and fishing in the days before electric lights and home appliances. "You looked out for the iceman coming through the tracks each day with his horse and cart," daughter Kaye said.
"Dad made his own van and the tradition of camping on the foreshore continued for over 40 years," she said. "Summer-time friends were made during this annual break and rekindled each year."
Last week, Kathleen, born in 1926 and husband Arthur – better known as Jack – born in 1925, celebrated their 70th wedding anniversary as permanent residents of Capel Sound where they have enjoyed the beach lifestyle since moving down permanently six years ago.
Growing up as teenagers in the 1930s, Kath and Jack lived in the Merlynston/Coburg area and attended local dances, meeting at the St Linus Church hall when aged 16 and 17.
In 1944, Mr Whiston joined the Air Force and was sent to New Guinea until 1946. While he was away, he and Kath corresponded but did not start seriously "courting" – or "tracking square'' as it was called then – until he returned to Melbourne. Two years later they married at St Paul's Church, Coburg.
Mr Whiston had already bought their first home in Coburg, which was unusual in the tough times after the war. They spent the next 30 years there raising their daughters: Bev, who came along in 1950, followed by Kaye almost 10 years later. From Coburg, they moved to Eaglemont where they spent another 30 years.
Dancing always played a big part in their lives and they made good friends at the St Thomas Moore dances in their early days, dinner dances, and at Murrumbeena Bowling Club.
Mr Whiston worked hard to establish his taxi business and later managed a fleet of cars from home. He was still heavily involved in the taxi industry until only a few months ago.
The camping lifestyle continued when Bev and husband David's two children, Adam and Claire, came along and camped on their own site alongside her parents' caravan for many years. Claire and Adam married Dave and Tanya and have three daughters each. Mr and Mrs Whiston feel very fortunate to have six great-granddaughters ranging in age from 3-11.
When Kaye and partner John built at Capel Sound 10 years ago, Mr and Mrs Whiston found a modern home nearby and moved there six years ago.
Gardening has been an ongoing interest and they have always had extensive gardens. "Even now they can still be found pottering around in the garden," Bev said.
Mr and Mrs Whiston have travelled extensively around Australia in their caravan over the years, and have also travelled to Thailand, Singapore and Hawaii. A highlight of their travels was three months spent driving throughout the United States and Canada in a motor home. Many September holidays were spent in Caloundra and Noosa and, over the past few years, they have been able to briefly escape Melbourne's winter in Port Douglas.
Above all, family has always played a vital role in the couple's life, and they were looking forward to celebrating their 70th wedding anniversary with family at the Hellenic Republic in Brunswick last week.
First published in the Southern Peninsula News – 20 February 2018