SOCCER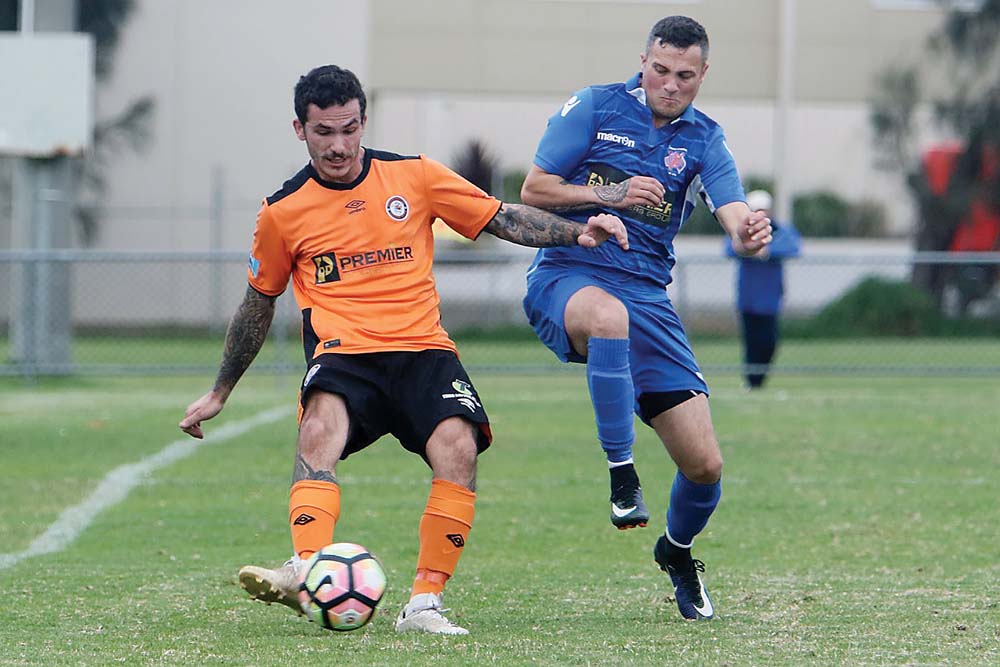 LANGWARRIN'S much anticipated NPL2 debut and David Greening's player-coaching bow both ended in triumph last weekend.
Langy travelled to Wembley Park on Saturday and celebrated a deserved 2-0 win against a Box Hill side that enjoyed a lot of possession but whose slow and purposeless interpassing game suited the visitors.
Greening's two goals spearheaded Somerville Eagles' 3-2 FFA Cup win against Old Mentonians at Somerville High School on Saturday.
Somerville raced to a 3-0 lead thanks to Greening and Ash Scholes with the latter's bullet header from a Matt Curd corner in the 50th minute giving him his first goal in senior football.
A James Bingham goal in the 74th minute gave Old Mentonians a glimmer of hope and a moment of madness from Somerville keeper Brad Klarenbeek allowed Tyler Pollard to score from the penalty spot in the 87th minute.
"We dominated the first 70 minutes but it was a tense and nervy finish as we ground it out," said Greening.
"It should never have got to that though so our game management is definitely something to work on."
Somerville's starting line-up featured six newcomers in Greening, Scholes, Klarenbeek (all from Rosebud Heart), Matthew Curd (Seaford United), Louis Griffiths (Baxter) and Michael Clarke (Elwood City) while Jack McKenna (Langwarrin), Stephen Curd (Seaford United) and Kadison English (Rosebud Heart) were on the bench.
Langy's success was due to a double from Liam Baxter and late heroics from goalkeeper Robbie Acs.
Big "Yaya" (Mat Luak) revelled in an attacking midfielder's role while 20-year-old Callum Goulding from Melbourne Victory anchored the Langy midfield with Lewis Potter and Paul Speed either side of a diamond formation.
The pace of and trickery of Baxter and Johnny Kuol were constant dangers.
Langy led 1-0 at the break thanks to a slick interpassing move involving Luak and Kuol with the latter teeing up Baxter for a tap-in in the 38th minute.
That should have been the Scottish striker's hat-trick but he'd shot over from the right of the area in the 16th minute and a minute later was denied by a point-blank smother from Box Hill keeper Luke Gavalas.
Langy earned some breathing space when Baxter was brought down inside the area in the 71st minute and the referee had no hesitation in pointing to the spot.
Baxter slammed his conversion high into the roof of the net before charging towards the large travelling support to celebrate.
Victor Medini, Sam Klepac and Esmael Zahiri replaced Luak, Baxter and Kuol in the second half and Langy appeared to be coasting to the line.
But Acs had to spring into action in the 89th minute to block a close range Ryan Go shot and two minutes later Andy McIntyre was controversially ruled to have brought down Nicholas Edwards inside the area.
Acs's reputation as a shot-stopper was enhanced when he flung himself to his left to parry Phillip Petreski's spot kick and end the home team's dismal day.
"It was very pleasing and it will give us a lot of confidence but at the same time we've got to do it again this week because there's no point winning away from home then losing at home," said long-serving Langy gaffer Gus Macleod.
Langy squares up to Goulburn Valley Suns at Lawton Park on Saturday and the Shepparton-based club started the season with a 2-1 home loss last weekend to big spending title contender Dandenong City.
Former AFC Wimbledon striker Craig Carley rejoined the Suns last May after stints at Hume City and Avondale and was appointed player-coach of the seniors last October.
The club recently announced the capture of 24-year-old former Everton youth team midfielder Jordan Barrow.
"We know they've strengthened but my focus is on our players and my job is to make sure that they keep their concentration and focus on what we do well," said Macleod.
Langy's under-20s bombed out 3-1.
A sweeping interpassing move and a cross from the right by Keegan Guy in the 31st minute saw Langy captain Max Boulton charge in at the far post between two defenders and power his header home for the opener.
The home team levelled right on the stroke of half-time via a stunning 30-metre strike by Sung Min Lee.
Box Hill hit the front in the 64th minute when an inch-perfect cross from the right by Ryan Kirkus was headed home by unmarked substitute Nikita Cicmil.
Langy lost its shape and discipline in the final half-hour and was a sitting duck on the break.
It appealed in vain for offside in the 85th minute but Vasili Tsoumpris strolled clear and slammed the ball past helpless Langy keeper Ben Caballero to round off the scoreline.
Langwarrin's NPL juniors start their season on Sunday when they travel to Kingston Heath Soccer Complex to face NPL giant Bentleigh Greens with the under-12s and under-13s both kicking off at 10am, the under-14s and under-15s at 11.15am and the under-16s and under-18s at 1pm.
In State 3 South-East news Skye United confirmed late last week that it had signed former Mauritian international Chris Driver.
The club had already captured the signatures of Caleb Nicholes, Mitch Blake and Jordan Redburn from Langwarrin and Driver is a former Langy midfielder.
Skye boss Billy Armour is still on the lookout to add to his squad.
Skye beat State 4 East outfit Ringwood City 4-1 in a friendly at Ringwood on Saturday with Nicholes and Lawrence Komba scoring twice.
Another former Langy player, Cameron Leopold, played for Skye but is yet to sign.
Southern United's season gets underway on Sunday when it hosts Bayside United which has signed around a dozen of Southern's 2017 players.
Southern's senior squad has undergone a massive revamp under new head coach Aaron Myatt who comes face to face with Bill Mihaloudis and Rob Giabardo, Southern's senior coaches last year and now in charge at Bayside.
"We'll approach this as we will do every game – believing in our strengths as a team unit," said Myatt.
"We have a young squad and although we haven't gelled yet if we are solid and compact at the back we can get something from this game."
Here are Southern's 2018 squads with the previous club of new players in brackets.
The under-12s have eight players who have graduated from the club's successful 2017 Skill Acquisition Program (SAP).
UNDER 12s:
Taylen Wolf, Rhianna Kelleher (SAP), Jasmine Smith (SAP), Emilia Ingles (SAP), Ceara Taylor (SAP), Eden McKeown (SAP), Kayla McLeod (SAP), Leah Plavljanic (SAP), Gemma DeVos (SAP), Chiara Renzella, Savannah Lapenta, Lauren Riha, Ava Guarascio.
UNDER 14s:
GOALKEEPER: Cadi Vakacavu. DEFENDERS: Alex Jones, Talia Palmer, Ezel Dwyer, Emily Ryan, Tanysha Hogan, Shanece Dias (Bayside). MIDFIELDERS: Sage Kirby, Alessandra Davis, Holly Wakker, Taylah Hennekam. FORWARDS: Candy Kilderry, Rhys McKenna, Danica Vukcevic, Rhianna Cousens, Macey Butler (SAP), Erica-Derrick Sarfo-Sarpong (SAP).
UNDER 16s:
GOALKEEPER: Rianna Tann. DEFENDERS: Lily Aitken, Ellis Kadir, Belinda Stojcevski, India Scarr (Mount Martha), Phoebe Tann. MIDFIELDERS: Mia Davis, Sydney James, Briana Dias, MacKenzie Hicks. FORWARDS: Haylea Porter, Jasmine Ristevski, Monique Lapenta, Oakley Sunkel-Lozell.
UNDER 19s & SENIORS:
GOALKEEPERS: Freya Crocker, Celia Kelsall. DEFENDERS: Gemma Grek (Sandringham), Ella Douglas (Bayside United), Jess Beddows, Sarah Tebutt, Caibiran Deas, Indre Christy, Myrid Bartlett (Gippsland), Natasha Dakic. MIDFIELDERS: Claudia Beissmann (Brandon Park), Marianna Minichiello (Brandon Park), Tash Reiri (Alamein), Nikolina Bucalo, Olivia Groves (South Melbourne), Avery Lau (Kitchee, Hong Kong). FORWARDS: Casey Aarons (Alamein), Maylinda Emini (Brandon Park), Sita Karimi (Whitehorse United), Kristie Farmer (South Yarra), Sarah Wieck (Bayside United).
Southern is looking at three other prospective signings on the local market as well as two players from Scotland.
In other news Pines have lost Jack Wrobel and Matt Davis to White Star Dandenong (who lost 7-0 to Chelsea in their FFA Cup clash last weekend), Seaford's Dylan Waugh is training with Peninsula Strikers and the player exodus from North Seaford Reserve looks likely to include Matt Morris-Thomas, Mitch Lander and maybe Daniel Walsh.
This weekend's games:
SATURDAY 3pm: Langwarrin v Goulburn Valley Suns (Lawton Park), U20s 1pm.
SUNDAY 3.15pm: Southern Utd v Bayside Utd (Monterey Reserve), U12s 9am, U14s 10.15am, U16s 11.40am, U19s 1.15pm.
First published in the Mornington News – 20 February 2018
Correction: This article was amended on 1 March to confirm Southern United under-16 squad member Belinda Stojcevski is a former Dandenong City and Noble Park player and was not signed from Dandenong Thunder. The incorrect information was supplied by Southern United.