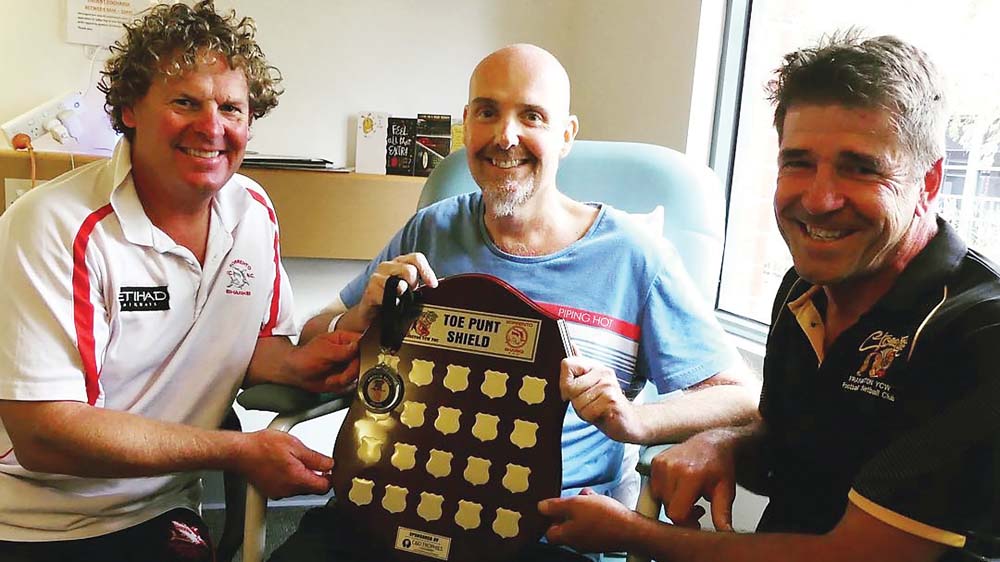 HE coaches of Frankston YCW and Sorrento football clubs, Wayne Capp and Tony Blackford, presented the inaugural Toe Punt Shield to Andrew 'Toe Punt' Kelly this week. The shield will be awarded to the winner of the clash between the two sides in the opening round of the season.
Andrew, who is currently in hospital undergoing treatment for cancer, will also have a medal named in his honour for the best player on the ground.
Frankston YCW president Michael Lamb, with the support of his committee, came up with the idea of playing the annual blockbuster, starting this season with round one on Easter Sunday at Frankston Park.
Sorrento President Bernie Balmer and his committee immediately got behind the concept.
"This game is the most anticipated match in 30 years of my coverage of the MPNFL," said Andrew 'Toe Punt' Kelly.
"Frankston YCW has been the dominant club in the top competition for the past 20 years.
"Sorrento has been the big fish in the little pond, dominating division two for more than 10 years.
"Both clubs are the envy of all!"
Andrew urged all sports fans to swap the hot cross bun for a meat pie and head to Frankston Park on Easter Sunday.
"This is a game you won't want to miss" said Toe Punt.