SOCCER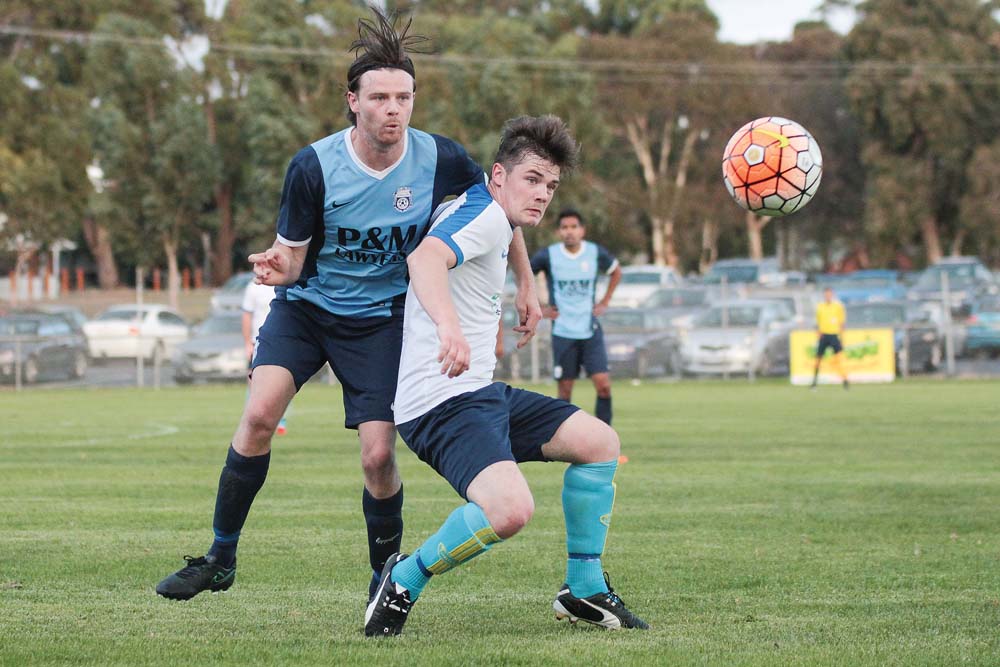 PENINSULA Strikers and Frankston City Council are at loggerheads over the dire state of the club's home ground at Centenary Park.
Strikers claim that their plea to council in January to water the ground fell on deaf ears.
The main pitch is now unplayable and council has ordered the club not to use it.
Strikers president Trevor Johnston fears that it won't be repaired in time for the start of the league season on 24 March.
"I'm having an onsite meeting with council on Monday (today) to see what can be done but I can't see how it will be ready for round one," said Johnston.
"I alerted the council about six weeks ago to the fact that the ground needed watering and they said they could arrange that remotely but obviously that hasn't been done.
"It's extremely poor and I'm bitterly disappointed at the way we have been treated.
"We played our last home game on that pitch on 2 September last year so council has had plenty of time to get it right.
"We pay winter tenancy fees and summer tenancy fees and this is what we get.
"Come winter it'll be a mud heap and games will have to be called off. It's a disgrace."
The club was forced to find an alternative venue for last weekend's FFA Cup clash with Waverley Wanderers.
The tie was played at the Lemnos Club in Braeside and Strikers won 1-0.
Wanderers had a player red carded in the first half and a second yellow for Strikers' Tom Hawkins sent him to the sidelines in the second period.
Danny Brooks notched the winner from the penalty spot in the 74th minute.
Strikers were without eight visa players due to a hold-up in gaining international clearances.
One of those absentees was Scottish central defender Liam Weir who scored the second-half winner in last week's friendly against Mornington which Strikers won 1-0.
Weir, 21, has come through the Queen of the South youth system and has been signed from Ayrshire-based Auchinleck Talbot after four years with Kello Rovers.
Frankston Pines, Skye United, Seaford United and Somerville Eagles all bowed out of the FFA Cup last weekend.
Pines went down 2-1 at home to Ashburton.
Naseer Mohammad gave Pines the lead in the 52nd minute but Kurt Crnic equalised for Ashburton and Campbell Woolacott scored the winner in injury time.
CJ Hodgson was in goals for Pines as regular custodian Alfonso Cardinale was unavailable.
Former Seaford United captain Daniel Wash was one of four debutants for Skye United in Saturday's 3-2 FFA Cup loss to Brunswick Zebras at Sumner Park.
Former Langwarrin players Mitch Blake, Jordan Redburn and Chris Driver also made their debuts but boom recruit Caleb Nicholes was unavailable.
Skye's first choice keeper Jonathan Crook was rested after injuring a finger at training and Lee Heron was his replacement.
A quick-fire brace in the 32nd and 34th minutes for Blake had Skye seemingly in control.
However the home team hit back with the last play of the first half as a corner opened up Skye's defence and allowed Connaire Mallett to head home.
Brunswick levelled almost immediately in the second half when a Chris Kouas corner sailed straight into the back of the net.
Skye's Jason Nowakowski rattled the bar in the 70th minute but Brunswick dominated most of the second period and with the last kick of the game Kouas again converted direct from a corner to send Brunswick into the next round.
Seaford United lost 7-1 at home to State 2 South-East club Old Scotch with Conor McFall scoring for Seaford.
Somerville lost 4-0 at home to State 3 North-West outfit Point Cook.
"They were a quality opponent who wouldn't look out of place in State 2," said Somerville player-coach David Greening.
"It's been a good little cup run that has put us on the map and provided three competitive games and a great preparation for the season ahead."
Langwarrin suffered its first NPL loss on Saturday when it went down 4-1 to Springvale White Eagles at White Eagles Stadium.
The home side had a gale at its back and scored four goals in a 12-minute blitz in the first half to seal Langy's fate.
Most of the goals were fashioned from lightning quick moves down the home team's right side where Delarno Pharoe ran riot.
Pharoe played the ball into the Langy area in the 23rd minute and Andrija Kecojevic was given time to strike a low shot past Langy keeper Robbie Acs for the opener.
Langy should have equalised two minutes later but a Luke Burgess header forced a stunning point-blank reflex save from Springvale keeper Lajos Hun.
Pharoe and Marcus Holmes combined in the 30th minute with Holmes skipping past a defender inside the area then smashing an unstoppable shot past Acs and into the roof of the net from close range to make it 2-0.
A minute later it was 3-0 when a deflected shot by attacking midfielder Slaven Vranesevic wrong-footed Acs.
Vranesevic made it 4-0 with a low shot in the 35th minute as the home team continued to boss the midfield exchanges and put Langy's defence under enormous pressure.
In the second half Langy gaffer Gus Macleod took off Viktor Medini, Boris Ovcin and Lewis Foster and threw Sam Klepac, Esmael Zaheri and Cody Estes into the fray but to no avail.
Paul Speed scored for Langy in the final minute of normal time but it was too little too late and the visitors were left hoping that they had just faced one of the better sides in NPL2 East.
There's no respite for Macleod's men as they host cashed-up title aspirant Dandenong City this weekend in a clash that promises to draw a bumper crowd.
Langy's under-20s lost 1-0 in the earlier game on Saturday at White Eagles Stadium.
A defensive blunder 10 minutes from time allowed Matthew Harrington to strike the decisive blow.
Meanwhile Mornington's pre-season preparations continued with a 1-0 win over Banyule at Dallas Brooks Park on Saturday thanks to a Sammy Orritt goal.
"We've been very good defensively during pre-season which I'm really happy about because it's something we've been working on," said Mornington head coach Adam Jamieson.
"The only team that really gave us any problems was Bentleigh Greens."
English import Andre Bennett, 24, arrived on Sunday.
In NPLW news Hong Kong international midfielder Avery Lau arrives in Melbourne tomorrow (Tuesday) and is expected to make her debut for Southern United in Sunday's clash with Alamein FC at Monterey Reserve.
Lau has been with the Hong Kong squad at a training camp in Japan and will rejoin the squad in August to play in the Asian Games.
Southern has also been tracking strikers from Germany and the US and could end up with three visa players.
The club can only use two visa players per game so the third visa player would line-up in the under-19s.
Southern recently made a play for US central defender Lauren Prott but she has joined Boroondara Eagles.
Prott, 25, has played with Primero de Mayo in the US second tier and with Swedish clubs Vasteras BK30 and FC Djursholm.
Southern travelled to Keilor Park Recreation Reserve on Sunday to take on Calder United, one of the NPLW's top outfits.
The under-12s won 2-0 with goals from Rhiannon Kelleher, the under-14s lost 2-0, the under-16s won 3-1 with goals from Haylea Porter (2) and Monique Lapenta, the under-19s lost 3-0 and the seniors lost 5-0.
A fortnight ago we published Southern United's under-16 squad and incorrectly named Belinda Stojcevski as being signed from Dandenong Thunder. She is a former Dandenong City and Noble Park player. The incorrect information was supplied by Southern United.
This weekend's league games:
SATURDAY 3pm: Langwarrin v Dandenong City (Lawton Park, U20s 1pm).
SUNDAY 3.15pm: Southern Utd v Alamein FC (Monterey Reserve, U12s 9am, U14s 10.15am, U16s 11.40am, U19s 1.15pm).