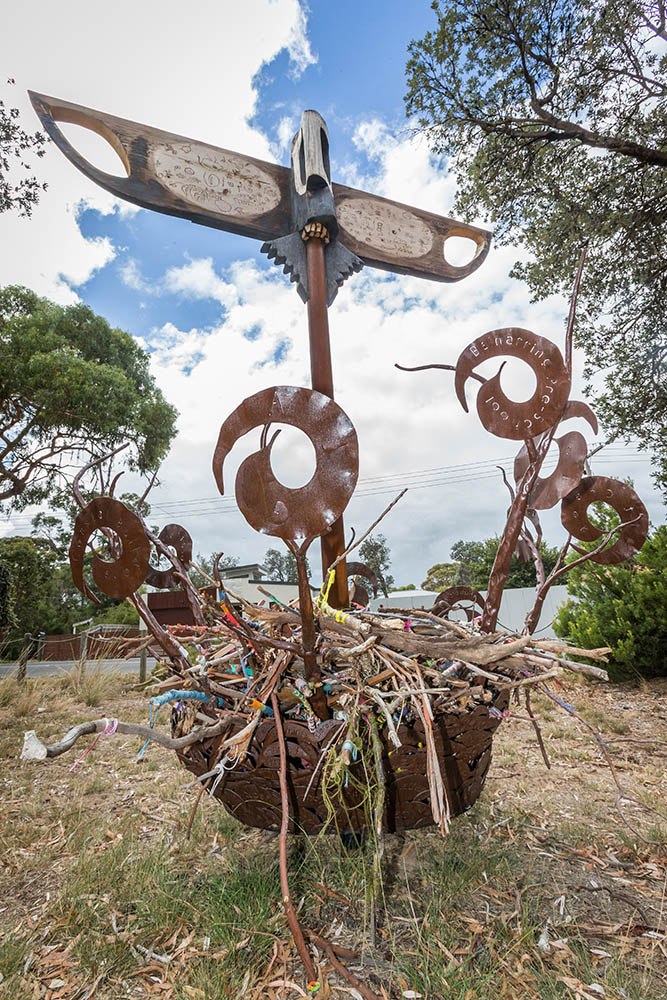 THE metal sculpture, pictured, representing the nest of Bundjil, the creator of the Boon Wurrung people, can now be seen as the incubator for knowledge about Aboriginal culture.
The growth of interest in learning about the history and lives of the Boon Wurrung can be traced back to 2015 when teachers from Balnarring Pre-school, Balnarring Primary school and Balnarring early learning centre recognised the importance of the children learning about first peoples' culture.
"In the first year of the project a metal sculpture was created that represents Bundjil's nest," Karen Anderson of Balnarring Pre-School said.
"The children spent time with elders and early childhood indigenous consultants who shared culture, stories, songs, dances and language. A community event was held to unveil the sculpture which resides in Robertson's Park at Balnarring Beach and is the projects acknowledgment to Boon Wurrung Country."
In 2017 St Joseph's joined the group and artist Christabel Wigley was hired to work with the children.
Inspired by the children, Wigley sculpted an eagle to fly over the nest, which was unveiled last year.
Growing interest in Aboriginal history has now led to a one-day Womin Djeka Balnarring Ngargee – or festival – being held at Balnarring Beach later this month.
"The festival will involve a free program of musical entertainment, cultural workshops, children's activities, food and market stalls and building of Bundjil's nest," Ms Anderson said.
"Members of the community are invited to join us on this day and bring with them a message containing a message of hope and inspiration to the children and the land."
A week before the festival the film Westwind Djulu's Legacy will be screened at Somers School camp cinema 6.30pm Saturday 17 March. Tickets can be bought through trybooking
The Womin Djeka Balnarring Ngargee festival runs 10am-9pm Saturday 24 March, Robertsons Park and Camping Reserve, Balnarring Beach.
As well as live music there will be bush tucker walks, indigenous plants talks, weaving, didgeridoo meditation, spear throwing and art sessions for young and old.
Camping is available and there will be yoga for families and a community breakfast 8am-11am.
Details at www.facebook.com/Bundjil2018/ or email womindjeka.balnarring.ngargee@gmail.com