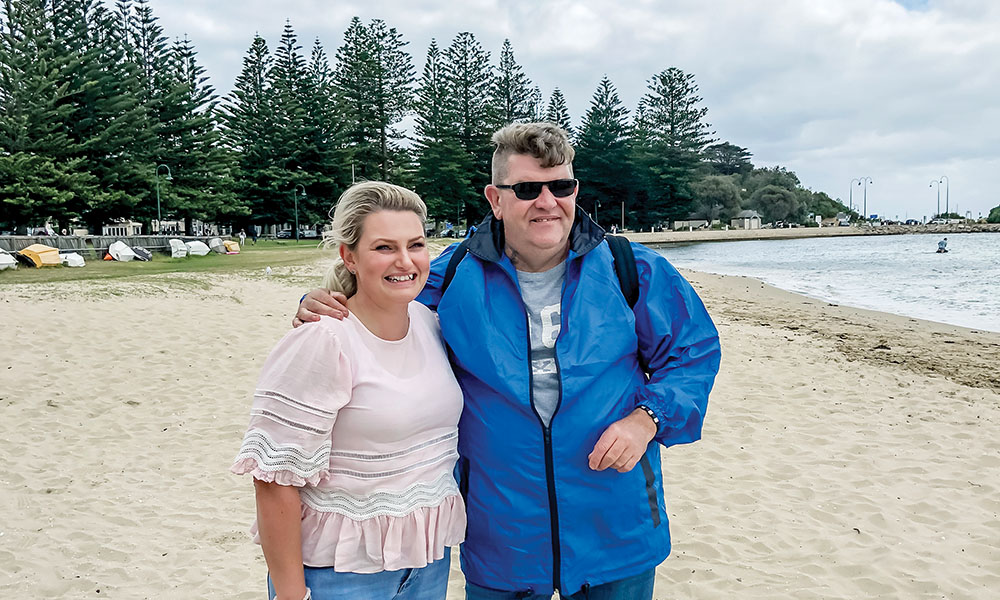 SHEY Osborne "still doesn't have words" to describe her emotions after searching for, and finally meeting, her father Michael Thorne for the first time on Sunday 25 February.
The joys of that day at a Sorrento cafe continued into the next week she was introduced to all her new found aunts and uncles, nieces and nephews.
It has been a long but fruitful search for the 31-year-old hairdresser who began looking for her "lost" dad 11 years ago after being told about him by her mother. Mr Thorne had had a relationship with Ms Osborne's mother in Sorrento all those years ago, but he moved away without knowing his daughter existed.
"I first began thinking about him at 19, but started looking when I was 21," Ms Osborne said. "I went through the old White Pages trying to find his name," as the social media we know today was in its infancy.
She managed to track down her dad's cousin, Robert, who lives in Seaford, thinking he might be her father. He wasn't, but he did agree to call Michael with the aim of getting the pair together.
"It was the longest week of my life waiting for him to call," Ms Osborne, a hairdresser at Nirvana Boutique Hair Salon, in St Pauls Road, said.
"Now we have spoken every single day – and mum is happy, too.
"The whole thing's been good for them."
The former partners spoke for five hours on the phone and, according to Mr Thorne, "covered all bases".
"I met my mother-in-law, too, for the first time and I think she's super," he said.
Southern Peninsula Rescue Squad helped the pair meet. Mr Thorne has been involved with the squad since building a 2.7-metre radio-controlled model of its Jet Ranger helicopter which was displayed at their 50th anniversary in November.
"We were pleased to assist and delivered a very excited Michael to The Baths jetty in one of our rescue boats, where he met Shey for the first time," squad president Eileen Murray said.
Mr Thorne, of Lalor, said he was "over the moon" with the chain of events. "I thought I might have had a child but didn't know if it was a boy or a girl or its name," he said.
"There are so many ways this could have gone and I have to thank Robert for the way he handled all this. We hadn't spoken for a while and it took him a week to get my number. He said: 'I've got something to tell you. Your daughter just rang me'.
"He was able to read the signs and he could hear it in her voice. He didn't know I had a daughter but he managed to connect the dots and arranged for me to provide my phone number to my long-lost daughter."
Life has come full circle for the reunited father and daughter.
"The whole thing has been amazing," Ms Osborne said. "Hopefully it will encourage other loved ones to reconnect."
One thing's for certain, as Mr Thorne said: "There's no way Shey is ever going to lose her dad again."
First published in the Southern Peninsula News – 13 March 2018