SOCCER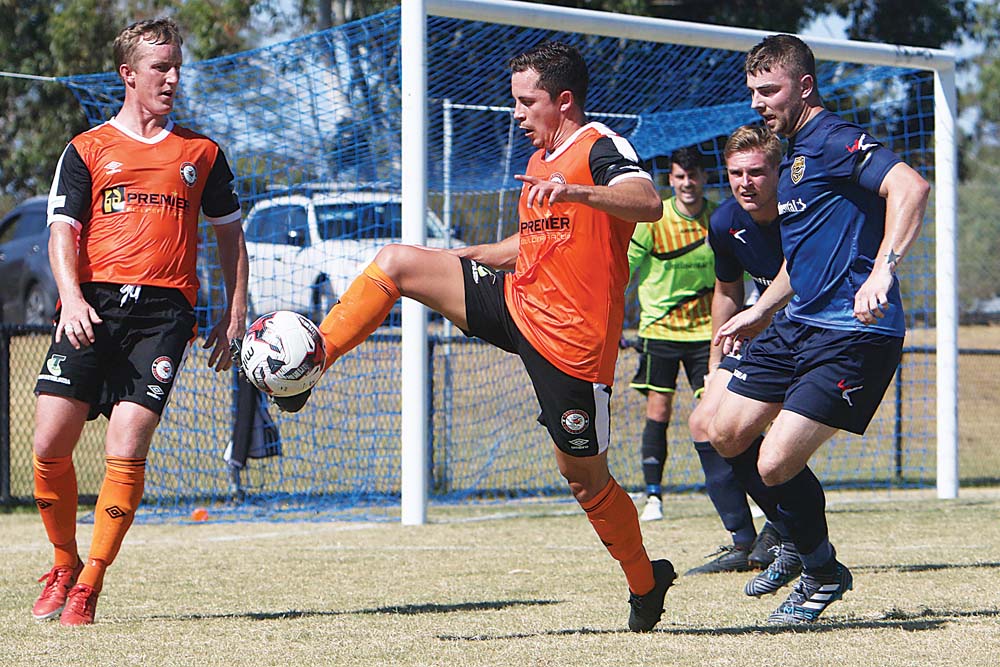 LANGWARRIN'S victory against high-flying Dandenong City and FFA Cup wins to Mornington and Peninsula Strikers highlighted last weekend's local action.
Langy went into Saturday's league clash at Lawton Park as a pronounced underdog having come off a 4-1 thumping from Springvale White Eagles and facing the big-spending second-placed team in NPL2.
But Gus Macleod's men defied the odds and stunned the Croatian-backed visitors with a 2-1 triumph in front of a large crowd.
"I keep telling people that we're three years behind all these other NPL clubs," Macleod said, a reference to the league's inception in 2014.
"We go into the unknown every week because we don't really know how good we are but this result will give the whole club a lot of confidence."
One of the revelations of the season so far has been the defensive display of Andy McLean, recruited from Eltham Redbacks.
Last year he played as a striker and finished second in State 2 South-East's Golden Boot award but his preferred position is at the back where he played for Scottish League club Berwick Rangers.
Macleod gave 17-year-old midfielder Cody Eszes his full senior debut and after Dandenong's Josh Knight and Ben Everson spurned chances to open the scoring it was the turn of Langy midfielder Callum Goulding to blast his shot over the bar when well placed on the right of the area.
Three minutes into the second half Langy strikers Liam Baxter and John Kuol combined but the latter couldn't control the ball and the chance went begging.
A minute later Dandenong captain Shaun Filipovic went down inside the area but his pleas for a penalty went unheeded.
It took a slide-rule pass from Paul Speed in the 68th minute to set up the opening goal.
Baxter had pulled wide on the left and took a defender with him leaving Kuol one-on-one and the quicksilver striker shielded well then turned his opponent and struck a low left-foot shot past Dandenong keeper Damir Salcin to make it 1-0.
Despite Dandenong enjoying the bulk of possession Langy continued to frustrate its opponent in sweltering conditions that forced a drinks break in both halves.
A lapse in concentration looked to have proved costly when Dandenong substitute Daniel Visevic stole in at the back post in the 84th minute and his close-range strike levelled the scores.
But two minutes later Baxter's brilliant first-time finish at the near post restored Langy's lead and there was no way back for their much-vaunted opponent.
Macleod's squad will soon be strengthened by the arrival of Queensland-based striker Matt Heath and the availability of defender or midfielder Johnny Guthrie who has been playing cricket.
Langy's under-20s got the afternoon off to a winning start by downing their Dandy counterparts 3-2.
Nat Daher gave Langy the lead in the 35th minute but Jaydon Unmack equalised eight minutes later.
Langy under-20s gaffer Kevin "Squizzy" Taylor took off his baseball cap and threw it on the ground when Unmack scored.
The linesman drew the referee's attention to the incident and Taylor was sent off.
Half-time substitute Travis Ernsdoerfer restored Langy's lead when he stole the ball from a defender and slotted it home.
The visitors thought they had at least salvaged a draw when Jarryn Fittock's pinpoint free-kick gave Langy keeper Ben Caballero no chance but with time running out Ernsdoerfer again won the ball and prodded it forward for Nick Simmons to score the winner.
Mornington and Strikers are still in the 2018 FFA Cup after Mornington defeated Casey Comets 2-0 at Comets Stadium and Strikers earned a hard-fought 1-0 away win over Lalor United.
Both Mornington and Comets have revamped their first team squads during the off-season and are eyeing the State 1 South-East title which opens up entry to NPL2.
Mornington's Cup win strikes the first psychological blow and Adam Jamieson's outfit took just four minutes to hit the lead thanks to a superb finish from Welsh import Curtis Hutson after a good build-up involving Wayne Gordon and Sammy Orritt.
When substitute Luke Locasto was brought down inside the area in the 82nd minute Orritt converted from the spot to round off the scoreline.
Mornington was without five visa players waiting for international clearances.
Among them was goalkeeper Liam Little who has been playing in his native New Zealand.
Little was part of Mornington's 2015 State 1 championship side and takes over the No 1 mantle from Kris McEvoy who has left the club.
Peninsula Strikers have a first-half Nathan Smith goal to thank for Saturday's Cup success over Lalor United, the former Mornington winger's left-foot shot from the edge of the area proving decisive.
The club has recruited heavily in the off-season but most of its new signings were still waiting for international clearances and were unavailable.
Off the pitch, Strikers have been buoyed by an end to the stand-off between their junior and senior clubs.
"Both committees have met and we are in a pretty good place right now," said senior club president Trevor Johnston.
"I'm doing what I can to demonstrate how much I want this to work and I'm really excited at the prospect of turning our reserves into a proper development squad."
Johnston also has had a positive meeting with Frankston Council over the unplayable status of Centenary Park's main pitch and is hopeful that Strikers will be able to host their round 3 home clash with Frankston Pines on 14 April.
Strikers have been forced to play two FFA Cup home fixtures at alternative venues and Johnston is preparing to lodge a formal compensation claim with council.
Both parties have discussed the issue and are believed to have reached a verbal agreement.
Frankston Pines' No 1 keeper Alfonso Cardinale has signed for State 2 South-East rival Heatherton United.
Former Langwarrin, Strikers and Rosebud Heart keeper Sean Skelly is believed to be on Pines' radar.
Skelly was seen in earnest discussion with Pines assistant coach Ben Caffrey at Lawton Park on Saturday.
Pines defeated Dandenong South 3-1 in a friendly last Thursday with Mitch Landers, Luke Murray and Aaryn Rix scoring for Pines.
Baxter lost 4-0 to Skye United in a practice match at Baxter Park last Thursday.
The game was stopped early due to a head injury to Baxter striker Liam Kilner who was taken by ambulance to Frankston Hospital and diagnosed with fractures in his cheekbone and jaw.
Kilner will find out this week if surgery is required and it is unclear how long he will be sidelined.
Skye followed up with a 5-0 loss in a friendly against Knox at Egan Lee Reserve on Saturday.
Meanwhile, Hong Kong international Avery Lau made her debut in Southern United's 7-0 home loss to title-chasing Alamein on Sunday while the under-19s lost 9-1.
The club's other underage sides had impressive wins.
The under-12s won 6-2 with goals from Kayla McLeod (2), Stella Rodgers (2), Eden McKeown and Chiara Renzella.
The under-14s bounced back from the previous week's loss to smash Alamein 5-0 with goals from Alex Jones (2), Taylah Hennekam, Rhys McKenna and an own goal.
The under-16s won 7-3 with goals from Haylea Porter (3), Jasmine Ristevski (2), Briana Dias and Mia Sunkel-Lozell.
The local soccer community suffered a huge loss last week with the death of Andy McKenna after a long illness.
McKenna, 56, played in the National Soccer League with Green Gully and made his mark on the local scene with Frankston Pines, Seaford United and Peninsula Strikers.
He also coached at Casey Comets and Morwell Pegasus and was a much-loved figure.
A funeral service will be held at Bunurong Memorial Park on Friday at 2.30pm.
This weekend's league games:
SATURDAY 3pm: Langwarrin v Murray Utd (Lawton Park, U20s 1pm).
SUNDAY 3.15pm: Southern Utd v Bulleen Lions (Monterey Reserve, U12s 9am, U14s 10.15am, U16s 11.40am, U19s 1.15pm).