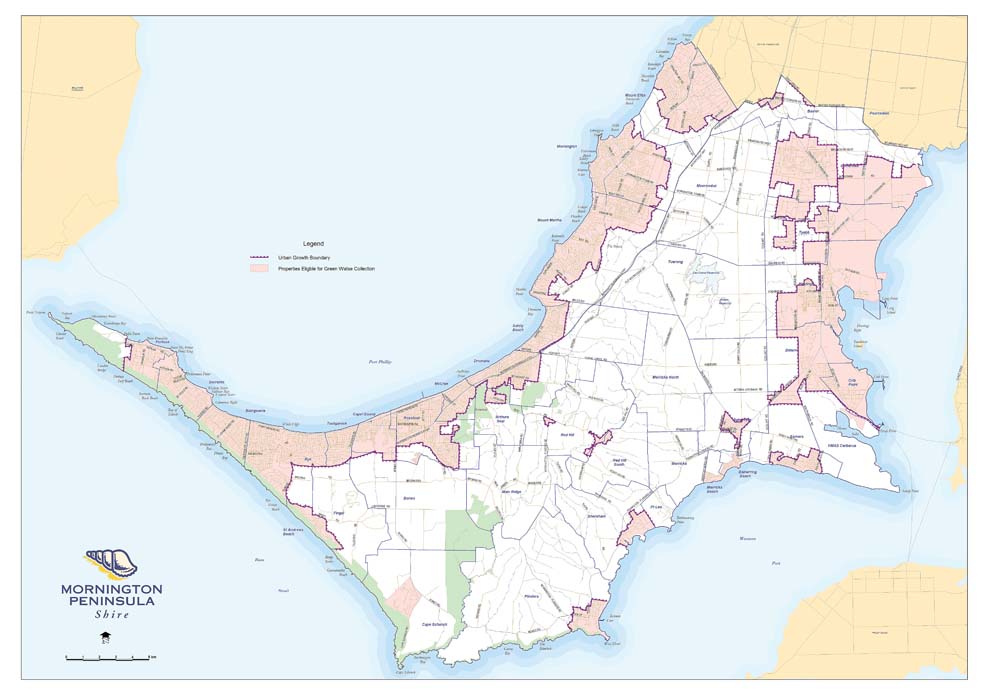 MORNINGTON Peninsula residents are being asked their views on future uses of land within the green wedge zone.
The zone accounts for 70 per cent of the Mornington Peninsula and, according to the mayor Cr Bryan Payne, is "one of Melbourne's most important long-term assets".
Although it has a green wedge management plan – now under review – the state government and its planning minister can overrule the shire.
The green wedge includes many properties that are not large enough to be run as profit-making farms but can be economical if used for other commercial activities.
Land within the green wedge is not automatically recognised as a site for a dwelling and it is the encroachment of housing into the green wedge that most concerns councillors and environmentalists.
However, the large scale activities most often proposed by developers usually involve buildings required to house guests or clients, car parking and tree clearing.
In the past, the shire clamped down on golf courses with housing subdivisions attached.
The pressure for greens and bunkers has more recently given way to permit applications for hot springs-based spas and accommodation.
Mornington Peninsula Shire councillors last month spent almost half of a two-day "retreat" at Lindenderry at Red Hill discussing the future of the peninsula's green wedge.
Ironically, it is understood that several other venues in the green wedge were taken out of contention when it was discovered they had "compliance issues" with the shire's planning rules.
In a departure from normal planning processes, councillors decided to seek public comment on developments within the green wedge before rewriting the policy and then calling for submissions.
A shire media release said it was inviting "initial comments on matters relating to the green wedge and its future as it develops a management plan for the area".
"We must protect the green wedge and what it means to the peninsula and its people – as well as protect it for its value and important contributions to the whole of Victoria," Cr Bryan Payne said.
"The green wedge is also a key aspect of the peninsula's character and it is absolutely crucial to the amenity, lifestyle and wellbeing of our residents and visitors.
"… It must be protected and managed to ensure it remains an area where the natural environment and biodiversity is preserved, where the rural charm and character is protected, an area that supports agriculture and farming and provides for tourism as well as informal outdoor recreation. It is also an area where many people choose to live."
Cr Payne said public input into the draft management plan – essentially a review of the 2012 plan – was "an important opportunity for our community to bring forward their passions about the peninsula's Green Wedge".
Further comment will be sought after the draft plan is released.
The shire says issues facing the green wedge include:
Conservation of the natural environment and biodiversity.
Protection of landscape quality and rural character.
Ensuring opportunities for informal outdoor recreation.
Supporting agriculture and farming.
Providing for tourism and leisure based use and development.
Accommodating rural living on existing lots.
Submissions about the green wedge close 5pm Thursday 5 April and can be mailed to: Mornington Peninsula Shire Council, Green Wedge Management Plan, Private Bag 1000, Rosebud 3939; email stratplanprojects@mornpen.vic.gov.au; or complete an online survey as well as accessing discussion papers and the 2012 management plan at mornpen.vic.gov.au/greenwedge.
The green wedge management plans are also available to read in hard copy at the shire's offices at Rosebud, Mornington, Hastings and Somerville.
Verbal submissions will also be heard by council at a Forward Planning Committee meeting 6.30pm Wednesday 21 March at the council offices, Besgrove Street, Rosebud (register to speak by email to planning@mornpen.vic.gov.au or call 5950 1010).
For further information call the shire on 5950 1448.
First published in the Southern Peninsula News – 13 March 2018