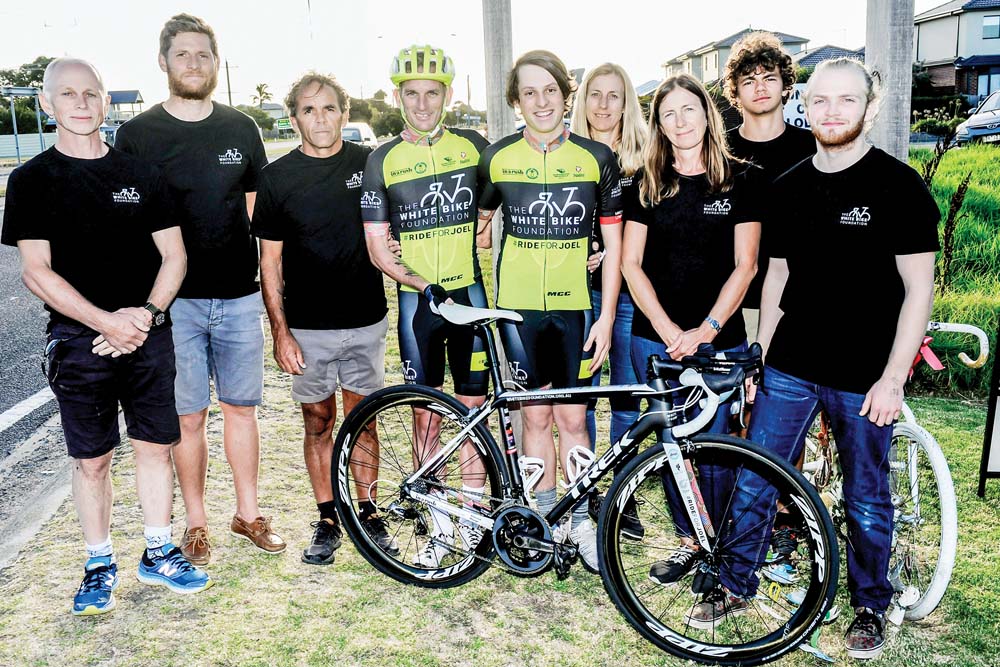 CLOSE friends and family of Joel Hawkins gathered on a Dromana roadside last Saturday near where the 17-year-old cyclist was hit by a car in June 2015.
Joel, who had already notched up a long list of cycling achievements, died after spending more than a week on life support at the Alfred hospital.
A white ghost bike was placed in his memory near the corner of Marine Parade and Nepean Highway and now his former coach, Chris Savage, is taking the White Bike Foundation's safety message to Canberra.
Savage left Mornington for Canberra on Saturday and is due to end his 1700 kilometre ride next Monday (26 March).
"It has been amazing to see the way the Mornington Peninsula community has rallied around what we are trying to do," Joel's mother Liza Hawkins, of Mt Martha, said.
"We want the message to spread far and wide, because we believe that everybody has the right to use the road safely and complete every journey."
Joel's father Leslie urged road users to "double check they are making the safest decision for everybody – life is such a vulnerable thing and the impact of a road casualty is absolutely devastating to all communities involved".
Savage said the 1700 kilometre ride would "mark Joel's 17 years with us".
"It will hurt, but nothing will come close to the emotional pain inflicted when a person is taken from us in a road casualty. We want all road-sharers to take one extra second before acting on a decision – to make sure it is the safest option."
First published in the Southern Peninsula News – 20 March 2018