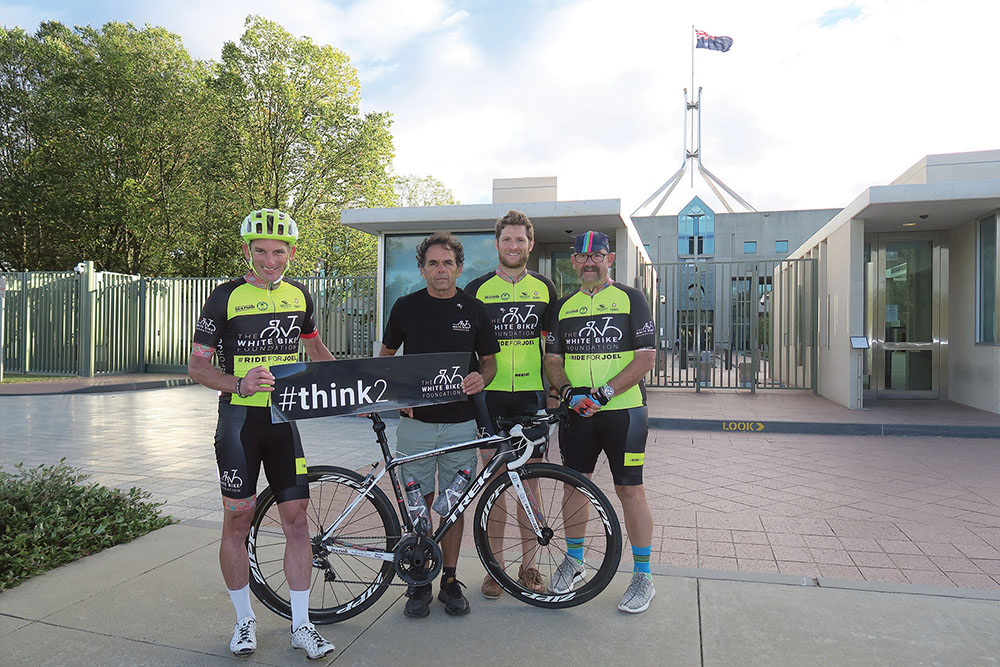 WHITE bike rider Chris Savage rode into Canberra on Sunday night to complete his 1700 kilometre journey highlighting the need for improved road safety.
His ride honoured former student Joel Hawkins, 17, of Mt Martha, who died in hospital after being struck by a car in Dromana in June 2015.
A white bike marks the accident scene near the corner of Marine Parade and Nepean Highway.
On Monday (yesterday) the cycling coach rode a 17-kilometre loop of the capital before meeting up with Flinders MP Greg Hunt and delivering his road safety message at Parliament House. Mr Hunt was among 250 supporters who farewelled Savage when he left Mornington Park the previous Saturday.
"I told [Mr Hunt] there were 86,400 seconds in every day and all we ask is for road users to take two of them to think about road safety," Savage told The News.
Savage, who was sent off by 250 supporters from Mornington Park on Saturday 17 March said the ride through central and north-eastern Victoria and southern NSW had gone "really well".
"I didn't even have a puncture," he said.
He was accompanied by Joel's father Leslie who had earlier urged road users to "double check they are making the safest decision for everybody – life is such a vulnerable thing and the impact of a road casualty is absolutely devastating to everyone involved".
Savage added: "All road users should be patient and respect the rights of others on our roads."