SOCCER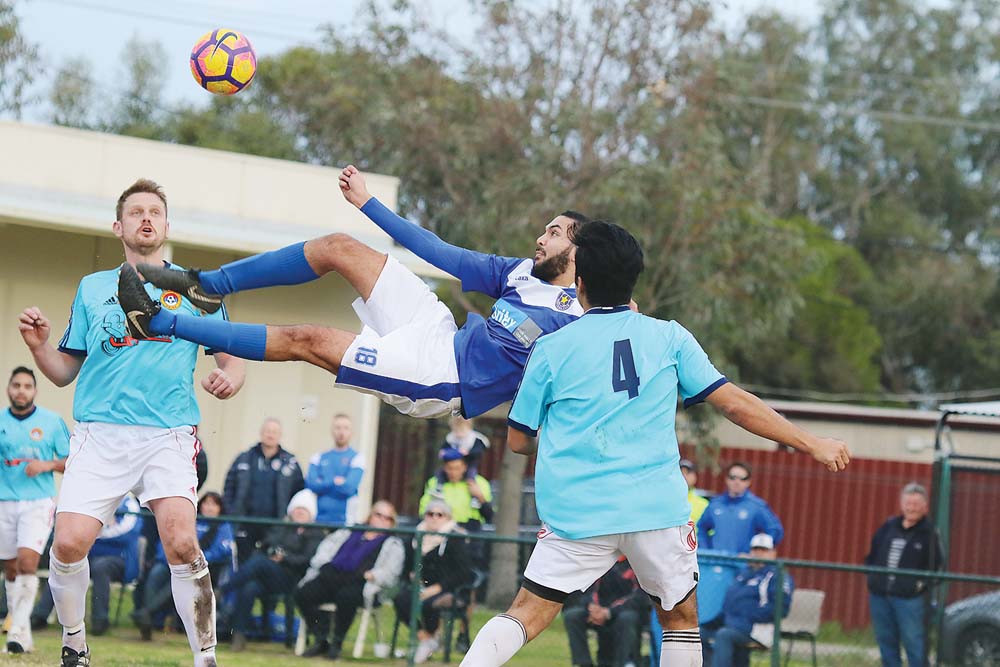 DANIEL Attard expects Skye United to bounce back from losing the opening match of its 2018 campaign and mount a serious promotion push.
The 23-year-old striker is the longest serving player in Billy Armour's senior squad having first played for the club in 2011.
Attard started playing as a six-year-old in midfield for Glen Waverley and his first 10 seasons were spent under the tutelage of John Frantzis.
"He kept me interested in the game because there were a few times I thought about not playing," Attard said.
When he switched to Skye United he played as a left back in the reserves and made his senior debut late that season.
"Moving to Skye and playing in the ressies then the seniors at a young age was a great decision, one dad encouraged me to do as it helped me to adapt to the physicality and quickness of senior football as early as possible," Attard added.
Dad was Chris Attard, former FFV Chief Financial Officer, long-serving president of Skye United and an icon of the local game.
In 2012 with John Bruce taking over as senior coach Daniel Attard found himself being used as a forward.
"We had a lot of mature-age players and he (Bruce) brought a lot of younger guys into the senior squad because I think he wanted to inject youth into the side."
Attard's first senior goal for Skye came in a 1-1 draw at home to Collingwood on Saturday 30 June and the club finished midtable that season.
In 2013 Skye avoided relegation due to a league restructure and the following season lost a promotion play-off against Mazenod.
Head coach Rick Schelling appointed Attard senior captain for the 2015 season but Armour replaced Shelling before the halfway point of the campaign and guided the club clear of the relegation zone.
For Daniel Attard season 2016 was an emotional rollercoaster marked by both tragedy and triumph.
Chris Attard lost his battle with multiple myeloma at the age of 52, a devastating blow for Daniel, brother Liam and mother Sarla.
For many sport is a diversion from the challenges of everyday life but for Daniel Attard it was so much more.
Playing for Skye United became an ever-present reminder of his family legacy and July will mark the second anniversary of his father's death.
"Continuing to play after my father's passing was difficult but everyone at the club was so good to me, to my brother and to my mother," Attard said.
"They still are helping us to get through what happened.
"Dad was a man who gave everything he could to his family first of all but also to the soccer club.
"He had a vision and you can see that from where we started to where we are now with juniors, with women's teams and with our venue.
"It's been a long journey for the club and one I'm proud to say he had a big hand in."
A couple of months after Chris Attard's death Skye United celebrated its greatest ever triumph with both the seniors and reserves winning the championship and its promotion push last season only faltered in the last league match.
"Winning the title in 2016 was a pretty emotional day for us, probably the best moment of my playing career especially with Liam winning the title with the reserves and if we get promoted this year it would be fantastic for the club and nothing less than we deserve after the heartbreak of going so close last season."
But Attard knows how tough a task the club faces after going down 2-1 to Monbulk Rangers in the opening round of the season and squaring up to Boroondara-Carey Eagles at Skye Recreation Reserve on Saturday.
"Promotion is our goal but it's going to be a lot tougher this year and after Boroondara we've got South Yarra and I think these two are going to be right up there.
"I spoke to the Monbulk boys after our game and they lost to Boroondara in the (FFA) Cup and said they are a big, strong physical side so it will be quite a test for us."
Attard has enjoyed personal success throughout his time at Skye with four Golden Boot awards and senior best and fairest and reserves best and fairest awards but he now faces a major challenge, one he plans to meet in a positive way.
The club's top scorer in recent seasons is battling to reclaim his place in the starting line-up after eight new signings arrived during the off-season.
"The main thing I have to do is to work hard at training and on match days whether I get a start or whether I come on off the bench.
"Everyone has to understand that if we are to get promoted we can't do it with just 11 players.
"It's an 18-, 19-, 20-man effort that is going to get this done for us and whatever part I play within the squad I'm happy to contribute to our success."
His words echo the view of his teammates and are an endorsement of the bond among the senior squad that Armour and the coaching staff have encouraged.
"At the end of the day you need to have a close-knit group, some players who are more than just teammates and we certainly have that at Skye.
"You have to enjoy yourself both on and off the field and we've got a really good bunch of boys and that's going to be critical to what we achieve this year."
Meanwhile Mornington is the only local club left in the 2018 FFA Cup after Saturday's matches.
Mornington defeated Peninsula Strikers 4-1 at Dallas Brooks Park while Langwarrin went down 2-1 to North Geelong at Lawton Park.
Mornington's goals came from Max Etheridge (19th minute, 81st), Curtis Hutson (89th) and an own goal in the 41st minute from Strikers' captain Hayden Beasley.
Strikers' reply came from Stefan Karac in the 52nd minute and Beasley was sent off in the last minute of normal time.
Langwarrin led with a Luke Burgess goal in the 30th minute but Julian Cassano equalised for North Geelong in the 60th minute and Darius Madison nabbed the winner in the 89th minute.
In other news NPLW outfit Southern United will conduct an FFA-approved Skills Acquisition Program (SAP) for girls born in 2007 and 2008 on Monday 9 April and Wednesday 11 April at Monterey Reserve.
Southern United and its coaches have been running a girls-only SAP for the last two years with a focus on identifying talented girls within the Casey/Mornington Peninsula region and bringing them into a training environment where they can train and develop with their peers.
For registration details go to the club website at www.southernunitedfc.com.au.
Next weekend's games:
FRIDAY 8.30pm: Collingwood City v Seaford Utd (Kevin Bartlett Reserve).
SATURDAY 3pm: Beaumaris v Mornington (Beaumaris Reserve), Frankston Pines v Mazenod (Monterey Reserve), Old Scotch v Peninsula Strikers (H.A. Smith Reserve), Skye Utd v Boroondara-Carey Eagles (Skye Recreation Reserve), Baxter v Dandenong South (Baxter Park), Somerville Eagles bye.
SUNDAY 3pm: Nunawading City v Langwarrin (Mahoneys Reserve).
SUNDAY 3.15pm: Southern Utd v Heidelberg Utd (Monterey Reserve, U12s 9am, U14s 10.15am, U16s 11.40am, U19s 1.15pm).