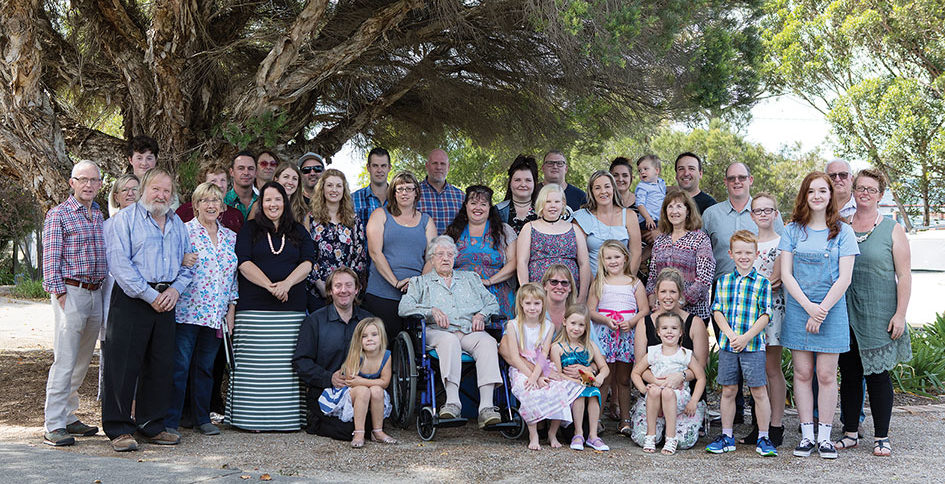 "Alice, you have mail. From Her Majesty, Queen Elizabeth II." Yes Alice Meyer, your long awaited card from The Queen has arrived to congratulate you on reaching the monumental milestone of 100 birthdays on 12 March.
Alice, many years ago, promised her family that she intended "to be around long enough to receive a birthday card from The Queen". And it has finally happened.
Alice's birthday was a great opportunity for her ever increasing family to enjoy a truly happy family reunion, to be able to share this special occasion and to celebrate with Alice.
In December 1945, Welsh born Alice left her family in England. She arrived as a war bride in Melbourne by ship on Australia Day 1946, to a sweltering 40 degrees plus. She was accompanied by her ever-loving and totally devoted Australian husband Leo Meyer. Leo was being repatriated from England after having served six years on British Merchant Navy ships during World War II.
The couple started building a new life together away from the ravages of war-torn England, raising a family of four children in the Melbourne suburb of Surrey Hills.
As happens in families, over time the number was increased by the arrival of 12 grandchildren followed by 17 great-grandchildren with a further one expected later this year.
In 1959, while planning for Leo's retirement and to satisfy his desire to have a farm, Alice and Leo searched the Mornington Peninsula. The search led to the family's move to Hastings.
In the early years in Hastings, Alice and Leo served the community in various ways: Alice was a member of the Hastings Bush Nursing Hospital fundraising committee and in July 1970 was awarded a life membership in recognition of her work; Leo was a member of the Lions Club, and both were active members of Holy Trinity Church, Hastings.
Leo was also involved with several other community programs and was particularly passionate regarding improving the town, with particular emphasis on providing services and activities for young people, the aged and the underprivileged.
Alice and Leo set a fine example to all of their offspring to follow. They were always so happy and respectful with each other and showed a keen interest in all family members and their wellbeing.
Although Leo died in 2000, Alice, with her stoic nature, continued to be involved with all family activities and remains the family's truly loved and respected matriarch.
Apart from the card from The Queen, Alice received cards and messages from the Governor-General, Sir Peter Cosgrove and his wife Lady Cosgrove and the Prime Minister, Malcolm Turnbull. The Minister of Veteran Affairs and Defence Personnel, Darren Chester sent a letter acknowledging Leo's war service and thanking Alice for supporting her husband during the war years. Flinders MP Greg Hunt MP and Hastings MP Neale Burgess presented Alice with certificates congratulating her on becoming a centenarian.
Alice, who now lives in The Bays Nursing Home, Hastings, has reached the top of her Mount Everest and can now coast along at this great height knowing she is loved and respected by everyone who knows her, especially her family.
Alice has been a guiding light for many years and is a truly remarkable woman.
By Janet Edwards. Janet is one of Alice Meyer's four children.