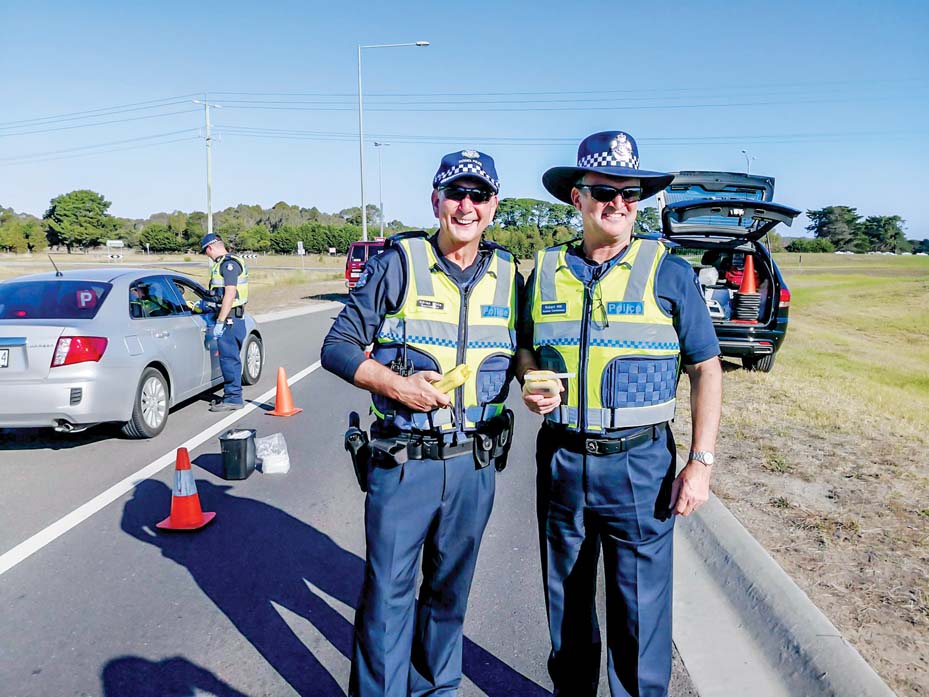 THE police traffic Operation Nexus held over the Easter holiday period tested 11,474 drivers for drink-and-drug driving across Frankston and the Mornington Peninsula.
The state-wide operation, which ran from late on the Thursday before Easter to midnight on Easter Monday, tested 7760 drivers on the peninsula and 3714 in the wider Frankston area in Southern Metro Division 4.
Of these, 36 were detected exceeding the 0.05 per cent limit – or, in the case of P-platers, breaching the mandatory four-year zero-alcohol limit.
Acting senior sergeant Peter Martin, of Somerville Highway Patrol, said the figures meant the division had the second-highest number of drink-or-drug driving arrests in the state over the holiday period.
In one case, Somerville Highway Patrol police who pulled a driver over for a preliminary breath test at McCrae on Easter Sunday evening were taken aback when he allegedly grabbed a can of beer and sculled it in front of them.
After giving the police "some novel ideas about where they could put their breath-testing machine" allegedly attempted to scull another can but was restrained and arrested for being drunk.
Acting senior sergeant Peter Martin said the man, 45, was taken to Rosebud police station where he was charged and bailed for failing to remain for a breath test, resist police and being drunk. His licence was suspended and he will appear at Dromana Magistrates' Court in June.
On Easter Saturday, Somerville highway police said a Frankston man, 47, who failed to stop at a preliminary breath-test site in Skye Road, Frankston, later allegedly tried to hide his car at a commercial car wash.
Acting senior sergeant Martin said he watched on as the man drove past the police breath-testers and into a nearby service station where he parked at the car wash. He then went into the shop and bought two litres of milk. "We were like: 'What the hell is he doing?'" he said.
The man was apprehended and breath-tested and found to be 0.10 per cent – or twice the legal limit. He was charged with unlicensed and drink-driving and evading police and bailed to appear at Frankston Magistrates' Court at a later date. The car – his wife's – was impounded for 30 days which carries a $1000 release fee.
The two arrests were part of Somerville Highway Patrol's Operation Befuddled, which was a local version of the state-wide Operation Nexus, held over the same long weekend.
The drink-and-drug-driving campaign, which targeted back roads and vehicles leaving licensed premises, conducted 1267 alcohol and 15 drugs tests. Five drivers were detected over the limit and four vehicles were impounded after drivers were found to be drink-driving or driving while disqualified.
Acting senior sergeant Martin said some drivers were "making very poor choices" – with several residual drinkers being caught exceeding the limit on the morning after a big night.
"There has been a lot of publicity about how many police will be supporting operations such as Befuddled and Nexus, so it shouldn't come as any surprise to these idiots that they find themselves staring down the straw of a PBT device," he said.
"I'm grateful that the local police members took them off the roads before they injured or killed someone."
Acting senior sergeant Martin said the law states that, if someone drinks a few beers at a pub and then has a crash, and then goes home and drinks a six pack of beer, he can be breath-tested with the court assessing his reading as that taken at home – not his supposed reading at the time of the crash.
Multiple offences

Among those apprehended in Frankston were six drink drivers, three disqualified/suspended drivers and seven unlicensed drivers.

Police detected 26 speeding offences and three disobey signs/signals and one mobile phone offence.

Twenty-three drivers were found in unregistered vehicles.

On the Mornington Peninsula, police detected 21drink drivers, nine drug drivers, 11 disqualified/suspended drivers and 12 unlicensed drivers.

They issued 128 speeding fines, 11 disobey signs/signals, two seatbelt offences, and one mobile phone offence.

Twenty-four drivers were found to be driving unregistered vehicles and eight cars were impounded.
First published in the Southern Peninsula News – 10 April 2018