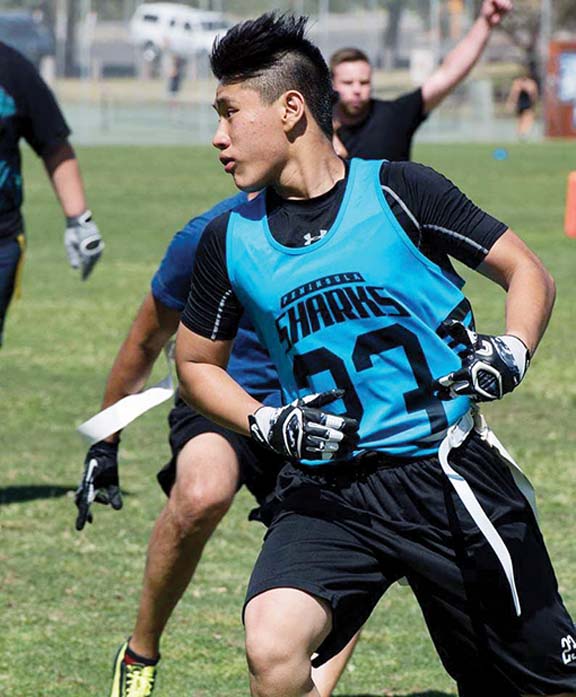 THE Peninsula Sharks have officially become affiliated with Gridiron Victoria after a year and a half of pushing for a gridiron team on the Mornington Peninsula.
The Sharks were awarded their chance to join the league on Wednesday 21 March and are set to take up the opportunity with their Men's senior side when the season kicks off in June.
Peninsula Sharks president Garry Smith said the club was ecstatic when they heard the news and are excited to get underway.
"I have always been upfront with everyone at the club and everyone knew that there was the possibility that we may not make it into the league but they were all committed and always backed the club in," he said.
"I told everyone at training and they were all stoked and rapt to find out that we had made it after all the hard work put in."
The club was formed early last year and now has 75 members to its name including 35 senior's players.
The Sharks have based themselves at The Sands Hotel for the last year but will be utilising the Carrum Downs Secondary College for match-play and possibly some training sessions on weeknights.
Smith said "about 80 per cent" of the senior's side are first-year players but the attention from players from other clubs is beginning to grow.
"I'm going into the season with high hopes and we are really starting to get some interest from some more experienced players as we are the only club on the peninsula and we are closer for them to get to.
"But you wouldn't be able to tell that the team is mainly first-year players because of the amount of effort they're putting into their training. They're really picking it up quickly."
The Sharks will also be looking to put forward teams in the Junior Varsity league, which is for kids between 11 and 15 years old, and the Junior Colts league, which is for boys aged between 15-19 years old, in the 2019 season.