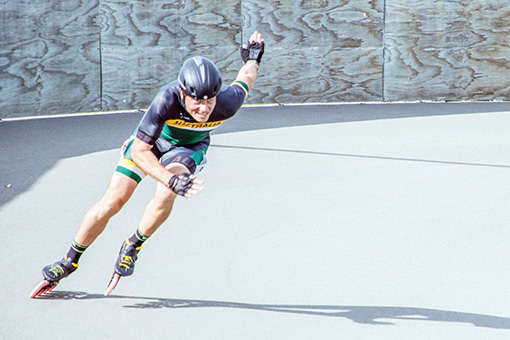 FATHER and son skaters Kevin and Harry Geary strapped on the green and gold to represent Australia at the Oceania Speed Skating Championships on Saturday 31 March.
Kevin and his 12-year-old son Harry reached speeds of up to 40kph to claim a total of 10 medals at the international competition in New Zealand.
Harry was one of the youngest competitors for Australia and competed against boys of up to two years older than him in the Cadet Boys division (under-14s). Skating over distances ranging from 300m to 21km, Harry shined over the long trips and landed two bronze medals in the 1km final and 10km elimination, as well as a silver medal with the Australian Cadet Boys relay team.
Harry's father, Kevin Geary, said it's not uncommon for skaters to compete over such varied distances.
"Some skaters specialise in certain areas such as sprinters but even at the world level sprinters are still expected to compete over longer distances and in the marathons," he said.
"Harry can be a tad slow off the start but he tends to excel over the middle to long distance events."
"It was a fantastic experience and a steep learning curve for him (Harry) but he now knows what he needs to do in preparation for these events.
"Now he just needs to take what he's learnt on board for next year's Oceania's and he might be able to push for gold."
Kevin competed for Australia in the Masters category and claimed silver medals in every event he contested. He competed in the 300m time trial, 500m final, 1km final, 3km final, 5km point's event, 42km marathon and the 3km Masters and Veterans relay.
Kevin said that while there are some similarities between speed skating and running, it's actually cycling that draws the most comparisons.
"It's pretty gruelling but you use the wind barrier when you're at the back of the pack to conserve energy like you would if you were competing in the Tour de France," he said.
"It's quite strategic as you have the break-away groups as you do in cycling and then the pack needs to time their runs to try and chase them down.
Kevin said that speed skating is a "fantastic growing sport" in Australia at the moment with the sport also recently being accepted into the Junior Olympics.
"We originally had four skaters competing at our 'Sk8 House' and we have grown significantly in the past couple of years to now having 20 skaters racing regularly.
"The level of skating has obviously improved as well as more people start to get involved in the sport.
"With speed skating joining the Junior Olympics in four years' time, it gives Harry a good goal to work towards over the next few years."