SOCCER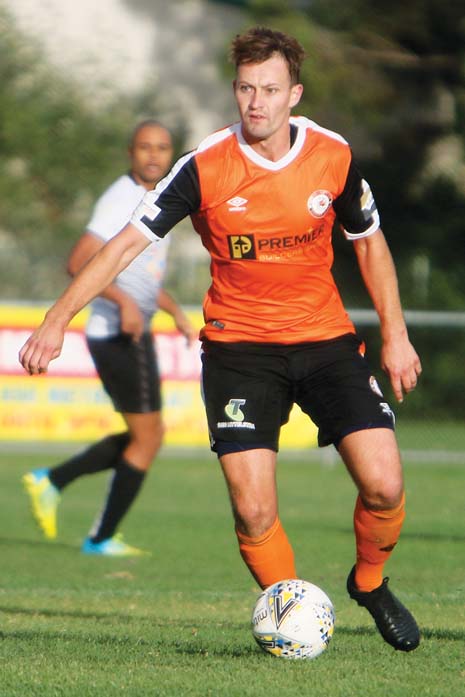 MORNINGTON staged a remarkable comeback to snatch a point from Casey Comets in a controversial and spiteful State 1 South-East encounter at Comets Stadium on Friday night.
Comets players trudged off the pitch at game's end with their heads down after blowing a two-goal lead and having to settle for a 3-3 draw in a riveting contest.
Comets struck first thanks to a superb Connor Belger through ball and a clinical low strike from the talented Robert Prescott in the 27th minute.
Sammy Orritt was left dumfounded after a point-blank tip over from Comets keeper David Thomson in the 36th minute but three minutes later scores were level.
A slick interpassing move down the left set up Jack Truelove whose cutback was controlled then slammed home from the edge of the area by Mornington midfielder Sam Scott.
In the 50th minute momentum swung back to the home team after another superbly weighted through ball by Belger set up Dejan Radojicic and his classy finish past advancing Mornington keeper Liam Little made it 2-1.
Five minutes on and all hell broke loose after a bad tackle from behind felled Belger.
Players became involved in an ugly melee and once some semblance of order was restored both sides pleaded their case in a desperate attempt to influence referee Patrick Chaplin who was consulting both of his assistants.
The end result was a red card for Mornington defender Josh Valadon which had the visitors up in arms.
Things went from bad to worse for Mornington when Cody Martindale caught them on the break in the 63rd minute and made it 3-1.
But the contest turned on a poor decision by Belger in the 82nd minute when he chose to slide in from behind and give referee Chaplin no choice but to send him off.
Scott curled a brilliant free kick past Thomson to make it 3-2 in the 88th minute and what seemed impossible became reality two minutes later when despite his height disadvantage Orritt was able to head in at the far post to make it 3-3.
Injuries played a major part in Langwarrin's 5-1 home loss to Moreland Zebras in their NPL2 East contest last weekend.
Langy conceded a goal in the 2nd minute but Andy McLean equalised when he turned the ball in at the far post in the 25th minute.
Towering Langy midfielder Mat Luak was red carded just before half-time.
Langwarrin's cause wasn't helped by injuries to McLean, Luke Burgess and captain Boris Ovcin and having made three substitutions the home team was forced to play with just nine men for the final 10 minutes.
Moreland Zebras are a quality outfit and were rewarded for their pressure with four second-half goals while Langy was spared further heartache by the skill and heroics of keeper Robbie Acs.
Peninsula Strikers' season of turmoil got worse on Saturday when it went down 3-2 to nine-man Berwick City in their State 2 South-East fixture at Centenary Park.
This rollercoaster clash started with goals from Nathan Smith and Ryan Thompson giving Strikers a 2-0 lead after just three minutes.
Orlando Mejias enhanced his record against Strikers with a 12th-minute goal to make it 2-1 then Berwick went down to 10 men when Denilson Noronha was red carded in the 20th minute.
But two minutes later Christopher L'Enclume made it 2-2.
The seesaw nature of this gripping contest continued in the second half when Shane Savanah was sent off in the 62nd minute but against the odds, Mejias settled the issue with an 82nd-minute strike.
Frankston Pines lost 2-1 at home to Brandon Park on Saturday.
Pines had few answers to the guile and experience of Vinnie Bontemps and Hamlet Armenian with the latter opening the scoring in the 20th minute with a neat turn and a deftly executed strike into the top far corner.
His attacking companion Bontemps chested down a long ball about 10 minutes later then turned and struck a low shot from just outside the area to make it 2-0.
Pines hit back from the penalty spot in the 65th minute thanks to CJ Hodgson and should have had a second penalty with what looked a clear handball in the 82nd minute but referee Harry Mangavilas waved play on.
Pines' final chance of a reward for its late pressure came in the third minute of added time but striker Mitch Landers directed his close-range header straight at Brandon Park keeper Peter Koundanis who was able to parry.
Harry McCartney reports that Seaford United dragged itself off the bottom of the State 3 South-East ladder with a 2-0 home win over Middle Park on Saturday.
Seaford made two midweek signings, Jeremy and Matty Schwellinger, and the former took just four minutes to round Middle Park keeper Marshall Brown and score from a tight angle.
The second half developed into a spiteful affair and the visitors were reduced to 10 men in the 70th minute after Shaun Rodden was sent off.
A few minutes later Conor Mcfall was brought down after a great run on the right and Matt Morris-Thomas converted from the spot to make it 2-0.
Seaford's Matt Surgenor was shown a red card in the 76th minute and five minutes later he was joined on the sidelines when Middle Park's Kevin Tollitt got his second caution.
Seaford's first win since July 2017 sets up a derby shootout this weekend when Paulo Pinheiro's side travels to Skye Recreation Reserve to take on Billy Armour's men.
Former Bulleen midfielder Harrison Michaelis debuted for Skye United in its 2-1 away win over Noble Park on Saturday.
The visitors struck early when Caleb Nicholes charged down an attempted clearance from Noble Park custodian Nikola Popetkov and the rebound rolled into the empty net in the 7th minute.
The visitors doubled their advantage in the 27th minute when Mitch Blake's through ball found Daniel Attard and he made no mistake finishing inside the near post.
The second half saw Skye dominate in the early stages but failing to convert and Noble Park's response came in the 86th minute through a well-struck shot from Zarko Milojevic.
Baxter lost 3-1 away to Endeavour United in Saturday's State 4 South clash.
The half-time stalemate was broken in the second half after Endeavour keeper Sasho Ancevski fouled Dan Disseldorp and Owen Kilner converted the resultant penalty.
Endeavour was dangerous counter-attacking and was rewarded when a cross from the right was not cleared and Dalveer Jando equalised with a strike from 10 metres.
Five minutes later Kilner denied an Ifeoluwa Ogidan attempt but the ball fell to Aaron Credlin who hit it in off the post to make it 2-1.
Ogidan sealed Baxter's fate after a superb solo run ended with a top corner strike that gave Baxter keeper James Foster no chance.
Liam Kilner came off the bench in the final 15 minutes and is pressing for a first-team start next weekend.
State 5 South outfit Somerville Eagles bounced back from the previous week's setback with a 2-1 away win against Lyndale United on Saturday.
A dubious penalty was awarded to Lyndale after James McKenzie was alleged to have handled midway through the first half but Eagles keeper Cam Parsons denied the home team with a fine save.
Somerville took the lead just before half-time when Louis Griffiths broke onto a Dave Greening through ball and beat Lyndale keeper Daniel Pehar at his near post.
In the 59th minute, Parsons was forced from the field and taken to hospital with a dislocated knee.
Central defender Ash Scholes went in goal for the last 30 minutes and shortly after the visitors doubled their lead when Griffiths played an excellent through ball to Greening who slammed the ball home with his left foot.
Lyndale hit back in the 76th minute when Adam Zilic was given a free header from a corner, setting up a tense finale but Somerville held on marshalled superbly throughout by man-of-the-match Matt Swanson.
Felix Arena has stepped down as Somerville Eagles president for personal reasons and Luke Mulder has filled the vacancy on an interim basis.
Here are next weekend's games:
SATURDAY 3pm: North Geelong v Langwarrin (Elcho Park), Mornington v South Springvale (Dallas Brooks Park), Knox City v Frankston Pines (Egan Lee Reserve), Mooroolbark v Peninsula Strikers (Esther Park Reserve), Skye Utd v Seaford Utd (Skye Recreation Reserve), Baxter v Hampton Park Utd (Baxter Park), Knox Utd v Somerville Eagles (Park Ridge Reserve).
SUNDAY 5.30pm: Bayside Utd v Southern Utd (Kingston Heath Soccer Complex).