DIVISION ONE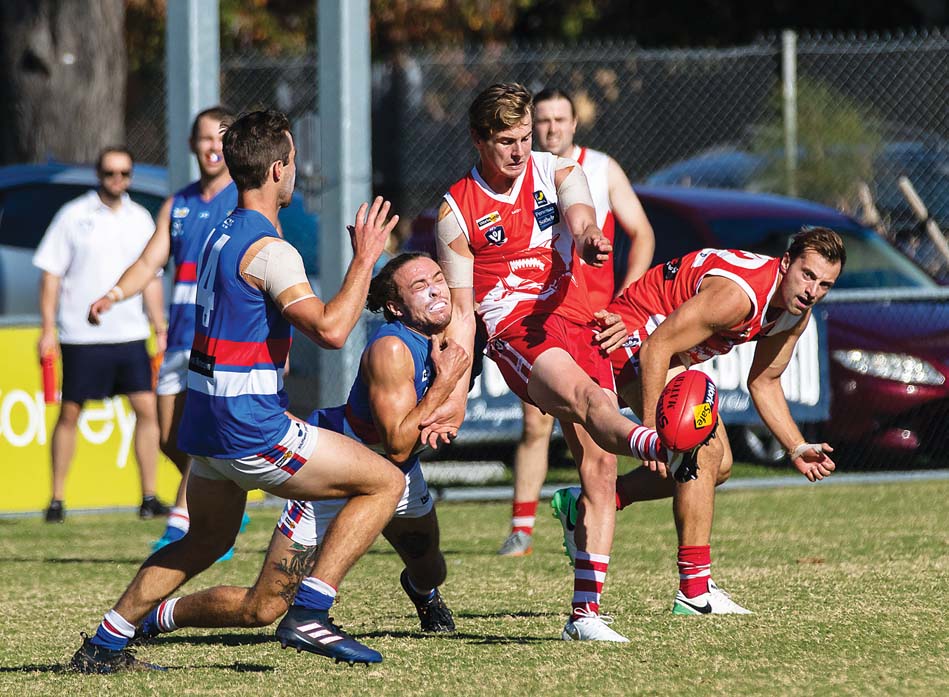 MORNINGTON'S position in the doghouse of division one wasn't helped at all with a loss to Sorrento at Alexandra Park.
Winless in 2018, the Dogs really needed to get some momentum. It was always going to be a big ask.
Sorrento held Mornington goalless in the first quarter and kicked on from there.
Mornington was never in it and ended up going down by 62 points.
The chocolates for best spectacle would have to go to the Rosebud versus Seaford clash.
A match with more swings than a kids playground, there was only two points in it at quarter time before Rosebud put the pedal to the metal in the second. They kicked eight goals to zip to be 36 points up at the main break.
You'd be forgiven for thinking that the momentum would hold, but they were in for a shock, as Seaford came out in the third quarter, held them scoreless, and put six through the big sticks and a further six through the small ones.
The tussle continued into the final quarter, with Rosebud steadying the ship and the scoreboard a level 68 points each at the final siren.
Mt Eliza had the home ground advantage against Bonbeach in their game.
It was a tight tussle all day with hardly more than a kick in it until the fourth quarter.
Mt Eliza shifted into another gear in the final quarter, kicking six goals to one to end up with a 43-point win.
Jordon Moncrieff kicked four for the winners, and Trent Dennis-Lane kicked five for Bonbeach, bagging more than half the team's goals on his own.
A win by Frankston Bombers against Pines saw them swap places on the ladder. The fourth-placed Pines came up against sixth-placed Bombers at Greg Beck Oval, but they trailed at every change, eventually going down by 26 points.
The Bombers are now fourth on the Division One ladder, and sitting there with the same number of wins under their belt as second-placed Mt Eliza and third-placed Sorrento.
In the final match of the round, Edithvale-Aspendale took on unbeaten and ladder leaders Frankston YCW.
It was always going to be tough, but Edithvale-Aspendale had a shot on paper, being third on the ladder. And it was by no means a runaway win for YCW, with only a couple of kicks in it all day.
In the end, it was only two straight kicks that separated the teams, but the damage on the ladder being more than that. YCW kept the top spot, but Edi-Asp slipped to fifth.